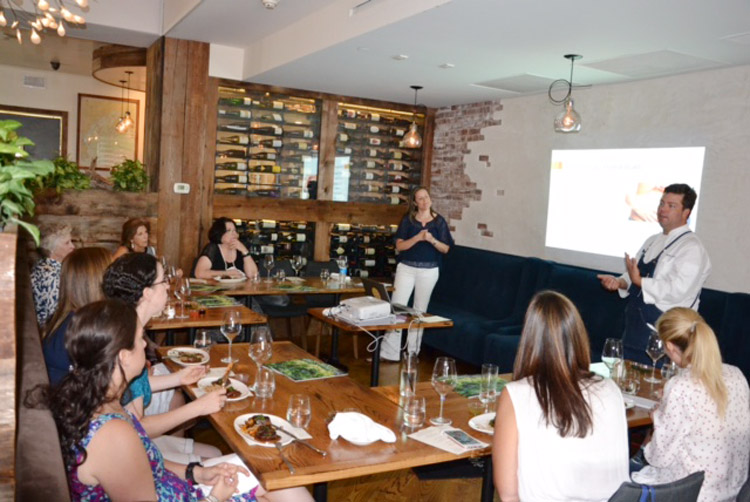 By Michelle Moskowitz
Sentinel Correspondent
Hippocrates said, "Let food be thy medicine and medicine be thy food."
Sharing that sentiment is Geoff Lazlo, executive chef and managing partner of Mill Street Bar & Table, a seasonal American restaurant located at 230 Mill Street in Byram.
Chef Lazlo uses only fresh, locally sourced ingredients in order to deliver a cuisine that is not only rich and decadent in flavor and presentation, but also chock full of vitamins and minerals. "Healthy food can be truly beautiful and delicious at the same time," said Lazlo, "and that's what I aim to do."
"I'm saving the world one salad at a time," Lazlo added with a chuckle. He tends to a cauliflower with the same precision with which he tends to his wood-roasted meats. "At the end of the day when I check to see what menu items have sold the most, it's the vegetable plates," he said.
A fourth-generation Greenwichite, Lazlo is raising his own family here after earning his reputation at the exalted likes of Gramercy Tavern in New York City, Blue Hill Stone Barn in Pocantico Hills, N.Y., Chez Panisse in Berkley, Calif., and Le Farm and the Whelk in Westport.
Since he grew up gardening and farming his whole life, he naturally "thought it was the norm to eat fresh whole foods all the time."
Lazlo's passion and dedication to organic and ethical farming is what formed his partnership with purveyors Bill and Lesley King, who also own the Back 40 Kitchen on Greenwich Avenue and an 85-acre farm in Washington, Conn., where much of the restaurant's produce come from.
"I spend about half of my time working closely with local farmers, who I have developed a deep relationship with, to not only generate the very best for our customers, but so that the farmers themselves can prosper—such as taking an abundance of vegetables off of their hands and incorporating that into my menu so it doesn't go to waste," said Lazlo.
But Lazlo makes it clear that his goal is not just to make beautiful food—though he loves doing that. He often visits with patrons while dining in order to create an interactive experience with them, which he finds truly valuable.
A significant part of Lazlo and the Kings' mission is to educate the community through a culinary lens. The restaurant hosts a regular lunch speaker series featuring culinary experts and educators while attendees enjoy his seasonal cuisine.
Previous speakers have included Maggie Harrison, of the Antica Terra and Lillian wineries in Oregon, and Elisabeth Moore, executive director of the Connecticut Farmland Trust.
The recent luncheon this reporter attended featured Kristina Hess, director of nutrition at Green & Tonic, which currently has five locations in Fairfield County, two of them in Greenwich.
Hess' presentation, "Eating and Drinking the Colors of the Rainbow," explained the myriad health benefits of eating a multi-colored diet. She also served guests a selection of the company's most popular nutritious juices, which she recommended for those on the go.
After the juice sampling, Lazlo and his crew brought guests a delightful 3-course meal presenting the nutritional rainbow in all its glory while he described in great detail his preparation for each dish.
On the menu for the first course (representing orange, which has anti-inflammatory properties, and green, which is rich in antioxidants and phytonutrients) was a flavorful carrot and kale falafel with wild watercress and lemon yogurt.
The second course (featuring purple and red, which help prevent heart disease and balance hormones) was a fresh raw beet salad with apples, almonds and wild watercress.
And the third course (incorporating yellow, which helps digestion and may ease asthma) was a decadent presentation of sweet potatoes, black garlic aioli and herb salsa.
The sweet potatoes arrived with a steak knife, not to mention the delicious waft of a hearty steak itself, which permeated the air. But "eating the rainbow" was the topic of the day, and guests were intrigued and overwhelmingly gratified. One guest remarked, "I never knew that a sweet potato could taste quite like this."
In addition to its cuisine, the Mill Street team has designed a perfectly rustic, modish space well suited for lunch, dinner or weekend brunch.  Guests are always welcome to sit back and enjoy an eclectic cocktail, such as the rhubarb swizzle or the grilled margarita, in the outdoor garden or enjoy light raw seafood at the marble oyster bar.
Mill Street Bar & Table is also in the midst of rolling out some new ventures, which are certain to delight its regulars and attract newcomers as well. In upcoming weeks, the eatery will start preparing some of its most popular dishes, such as the kale and cabbage salad and roasted cauliflower for take-out service via the Seamless or Grubhub apps.
They are also planning to provide a weekly meal plan (much like that of other health programs) for customers aiming to enjoy restaurant quality meals that are abundantly nutritious yet incredibly flavorful at the same time.
The next lunch speaker series is slated for Sept. 22, from noon to 2 p.m., and will feature Back 40 Farm Group Owner Bill King, who will discuss his journey from becoming an accidental farmer to owning two farm-to-table restaurants, a retail store and an organic farm.
Starting in the fall, Saturday cooking classes for both adults and children will be offered as well.
For more information on Mill Street Bar & Table, or to sign up for upcoming events, please visit millstreetct.com.