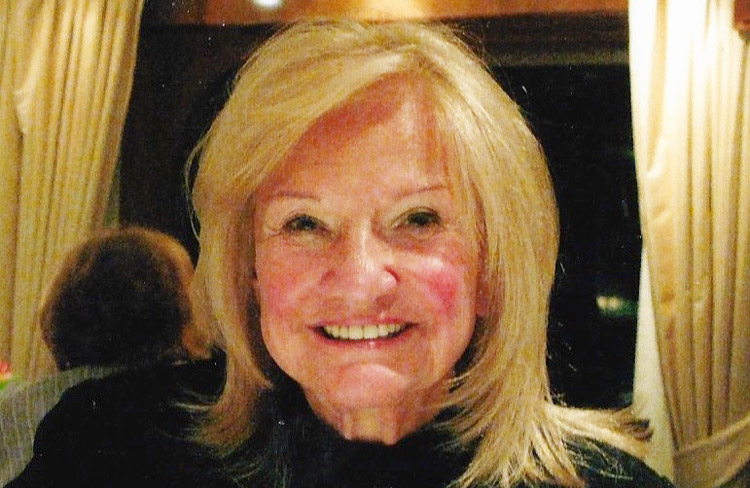 Marilyn Manzi Vecchiotti, 86, died on Aug. 3 of natural causes. She was a longtime resident of Greenwich and Jupiter, Fla.
Born in Brooklyn, N.Y., to James and Elizabeth Manzi, she was the center of a large Italian and German family and was extraordinarily proud of her heritage. Married to Vincent Vecchiotti for 41 years and mother of three children, two step-children and ten grandchildren, she was, and always will be, the light of their lives.
Marilyn was the most treasured daughter, beloved mother, adored "Nani Nani," and the soulmate to her husband, Vincent. Living life to the fullest, she flourished alongside those she loved. Forever the life of the party, she was known for her impeccable style, her love of world travel, her effortless grace and her unwavering ability to see the best in everything. She always considered herself to be lucky, but in fact it was those who knew her who are the lucky ones. As the lyrics to her favorite song, "Over the Rainbow," say, Marilyn is now way above the chimney tops and the clouds are far behind her; yet she will always be here, right next to all who love her.
Mrs. Vecchiotti is survived by her husband, Vincent Vecchiotti; her children Susan Wohlforth of Greenwich, David Telesco of Ridgewood, N.J., and Cricket Burns of Manhattan; stepdaughter Elise Brunhofer of Westfield, N.J; stepson Vincent Vecchiotti of Golden, Colo.; her brother Peter Manzi of Sarasota, Fla; numerous nieces and nephews; and her ten beloved grandchildren.  
To honor and celebrate Marilyn's life, family and friends will gather today, Aug. 10, from 2-4 p.m. and 7-9 p.m. at Leo P. Gallagher & Son Funeral Home, 31 Arch Street, Greenwich. The funeral Mass will take place tomorrow at 11 a.m. at Saint Michael the Archangel Church, 469 North Street, Greenwich. 
In lieu of flowers, donations can be made to the American Cancer Society at www.cancer.org. Online condolences may be left by visiting www.LeoPGallagherGreenwich.com.