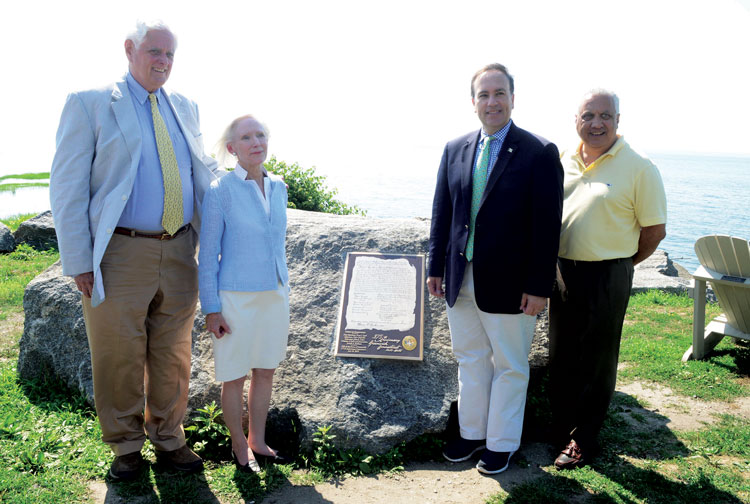 By Rob Adams
Sentinel Reporter
Friends, historians, and those who love the town came to Greenwich Point on Monday morning to for the unveiling of a plaque that commemorates the purchase of the land formerly known as Monakewago from Native Americans.
The plaque, installed on a boulder at Greenwich Point, was a gift from the Greenwich 375th Anniversary committees and includes a replication of the original deed for what is now part of Old Greenwich.
The original purchase was made in 1640 by Robert and Elizabeth Feake and Captain Daniel Patrick, who had recently sailed to Greenwich from the Massachusetts Bay Colony. The price was 25 coats, though it appears that only 11 were paid. Elizabeth bought Monakewago with her own money, and named it Elizabeth's Neck—the present Greenwich Point.
"This land purchase is considered by the state of Connecticut, and the town of Greenwich, as the founding of Greenwich, Connecticut," said Davidde Strackbein, chairman of the Greenwich Historical Society.
Every year, the town celebrates Founders' Day on July 18, the date of the historic purchase. The plaque was a final piece of last year's now-completed 375th celebration.
First Selectman Peter Tesei was the first in a line of speakers who shared their thoughts and memories about Greenwich and the land that fascinated Elizabeth Feake.
"As we all know, this is a culmination of a year's celebration with the plaque that, in perpetuity, will be here to commemorate Elizabeth Feake's purchase," Tesei said. "I think it is a testament to the somewhat progressive nature of Greenwich that the first property owner was a woman."
Elizabeth was born in England in 1610 and married her first husband, Henry Winthrop (her first cousin and the son of Massachusetts Governor John Winthrop) in 1629 in London. Henry, who sailed to the New World ahead of Elizabeth, drowned in 1630, leaving behind his wife and infant daughter.
Elizabeth sailed to the Massachusetts Bay Colony the following year and soon married Robert Feake. Robert, known to be mentally unstable, would desert his family, and Elizabeth eventually married for a third time, to William Hallett.
They moved to what is now known as Queens, New York. Elizabeth died near present-day Astoria, New York, in 1673.
Other speakers at the plaque dedication, which was on the 376th anniversary of the land purchase, included State Rep. Livvy Floren (R-149), state Rep. Fred Camillo (R-151), and Selectman John Toner, who remembered visiting Elizabeth's Neck—later known as Tod's Point and now as Greenwich Point—to swim as a child.
"This is a very special place for me," Toner said. "While our parents were cooking breakfast, we would go across the shining sands and go for a swim."
Toner went on to say that after breakfast, he was not allowed to go back into the water due to the wives' tale that swimming after eating would cause stomach cramps.
So he and his friends would jump up and down on the "1640 Rock," which was also known as "Founders Rock," a misleading term in that the deed was not signed there.
"I thought that was where we were going to be today," Toner added. He also said that the plaque on the rock at Greenwich Point would serve future generations in the same way that the other "Founders Rock" did for him.
"They'll come back as adults and say, 'Yeah, this is where it all started,' he said. "It's good to be here."
As for Camillo, he acknowledged just how important the land is.
"Just a few months ago, we celebrated and dedicated a field over at Cos Cob Park to former state Rep. and state Sen. Emil "Bennie" Benvenuto," Camillo said. "After we were done, I remember remarking to a lot of people that this really is the second greatest land acquisition in the history of our town. No one had to remark or ask what was the first.
"Happy birthday, Greenwich."