July 25, 2016
A Bird's Eye View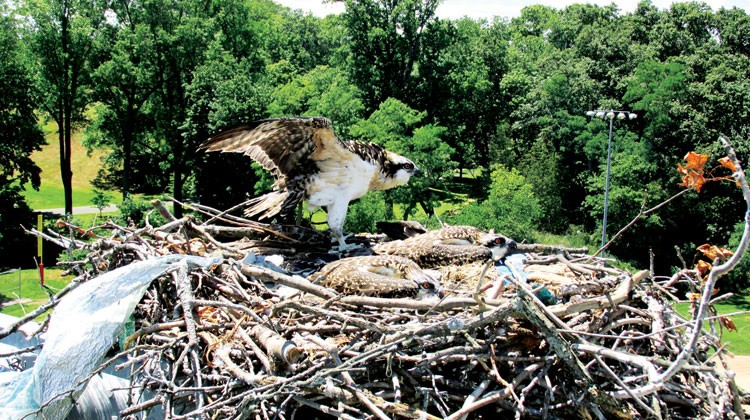 A Bird's Eye View…
At the Byram Park Softball Field, a Nest With Three Fledgling Ospreys Sits on Top of a Bank of Lights
By Anne W. Semmes
Sentinel Correspondent

It is no small thing to wrestle a bucket truck free from the town's busy Tree Department, but on this past brilliant Tuesday I got the call: Come to Byram Park, the bucket truck is waiting.
I was finally to see atop the osprey nest, perched 50 feet high on the ball field lights.
This was the culmination of my duty of monitoring and reporting on this recovering species—the osprey—during its breeding season; I am one of more than 500 osprey nest stewards for Osprey Nation, a program devised by the Connecticut Audubon Society.
For weeks I've tried from every vantage point with my binoculars to know how many eggs were laid and how many fledglings were there, without success. I could finally see a couple of little heads from time to time. The hope was that there'd be a healthy threesome in there. Now with the bucket lift, I would see for sure.
Teddy Mammone, Park foreman and caretaker of Byram Beach, knew my plight. He'd offered to try to enlist a bucket truck and had worked diligently over the days to get one there. Seeing a lot of flapping from the edge of the nest, I knew those fledglings might fly away at any time.
But there it was, the mighty bucket truck, brought by Parks Operation Manager Darrin Wigglesworth, with James Fawcett as tree climber-lifter. The harness was put on and I was ready for the ride.
The male osprey had been perched as usual in his distant tree, keeping an eye on his brood. The female sailed into view, and as I rose higher the parental panic set in. Would they dive bomb me and my camera? Their cries were constant as both parents circled and swooped overhead.
And there I was at 55 feet, looking at the most beautiful clutch of three fledglings!  Two were hunkered down, their heads tucked between their wings as taught, with an eye turned up toward me. The third, an upstart, was standing on the edge of the nest flailing its wings in fright at this looming bucket.
I clicked away; I knew there were only minutes before we need descend for the safety of these birds, as I could feel the harried heat of the parent ospreys.
Seeing these well cared for fledglings, the wonder was how two parents had diligently fished and fed and house-kept, and fended off any dangers, to produce these beautifully feathered, fleshed-out offspring. Through wind and weather and the heated lamps beneath them, from the harassment they so obviously felt toward the many dogs romping about, not to mention all those ball players—and that hovering drone!
Down we went, the photos taken, with the wonderment of it all.
My great thanks was given to the parks team that made my lift possible, including, of course, Tree Warden Bruce Spaman, our superintendent of parks. He put in his good words: "The parks and trees guys are environmentally friendly, helpful and personable. They are a good bunch of guys and gals, and real assets for Greenwich."
He even had a good word for this osprey steward. "Anne, we're proud of you. You got your wings today."
Tags:
Byram Park
,
greenwich
,
osprey