July 22, 2016
Greenwich's White Birch claims top honors in Butler Handicap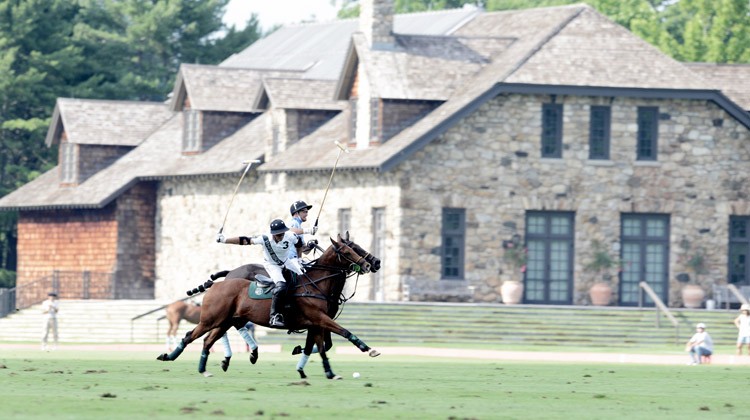 By Liz Leamy
Sentinel Correspondent
Last Sunday, White Birch, the renowned Greenwich-based high-goal polo team, scored top honors in the 20-goal Butler Handicap finals, edging out the formidable Northwood contingent 11-9, in an unforgettable edge-of-your-seat showdown.
This match, which drew more than 3,000 spectators from all over the New York tri-state area, was held at the Greenwich Polo Club and was a nail biter in every respect, as both of the teams, known for their exceptional strategy, skill and competitiveness, staged a truly memorable game.
In the end, White Birch was the victor in this prestigious annual tournament, named in honor of the late Paul Butler, a longtime U.S. Polo Association Board of Governors member, back in 1954.
"The Butler Handicap is really important," said Peter Brant, the iconic number-four White Birch patron who had founded the Greenwich Polo Club back in 1981. "I'm glad to have had a chance to have gotten out there and played a good, strong match out there with everyone."
Hilario Ulloa, the fierce Argentine White Birch nine-goaler, played in his usual superior fashion as he knocked in more than half of his team's 11 total points, including the final goal.
Ulloa, named Most Valuable Player of the day, in tandem with his esteemed troupe of steely colleagues, which included Mariano Aguerre, the veteran White Birch Argentine veteran star nine-goaler, Santino Magrini, a young up-and-coming standout player and of course, Brant, who is reputed to be one of the longtime leading number-four players in the sport, threw down the proverbial hammer and did their job like seasoned world-class professionals.
During this match, it was also apparent that White Birch, who qualified for the finals of this three-week-long tournament by winning a series of games through more than eight rounds, demonstrated much of why they have come to be regarded as one of the most dominant high-goal contingents in American polo today and exhibited their signature spellbinding strategy, skills and chemistry.
"This has been a great win for all of us," said Aguerre, who, for more than three decades, has been the main player for White Birch who has helped make them such a dominant force in American high-goal polo over the years. "Northwood is a very strong and well-balanced team and we were close in every match against them."
Northwood, reputed to be a leading team in U.S. high-goal polo, managed to stage one heck of a fight when they went up against White Birch in this final showdown.
This contingent, comprised of Tomas Garcia del Rio, the spirited Argentine eight goaler, Mariano Gonzalez, a seven-goaler, Marcos Garcia del Rio, Tomas' brother who is a four-goaler and Louis Dillon Bacon, the patron, all displayed terrific skill, strength and spirit throughout the entirety of the game.
"It was a good match but I'm upset about some of the chances we missed," said Tomas Garcia del Rio, the talented number-three Northwood player. "We're going to go back and work hard so that we're ready for the East Coast Open."
According to Aguerre, Northwood will be one of their biggest rivals in the upcoming East Coast Open, a major U.S. Polo tournament that will be held at the Greenwich Polo Club later in the summer and will be televised by NBC Universal Sports. (Last year, the Greenwich Polo Club hosted the three-week East Coast Open tournament for the first time ever, which turned out to be a huge success, as it drew thousands of spectators from all over the U.S.)
"The East Coast Open should be a great tournament and I think we're all looking forward to playing in it," said Aguerre, whose stunning charge, Machitos Lituania, was awarded the Best Playing Pony citation of the match.
A Crown Jewel of a Place
Without a doubt, the dynamic between Aguerre, one of the sport's most steadfast and talented stars, and Peter Brant, the iconic town-based business mogul and standout patron player, is much of the reason why the Greenwich Polo Club has come to be regarded as one of the premiere high-goal destinations in the U.S. today.
Between Aguerre's superior playing and Brant's brilliant vision and dedication over the past number of decades, the two, along with several other key Greenwich Polo Club players, have helped catapult this incredible organization right to the pinnacle of U.S. high-goal polo.
Aguerre, who is always humble and gracious in his manner, said it has been gratifying to watch the Greenwich Polo Club evolve and grow over the years.
"It's good to be part of something that grows," said Aguerre, who resides in the area during the warm-weather season with his wife and children. "Greenwich is like a second home."
Brant said the Greenwich Polo Club has been a good thing for the area.
"It is a place for people to come on Sundays to watch and enjoy polo," said Brant. "The East is important for polo and it's nice to keep that going."
Certainly, Brant seems to have worked his famous signature magic by not only building but also transforming Conyers Farm into a main U.S. high-goal polo summer destination where so many of the sport's premiere players have come together to stage matches that have consistently attracted so many spectators, vendors and other groups of people over the years.
"This is such a beautiful and unique experience. It's just awesome," said David Ramirez, a Greenwich resident who was attending last Sunday's match with his sister, Jessica. "It's so good to see everyone come out to enjoy [the polo]. It's such a great sport and is so challenging."
Tags:
Butler Handicap
,
ctpolo
,
greenwich
,
Greenwich Polo
,
Northwood
,
Polo
,
U.S. Polo
,
White Birch