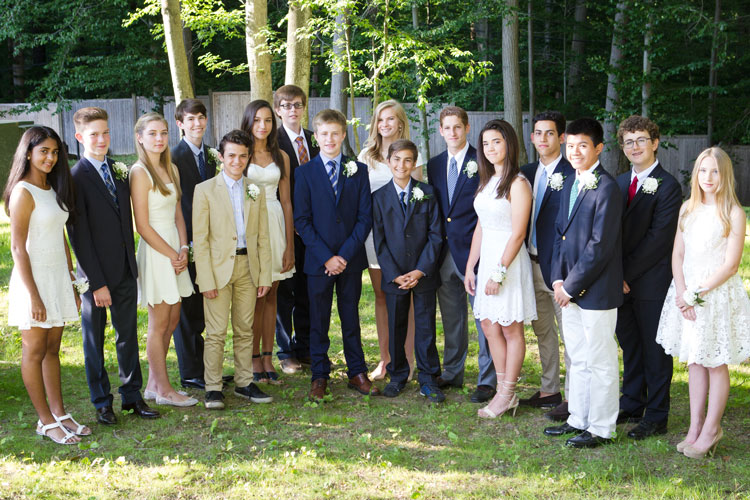 Whitby School held its fifty-fourth graduation ceremony on June 17 marking the end of one chapter for 16 eighth graders as they begin to write the next.
In the presence of family, friends, faculty and staff, 12 out of 16 members of the Class of 2016 wrote and delivered speeches about Whitby's impact on their lives before individually walking across the stage to receive their diplomas.
"Graduation is always a wonderful celebration of not only what our graduates have achieved but also how they have engaged within our community of learners during their time at Whitby," said Head of School Bryan Nixon. "As their learning journey continues onto High School we know they travel with a passion for learning and a desire to contribute as open-minded, principled students in their new schools."
Spanish teacher Luis Rivera gave this year's graduation speech encouraging students to "look up." Rivera's words took on different meanings, jokingly saying students should start by looking up from their phones, but they also took on a more poignant sentiment. "Look up and be someone to look up to," Rivera said. "Be inclusive, be understanding, and be thoughtful…not because you have to, but because someday, someone will appreciate you for it."
Graduates ranged in time spent at Whitby, some starting as early as two-years-old at the nursery level and others beginning at the school just last year. No matter their starting point, the result was the same as they now move onto secondary school. Matriculations include Blair Academy, Greens Farms Academy, Greenwich High School, Greenwich Academy, Hopkins School, Peddie School and more.
"When you listen to our graduates, you're struck by their realization that Whitby has nurtured and challenged them throughout their whole tenure at Whitby," said Head of Upper School Jonathan Chein. "When you listen to alums, you're struck by their realization that Whitby has prepared them, not just for the demands of high school, but for the rigors of being an open-minded and responsible citizen."