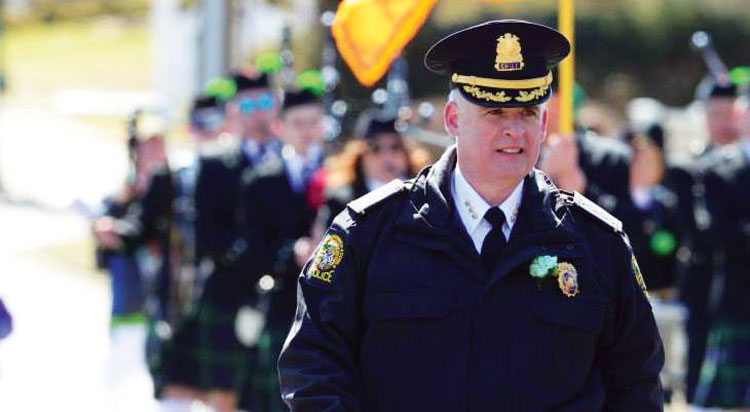 By Anne W. Semmes
Sentinel Correspondent
One Christmas Day a little more than half a century ago, James J. Heavey was born in Greenwich Hospital destined to become a gift to this community.
Today Chief of Police Jim Heavey is well known for instilling in the community a sense of the greater good. "He lives and breathes public safety," is how his colleague Lt. Kraig Gray describes him.
Five years into his job as chief—after having served a previous 25 as a police officer in various ranks—Heavey is to be honored on June 30 as the first recipient of the Annual Greenwich Sentinel Award for his ongoing commitment to the betterment of Greenwich. Under his watch, Greenwich was recognized in 2014 as one of the four safest cities to live in in this country.
Heavey is freshly back from 10 weeks of high-level training at the FBI National Academy in Quantico, Va., as a member of this year's class of 213 recommended national and international individuals averaging 19 years of law enforcement. There were trips to the White House and the Supreme Court, but primarily he spent long days studying subjects like forensics and crisis communication and constitutional law.
Here's a Heavey Academy takeaway for bettering his own police community: "I see the importance of having new training programs for our new officers—we have 40 out of 155 officers with only five years of experience. Today training issues are different; there are new tool boxes, new approaches with our most vulnerable special needs populations."
Asked if there was talk at the Academy of loss of confidence in police across the country as a result of the so-called "Ferguson Effect," Heavey responded, "What happens nationally does affect us locally." But he noted, "We have a positive relationship with our Greenwich community. We do intelligence-led community policing. We leverage technology to put officers in the right place in the right time. There is a lot of community planning."
The variety of ways Heavey and his police force are engaged with the community tells that story well. "We have a Community and Police Partnership made up of concerned citizenry who meet with us, along with other representatives from neighborhood associations, to make their citizens safer. There's less chance for crime. We offer a self-defense class for women."
Who hasn't heard of the department's Citizens Police Academy? "We've had 800 graduates from that program," said Heavey, and many of those graduates go on to volunteer at their local firehouses. "We also run a one-week summer camp for middle schoolers—the Youth Citizen Police Academy."
Heavey co-chairs the Police Explorers program, which introduces teens to careers in emergency services.
For student safety during school hours, Heavey has fought for funds supporting both a resource officer presence at Greenwich High School as well as another assigned to frequent the middle schools.
With drug problems constantly facing our communities and with the decriminalization of marijuana—which he laments—Heavey finds that his force has a greater challenge in following drug trails. Hence a new partnership with the Town's Department of Social Services. "We're working together with Social Services Commissioner Alan Barry to identify the sources of drugs," said Heavey.
So where does this community spirit, this community engagement come from? "My parents, Bart and Debbie Heavey, are immigrants from Ireland," said Heavey. "This is their adopted country. We were fortunate to be residents of Greenwich. Good citizenship was shared at our home, as important as education was."
Being a good citizen, said Heavey, "was playing on a sports team, or volunteering your services." At age 16 Heavey was volunteering with the fire department in Byram; later he volunteered with the Glenville Volunteer Fire Department, rising to chief. "It was my entrance into emergency services," he said. Volunteering with the fire department is "neighbors helping neighbors," he noted. "You're part of a team—not just one person."
With a father involved with the Greenwich Boy Scouts, Heavey and his four siblings were encouraged to join. Heavey, awarded an "Outstanding Eagle Scout" medal in 2013, now serves as Scoutmaster of Troop 35, which includes his son, Jamie. As a newly appointed commissioner, Heavey serves on the executive board of the Greenwich Council of Boy Scouts of America.
Heavey's good citizenship extends to serving in the military. Picture him as U.S. Army military police officer in Desert Storm. "I helped to liberate Kuwait City," he said. "I assisted in reestablishing the Kuwaiti Police." His 800-person unit, the Military Police Brigade, kept watch over 60,000 prisoners. Heavey saw duty in 21 sites across Saudi Arabia and clocked in 20 years with the U.S. Army Reserve.
Heavey has managed a rather wide outreach in his commitments. But it's his hometown that has his heart, as well as his family. His wife, novelist Kia Heavey, works for the ASPCA, and his teenaged daughter, Ana, is co-president of the GEMS Explorer Post.
For Heavey, "Anyone who gets to live long in this community, it's an obligation to do the best of your ability to support either your church, or your volunteer organization."
As chief of police, Heavey feels keenly the obligation to keep his hometown community safe, and so keeps an eye out for new ways to engage the community. He gives credit to those with ingenuity who came before him. He cites Ernest Thompson Seton, a founder of the Boy Scouts. "He created the first diversionary program," said Heavey. He spoke of the newly settled Seton on his 100 acres on Orchard Street in Cos Cob being welcomed by vandals who scrawled graffiti on his entry gates. Suspecting young kids in the neighborhood, "Seton chose not to bring in the police, but to engage the youth." Visiting their school in Cos Cob, Seton invited a goodly number of them to camp out on his property, complete with teepees and campfire stories. Those Cos Cob boys became the Woodcraft Indians—the forerunners of the Boy Scouts.
Every year Heavey, as chief, is called upon to recognize the good work of one of his policemen and policewomen for such organizations as the Lion's Club or the Greenwich Chamber of Commerce. "It's difficult," he said, "as there are so many officers doing good work. For this first Sentinel award, I accept it as part of this organization I'm a part of. Together we make the difference in Greenwich."
As for his own part? He replied with grace. "Hopefully, my legacy is that the organization will be a little bit better for my participation."