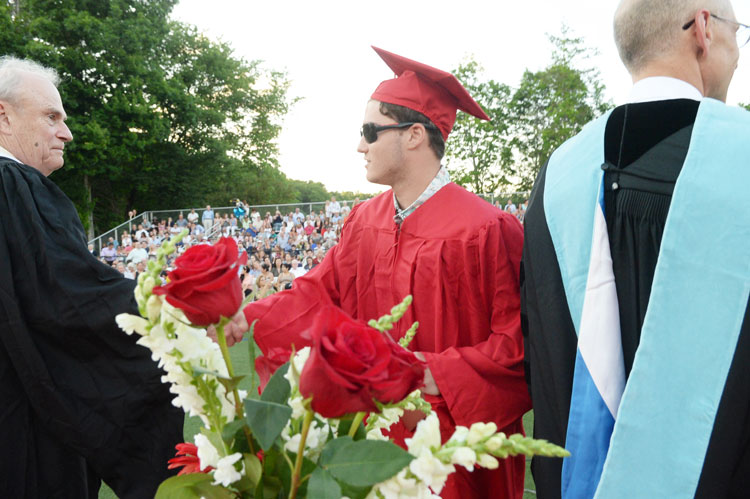 Under cloud-swept skies on the first evening of summer, 635 Greenwich High School seniors received their diplomas and took the next step in their journey to adulthood. It was an emotional evening. Students listened attentively as ESPN anchor and Greenwich resident Hannah Storm talked about the challenges she overcame on her road to success. Class President Joseph Peters spoke eloquently of the tragedies they endured, of how Bart Palosz and Emily Fedorko should have graduated with them; instead Bart and Emily and another former GHS student, Carey LeCamp, were remembered by their classmates. By the end of the ceremony the sun was setting these young adults were ready for their next adventure.
What is that next adventure? Now that all the high schools in town have held their graduations many are focused on a summer job that will give them a competitive advantage when they get to college. It is not surprising. We are a town of over-achievers, and our children see that to be successful you must work harder and longer than others. We do not fault that drive. We do, however, think our high school graduates need a break this summer.
The constant resume building needs a vacation. Our students have just come through a grueling and stressful experience, and college will be even more of a challenge. They deserve this summer to take a break, to relax and enjoy being teenagers.
Now, don't get us wrong. We are not suggesting that they have no responsibilities, sleep until noon every day, and hang out on Greenwich Avenue. No. We do not want their parents angry with us. We believe that every teenager should have something to do this summer. We just do not believe it has to be a resume building job or internship. Think back to when you graduated from high school, what did you do that summer? Chances are pretty good it was something you recall fondly; a summer without worry, without stress, with a sense of adventure ahead of you. We want that for our children as well.
Instead of a job or internship in New York City, how about life-guarding at Tod's Point? There are plenty of seasonal jobs around town available. In fact, too many. Because our teenagers are seeking the resume building jobs and internships, the traditional summer jobs, like life-guarding or camp counseling, are left unfilled. Soon enough we, and society, will expect a great deal from our high school graduates. Let's encourage them to take this summer and celebrate being a teenager and get the kind of job every teenager should have. Life is short. Soon enough, having the summer off will be a thing of the distant past. Enjoy this summer, graduates—you have earned it!
The Sentinel Award
On June 30 we will be presenting our first annual Sentinel Award to Police Chief Jim Heavey. He has earned this recognition for all he has done, and continues to do, for our community. A sentinel stands watch, is a guard for a community. Who better represents a Sentinel than Chief Heavey?
A portion of the proceeds will be used to cover the cost of the "Doing Greater Good" section, previewed this week and next in the Sentinel, and to benefit our community with pro-bono PR and marketing assistance in partnership with all our amazing non-profits to help secure news coverage, volunteers, time, talent, donations, events, and fundraising.
We hope you will join us for this fun event. There will even be bagpipers! If you are interested in attending, you must purchase a ticket for this event. You can learn more by calling our office at 203-883-1430 or visiting our website page for this event: https://www.greenwichsentinel.com/sentinel-award-event/. We'll see you on the 30th.