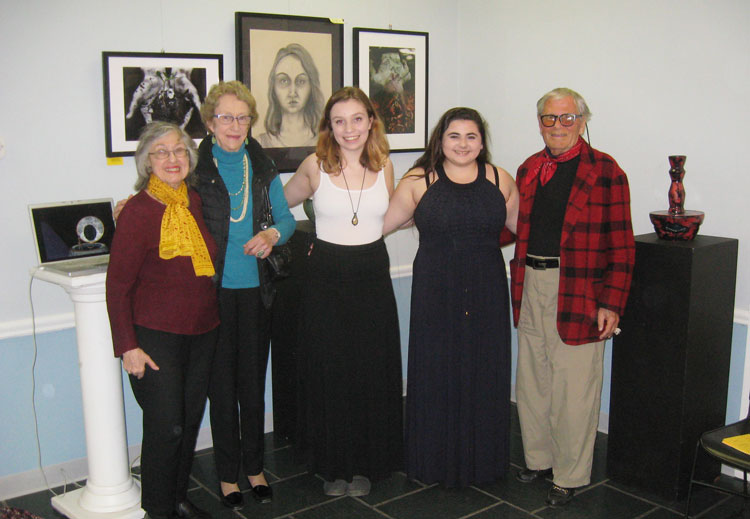 The Art Society of Old Greenwich (ASOG) presented its 2016 Scholarship Awards to three Greenwich High School students for their outstanding artwork in charcoal, photography and ceramics. The presentations were made on April 9 at the ASOG Spring Art Show reception, which took place at the Garden Education Center. The ASOG also presented 2016 Spring Show awards to ASOG member artists.
Monica Stevenson received the $500 Grand Prize Scholarship Award for her charcoal portrait. The $250 Runner-Up (second place) Scholarship awards went to Estella Perrone for her photography and to Andreas Zervos for his ceramics. Jurors for the Scholarship Awards were artists Carol Nipomnich Dixon, Frank Smurlo, Jr. and Libby Collins.
Also recognized for excellence were several ASOG member artists currently exhibiting their work at the Garden Center. Judge for the show was multi-media artist Joseph Fucigna, who selected award winners in oil, acrylics, watercolor, photography, mixed media and sculpture. Co-Presidents Barbara Stretton and Dan Gravereaux made the presentations.
The ASOG Spring Art Show, including GHS student Scholarship award-winning artwork, is on exhibit now through April 29, at the Garden Education Center, 130 Bible Street. Hours are Monday to Friday, 9 a.m. to 4 p.m. Admission is free.