April 27, 2016
Town Expands Access Greenwich Mobile App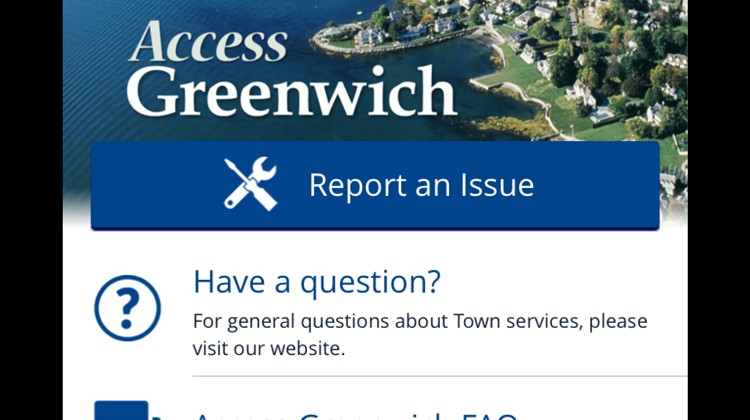 First Selectman Peter J. Tesei announced the expansion of the Access Greenwich mobile app and web portal.
Residents and users of the service can now contact the Zoning Office as well as submit general questions seeking information about the town, via the Office of the First Selectman.
The expansion follows the successful addition of the Parking Services Department to the Access Greenwich mobile app and web portal in March. Access Greenwich was launched in August 2015 with the Department of Parks and Recreation which has received 107 requests submitted since its inception.
Access Greenwich allows residents to submit issues through a web portal on with their smart phones, to attach photos and to track the progress of their requests. In addition to Town parks, playgrounds, trees, athletic fields, and parking meters, nuisances and general information questions can now be uploaded via Access Greenwich.
"This service allows residents and users of Town services to notify us of their concerns. It is easier and expeditious to comment and send inquiries," First Selectman Tesei said. "As the services provided through Access Greenwich continue to grow, it is proof positive that Greenwich residents and taxpayers are receiving exceptional customer services from our dedicated Town employees."
First Selectman Tesei also explained that Access Greenwich is "not only a tool to communicate with us, it also is a management tool that provides us with information on how quickly we respond to issues and what issues are being reported."
Senior Management Analyst Melissa Jones, who has led the efforts to implement and expand Access Greenwich, said, "From a user's perspective, it is more convenient to interact with staff than calling or stopping by the office – so hopefully even more residents will use the app. The app also allows users to track the status of their issue."
Search the Apple App Store or Google Play for Access Greenwich and download the app to your mobile device to submit a service request. To submit a request online, see greenwichct.org/contact_us/access-greenwich
Tags:
access greenwich
,
expansion
,
greenwich
,
mobile app
,
web portal.