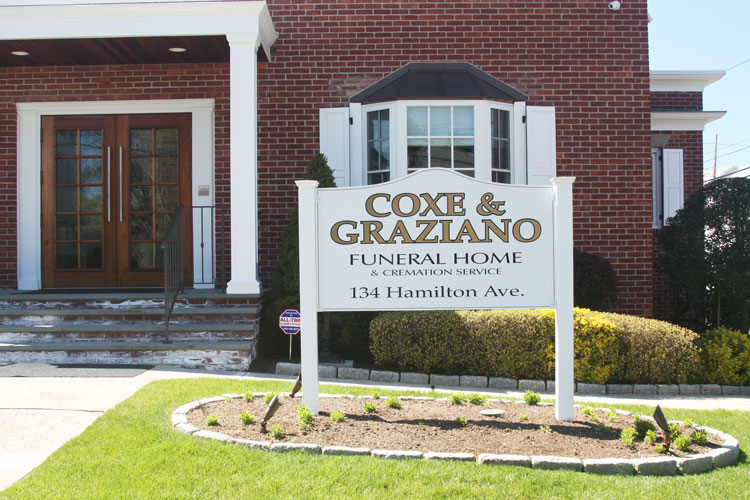 By Sara Poirier Correa
Sentinel Business Reporter
Coxe & Graziano Funeral Home has jumped feet-first into Greenwich life in the year it's had its doors open here. From radio shows and magazine articles, to educational sessions and newsletters, the business that people call when the end arrives is expanding its reach, and becoming more of a resource than ever before.
For Jennifer Graziano, a fourth generation co-owner of the Hamilton Avenue business, the path that Coxe & Graziano has taken is on an upward tick, with more to come.
"It was a year of tremendous growth, and as a family and a business I think we learned a lot about ourselves and the type of service we want to bring," said Graziano, who works alongside her father, Vincent, her brother, Vincent Jr., and others.
The past year, one of "renewed commitment" to the ideals that made the funeral home successful elsewhere, according to Graziano, helped shape how Coxe & Graziano is in Greenwich.
"We had to call to mind what we were giving people to make us [known within the community]," she said. "You have to treat everyone who walks through that door like it's a member of your family that's passed away," she added. "I think that's the difference.
The Graziano family has long been in the funeral business, with Joseph Graziano first starting in 1910. After his family's business made a name for itself throughout New York City, Vincent Graziano—Joseph's grandson—expanded to Westchester, N.Y., in 1980. Since then, he has run a funeral home in Mamaroneck.
"It is our commitment to carry on this sacred line of work employing the principles of service, dignity, compassion and professionalism that serve as the hallmark of the Graziano reputation," the company website says.
The Greenwich building, located at 134 Hamilton Avenue, has undergone major renovations since Coxe & Graziano took over. It formerly housed a competing funeral home, which since its lease ended has relocated within town.
"In about four to five months, we transformed it into the most state-of-the-art facility in Greenwich," Jennifer Graziano said of the Hamilton Avenue building.
The business has even received the blessing of the daughter of the former owner of the building at 134 Hamilton Avenue (who has no affiliation with the current competing funeral home). On the Coxe & Graziano website, Carolyn Castiglione Hird wrote: "My father, Don J. Castiglione, would be pleased to know that honorable, dignified and professional funeral directors are in possession of the facilities of which he was so proud. It was his honor to serve the community of Greenwich for many, many years and he would be pleased to know that you will be continuing his lifelong work with the same seriousness and dedication."
"You call a funeral home because someone died but you plan a funeral because someone lived," Graziano said, adding that each family Coxe & Graziano deals with families' needs individually.
Funeral planning cannot be treated as a "cookie cutter business," she said.
Offering funeral and memorial planning, cremation services, free bereavement groups and more, Coxe & Graziano aims to be a resource to the community in its time of need.
"I think a funeral home has an obligation to be a community resource," Graziano said. "It's a place where at some point the whole town will gather."
"We feel that the commitment doesn't end just because the funeral is taking place," she added. "It's a necessary part of our business. You have to continue to avail yourself to the family."
Graziano, an attorney with Ferguson Cohen LLP, a Greenwich-based estate planning, taxation, real estate, and trust and estate litigation firm, also hosts a radio show at 9:30 a.m. Wednesdays on WGCH 1490 AM. Entitled "Time To Talk," the show focuses on issues regarding planning, preparedness and end of life, and is a way to reach a broader audience and get the difficult discussions started, according to its host.
"It's the type of business where you need that community tie," Graziano said of the funeral industry, adding that Coxe & Graziano has become involved with numerous town clubs and organizations in Greenwich, just as it has in Mamaroneck.
"We want to be the resource," the licensed funeral director added. "We want to be more than just a building in town."
On behalf of Coxe & Graziano, Graziano writes for The Greenwich Girl, a digital magazine, where she focuses on similar issues. She also prepares a quarterly newsletter available via e-mail to those who sign up on the funeral home's website. It provides tips and information on varying topics such as coping with loss, what to serve at bereavement receptions and types of floral arrangements to prepare in the event of a funeral, for example. A blog is also in the works, Graziano said, and will discuss issues surrounding life and death.
On Facebook, the funeral home's page is full of inspirational quotes and other helpful information one might need during "life's most difficult moments."
Graziano said Coxe & Graziano has future events planned with area senior groups in Greenwich and Cos Cob to discuss topics such as preparing an agent letter—a legally binding statement outlining who you want to carry out your final wishes when it comes to funeral arrangements. Representatives from the funeral home will also appear at the Greenwich Chamber of Commerce's Business & Culinary Showcase Thursday, April 28.
"Every funeral home is not the same, every funeral director is not the same," Graziano said, advising those who are in the stages of planning a funeral to get a trusted friend or family member to help them through the process and help make decisions. Developing trust, asking questions and having conversations, she said, are key.
For more about Coxe & Graziano, call 203-869-5968, visit coxeandgraziano.com or go to its Facebook page.