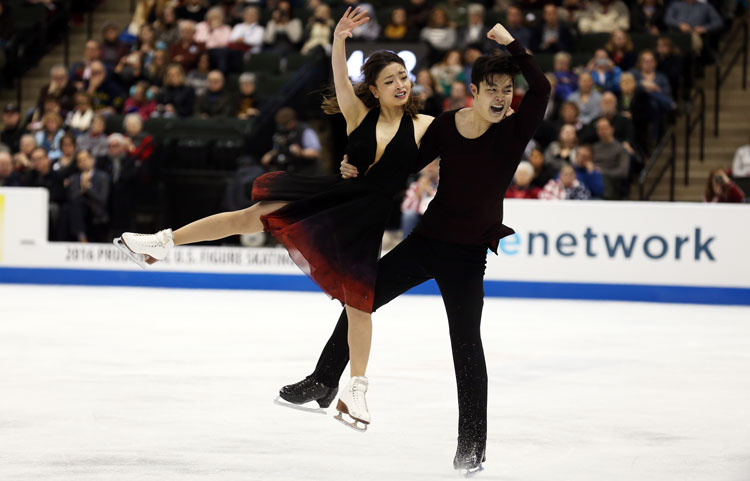 By Liz Leamy
Sentinel Correspondent
Alex and Maia Shibutani, the world-renowned brother/sister U.S. ice dance duo who are Greenwich natives, lit up the TD Garden in Boston last week in signature fashion, scoring silver at the 2016 World Championships.
This talented brother-sister team, who lived in Old Greenwich and trained at rinks in and around Greenwich growing up, racked up the second-highest total score, a 188.43, among a formidable field of 30 entries.
The duo, who claimed their first-ever senior title at the 2016 U.S. Championships in Saint Paul, Minn., last January, wound up several points behind the powerful French team and 2015 World titlists, Gabrielle Papadakis and Guillaume Cizeron, who took first with 194.46 points.
The Shibutanis were two and a half points ahead of their American colleagues Madison Chock and Evan Bates, the 2015 World silver medalists, 2015 U.S. champions and 2016 U.S. second-place finishers, who earned a 185.77.
"It's so incredible. It's been such a journey for us. We've been working hard this whole year and we're so excited to have skated clean at a home world championships," said Maia, 21, a former Greenwich Academy student. "It is a huge honor. We're very happy."
Skating to the Coldplay song "Fix You," the Shibutanis reeled off a host of superb moves that included lighting-like twizzles, turns and steps along with fluid, graceful lifts and spins that put them on top of the leaderboard.
At the perfeormance's conclusion, the crowd of nearly 15,000 people stood up in thunderous applause, designating this as a memorable moment for the hard-working and accomplished pair.
"They were supporting us every single step out there," said Maia, who was once awarded the Alis W. McCurdy Cup for showing promise and talent at the Greenwich Town [Figure Skating] Competition. "We've been working so hard and to have [two] moments like this in front of a home audience, you really can't ask for anything more."
For the Shibutanis, bringing home silver was as much a personal victory as anything else, as it marked the first time they had won a World Championship medal since 2011, when they were third.
"It's always been about making steady progress and doing everything we can to make it happen," said Alex, 24, who attended Brunswick School and was a volunteer for the Special Olympics at the Dorothy Hamill Rink in town when he was younger. "For us, it's been 12 years of partnership and 21 years of friendship, growing up together, and I think we really believed in each other every step of the way."
This competition marked the duo's final rally in what could be described as their most successful season to date.
"It's been a chain of events that have been really exciting. We feel like we're in a zone right now," said Alex in a pre-Worlds media teleconference call. "Worlds is a celebration and is the last competition of the season."
Clearly, the Shibutanis have been in a golden zone recently, considering the results of their 2015/16 season.
This past year the two not only clinched their first-ever U.S. Championship title, but also shattered a critical ceiling in terms of their performance level, largely due to their groundbreaking Coldplay free dance.
This program, designed by Peter Tchernyshev, a five-time U.S. dance champion and former Olympian with partner Naomi Lang, is a remarkable piece of work that helped catapult them to a whole new artistic level and put them at the forefront of international ice dancing.
"Maia and I know what we want to say on the ice," said Alex. "You want to see as many different points of view out there, it makes the competition more interesting and diverse and I think we can continue to provide that."
This program, meanwhile, has also been an effective vehicle for showcasing the team's distinctive personality and style: they have come to be known for their vivid interpretation of human themes such as joy, pain, beauty, and humor.
"You want to see as many points of view out there and it makes the competition more interesting and diverse," said Alex. "I think we can continue to provide that."
At the same time, American figure skating luminaries seem to be excited about the evolution and success of this team.
"They're great to watch, and they fill the whole rink with their skating, which says everything," said Slavka Kohout-Button, a Greenwich resident who worked with the Shibutanis as youngsters and coached Janet Lynn, the five-time U.S. champion and 1972 Olympic bronze medalist. "I really like the way they cover the ice."
For Maia and Alex, who live in Ann Arbor, Mich., and train with Marina Zoueva, the esteemed coach of Meryl Davis and Charlie White, the 2014 U.S. Olympic champions, at the Arctic Edge Ice Arena in Canton, it's all about being their best.
"Our goal is and continues to be [to evolve into] the best version of ourselves," said Alex during the team's pre-Worlds media teleconference call.
The Shibutanis, who have been competing together since 2004, have always been a fierce figure skating force as they famously maintain one of the most impressive competitive resumes of any dance team in the sport.
Ever since they first started competing together, the duo has consistently achieved national and international podium finishes, scoring gold, silver and bronze medals all the way from the juvenile through senior (championship) levels, making them one of the only U.S. teams to have ever achieved such a feat.
Back in 2011, their debut senior season, the Shibutanis placed second at the U.S. Championships and third at Worlds—vaulting right into the center spotlight of the sport.
Since then, the two have continued to rack up top domestic and international finishes, winning two silver and bronze U.S. Championship medals before claiming their first U.S. senior title this past January.
These results, combined with numerous top-ten placements at Worlds and also at the 2014 Olympics, have been impressive, but the reaching their present stature has been a labor of love, to say the least.
"We're so grateful for having that medal," said Alex. "We look back and see some of our long programs and very clearly see the growth."
This season, the team really hit stride as captains of the international ice dance realm, which is evident when reviewing their stats.
Last fall, they clinched gold at the International Skating Union's NHK Trophy Grand Prix event in Japan and silver at Skate Canada.
In December, they placed fourth at the ISU Grand Prix Finals in Barcelona, where their free dance made them a huge crowd favorite.
That experience seemed to give them a boost to subsequently deliver a gold medal-winning performance at the U.S. Championships in January.
Their momentum continued as they went on to claim gold at the Four Continents Championships in February and then silver at Worlds.
"We've always believed in the path we've set. Our goal was to develop every year," said Alex. "I think we've entered the adult phase of our career. We've learned a lot over the years."
Kohout-Button described this as an exciting time for the Shibutanis, saying they have reached a new point in their skating.
"Maia and Alex were always good, hard-working skaters, and it's wonderful to see them achieve this level," said Kohout-Button, a U.S. Figure Skating and Professional Skaters Association Hall of Fame member who was on hand at the TD Garden to watch her former charges compete. "They are the type of skaters who make a difference."
During Worlds, Maia and Alex stopped by the Boston Children's Hospital where they spent several hours with the young patients there talking, hanging out, and telling stories (mostly funny) about their experiences as competitive skaters.
In addition, they gave the children stuffed animals and toys they had received from fans, and spent time signing autographs.
This was a highpoint of the week for the Shibutanis, who are said to have a strong affinity for the city of Boston, since it is where their parents, Naomi and Chris, first met when they were attending Harvard University.
"The city has a lot of strength and character," said Maia after the short dance segment of the competition, in which the team had placed second.
Over the past years, the Shibutanis' own strength and character, along with their many accomplishments, have also sparked a great deal of excitement among residents here in town, many of who have been following their pursuits with avid interest.
In fact, they seem to be generating a level of buzz similar to that of their famous figure skating predecessor, Dorothy Hamill, the former Riverside resident, when she clinched Olympic gold more than four decades ago and for whom the local rink is named after.
Amid all of the attention and accolades, however, the Shibutanis are really all about just staying on the course.
"We really just have to stay focused on our journey and our improvement," said Maia. "We feel the momentum we built this season and we're excited to go home to work hard for next season."