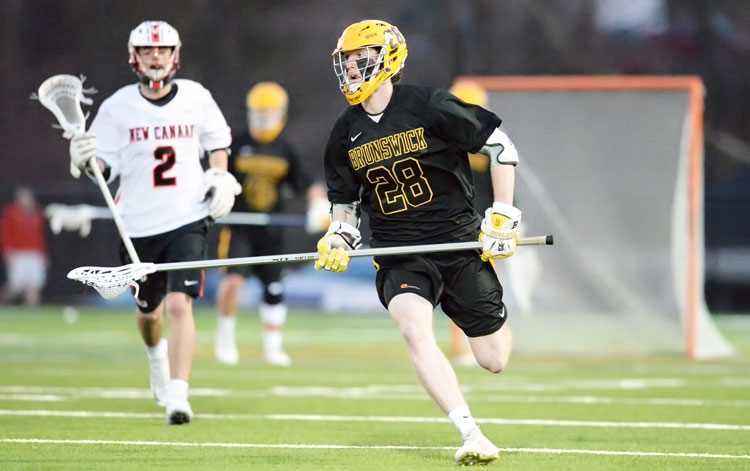 The Brunswick School lacrosse team scored two goals in the first minute of the game, but it was New Canaan High School that controlled play the rest of the way, beating the Bruins 13-8 in a battle of perennial powers.
This mid-April contest featured two teams in the USA Today Super 25 national rankings. The Bruins were seeded No. 5 in the country, while New Canaan wasn't far behind, grabbing the seventh spot in the rankings.
Brunswick built the early 2-0 lead, but New Canaan scored the final six goals of the half to take the 6-2 advantage. After both teams exchanged goals in the third quarter, the Rams iced the contest in the fourth quarter.
For Brunswick, Xander Dickson led the team with three goals, while Max Metalios, Sean Morris, Reilly Walsh, Griffin Gelinas and Alex Buckanavage each scored once.
Buckanavage led the Bruins with two assists, while Walsh added one.
"It was a great atmosphere," Brunswick head coach David Bruce said. "My hat goes off to New Canaan because they played a really smart and aggressive game today. They did a great job. This was a game that had two strong offenses and they had far more possessions than we did.
Below is a photo slideshow from Greenwich Sentinel photographer John Ferris Robben. To read much more on the game and to hear from both head coaches, check out Friday's Greenwich Sentinel.