April 12, 2016
Brunswick Baseball Shows Off Power in Win Over St. Luke's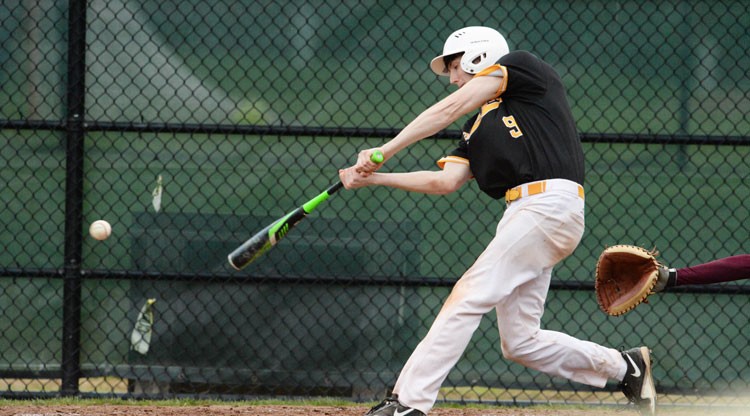 Trevor Johnson's two home runs paced an extra-base hit bonanza, as the Brunswick School baseball team turned a 6-4 deficit against Fairchester Athletic Association foe St. Luke's into a 10-6 victory on Monday.
The Bruins (3-1, 3-0) added two more homers and four doubles during their 16-hit victory, staying perfect FAA play.
With the game tied 1-1 in the bottom of the second, the Bruins scored two runs to take their first lead. 
Ryan Hanrahan led off with a single and stole a pair of bases, before Charlie Sealy drove him in with an RBI single to right field. After stealing second, Sealy ended up scoring later in the inning on a two-out single to left by Connor Redahan, giving the hosts a 3-1 lead.
After St. Luke's tied the game with a pair of two-out runs in the top of the third, Johnson led off the bottom of the frame with a first-pitch homer, giving Brunswick a 4-3 lead.
The Bruins' advantage was short-lived, as the Storm responded with three runs in the top of the fourth, chasing Brunswick starter Michael Beninati (3.1 IP), as J.D. Sparks finished the inning in relief.
Trailing 6-4, the final lead change occurred in the home half of the fourth, as the Bruins scored four runs on five extra-base hits. Pinch-hitter Teddy Sabato started the scoring with a lead-off solo homer on a full-count offering, knifing the deficit to 6-5.
Trystan Sarcone followed with a double to left and scored on the next pitch, as Redahan launched a two-run blast to center, giving Brunswick a 7-6 lead.
After a put-out, Johnson stepped in and launched his second four-bagger of the day, and third of the season, expanding the Bruins' lead to 8-6. Still with one out, Michael Marzonie followed with a double to left, but he was stranded on consecutive put-outs.
Sealy relieved Sparks to start the fifth and pitched out of a bases-loaded, one-out jam. Sealy added an effective sixth inning of work on the hill, pitching two shut-out innings.
With some light rain falling, Brunswick added two more runs in the sixth. Marzonie led-off with a single to left, followed by a one-out single by Hanrahan. With two outs, Teddy Sabato knocked both runners in with an RBI single for a 10-6 advantage.
Johnson pitched a three up, three down seventh inning to seal the victory.
Six Bruins had multi-hit performances, as Johnson went 3-for-4 with two homers and three RBIs, while Marzonie also had a 3-for-4 day, with two doubles. 
Redahan finished with two hits, including a two-run homer and three RBIs, as Teddy Sabato was 2-for-3 with a home run and three runs batted in. Sealy and Hanrahan each added two singles, as Sealy collected one RBI.
Tags:
Brunswick
,
Brunswick Baseball
,
ctbase
,
ctbaseball
,
FAA
,
greenwich
,
NEPSAC
,
St. Luke's