April 11, 2016
Play Ball…Finally: Greenwich Opens Season With Win Over Cadets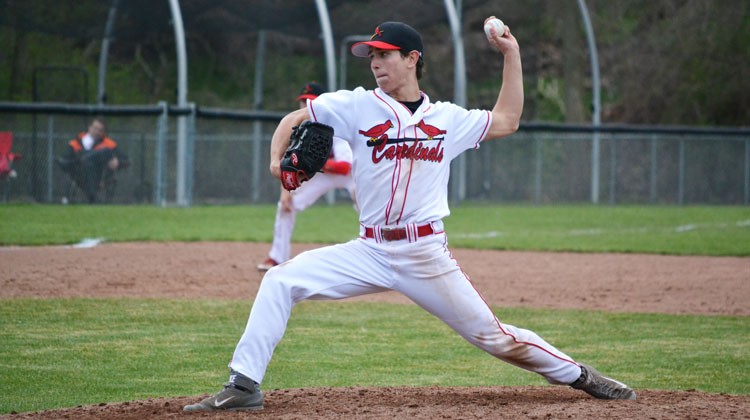 Good things come to those wait and the Greenwich High School baseball team experienced that first hand Monday afternoon.
After a week of postponed games, Big Red finally got on the diamond against St. Joseph High School and made the most of its delayed opening day.
"I told the guys that we would eventually start the season one day," Greenwich High School head coach Phil Tarantino said. "We were practicing one day inside and the next day outside and then back inside again. To their credit I think they had a lot of energy today and were excited to play."
With rain and snow blanketing the area last week, the Cards finally started its season and did so in grand fashion, scoring eight times in the sixth inning and upended the Cadets 10-5 for the victory.
"It was great for our first game," Tarantino said. "I thought we hit the ball well today, which was great to see, but I was more impressed with our defense. We played clean and our starting pitcher was awesome."
Greenwich broke the game open in the sixth inning. With the score knotted at 2-2, Big Red was patient at the plate and got the hits when they needed to.
Connor Langan started the inning off with a single to the left center field gap. After Richard Columbo was hit by a pitch, Mark Sunoo reached base on a fielder's choice and then GHS loaded the bases when Colin Kelly drew a walk.
Ryan King came up next and drew a walk to bring home Columbo for the 3-2 lead. From there the rout was on. Erik Mini stepped to the plate and uncorked a single to right field that drove home Sunoo and Kelly for the 5-2 lead.
Up next was Kevin Woodring, who launched a double to deep center field and plated another run. Paul Williams got into the act when he connected on the RBI single to center that gave Big Red a 7-2 lead.
Marco Pastore gave Greenwich a 9-2 lead when he unloaded a double over the center fielder's head that plate Williams and Woodring. Langan, who started the inning off with the single, finished the scoring for GHS when he hit a shallow single to center that scored the 10th run of the game for the Cards.
"It felt great today," Langan said. "With Anthony pitching, things were settled. Everybody was behind Anthony and everybody did an awesome job. When Anthony was out there, we knew he would keep them off the scoreboard. But we had to hit offensively and we did that today. We are just coming together as a team."
For Tarantino, watching that sixth inning was seeing his team execute everything the head coach has been talking about throughout practice and the preseason games.
"We talked about being patient and just taking a pitch," Tarantino said. "I think we were anxious early on, but we did hit the ball well. However, St. Joseph made some nice plays. If you keep on hitting it hard, eventually you get lucky and it will fall in. We hit the ball and have some good athletes in the lineup, so if they connect, we can be tough."
Greenwich got the ball rolling in the second inning. Trailing 1-0 and with two runners on, Kelly gave Big Red the lead when he fired a two-run single.
On the mound, Ferraro certainly did his part. In five innings of work, the junior gave up two runs and struck out seven batters.
"This feels good," Ferraro said. "When you have the whole team behind you, it's a great thing. It feels good to be out here today. I was just pitching to contact and letting my defense do everything for me today. The defense was great today."
Tarantino said that it was Ferraro's breaking ball that set the tone in the opening game of the season.
"Anthony's breaking ball has been terrific," Tarantino said. "At the end of the season last year, Anthony was a big reason why we made our run and it was the breaking ball that was so effective. He was on today and I was so impressed with how he looked."
The smiles on the bench were probably a little wider due to finally playing baseball. A week into the season and Big Red had several games postponed, do to everything from the cold, rain and even snow.
"We have been inside almost the entire preseason, so it's nice to finally get outside," Langan said. "It's been raining and we've cancelled a few games, but it was nice to come out as a team today and get the victory."
With the victory, Big Red started the season 1-0 and it was all smiles in the GHS dugout.
"The nerves of the first game of the season were there," Tarantino said. "We weren't sure how we were going to play or how we were going to execute. We haven't played a game yet. So that was all in there, but they played hard and we talked about that going into the game. We just wanted to play hard for seven innings and whatever the score is, it is. Today we played well and were fortunate."
Tags:
CIAC
,
ctbase
,
ctbaseball
,
FCIAC
,
GHS
,
greenwich
,
Greenwich baseball
,
Phil Tarantino
,
SJHS
,
St. Joseph