April 3, 2016
Enthusiastic Response in Easter Church Attendance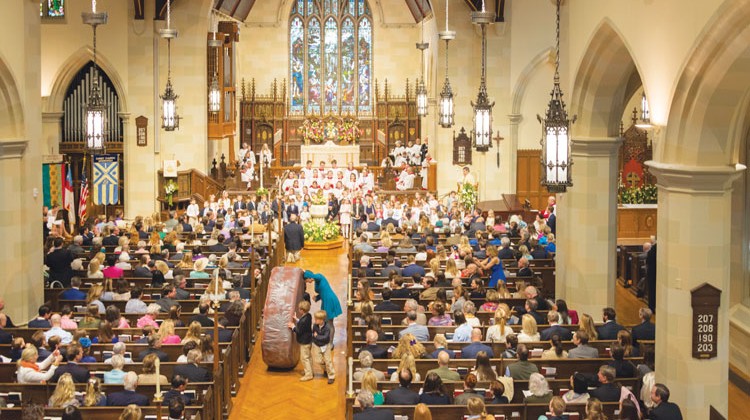 By Anne W. Semmes
Sentinel Features Reporter
The Greenwich Sentinel reached out to a number of churches in town to gauge the attendance levels of their Easter Sunday services, and found some impressive numbers. The results are in no way representative of all churches, as some did not respond by deadline time.
At Christ Church Greenwich, there was a record number attending services on Easter Sunday reported Susan Reed, the executive director of Marketing Communications & Parish Relations. "We expected it to be a little low for Easter as it was a private school break which typically does affect our attendance. However, that was not the case. This year, we had 955 at the 9 a.m. service and 900 at the 11 a.m. service."
These numbers show, said Reed, "a steady increase in Easter Sunday service participation for the past five years. Back in 2010, we counted approximately 800 in attendance at our 9 a.m. service and 700 at our 11 a.m. am service."
As Christ Church also offers a number of Holy Week observances unique to the area, said Reed, there was again a noted increase in attendance of those services of "from 20 to 100 participants."
"The statistics are interesting," said Reed, "in that church participation as a whole, nationally, is on the decline. But at Christ Church Greenwich, we have been slowly growing over the past ten years and seen an increase of anywhere from two to three percent in attendance on an average Sunday."
Up the street from Christ Church, Second Congregational Church, with the highest steeple in town, resounded with trumpets playing for a reportedly 400 worshippers at its 10:30 a.m. Easter Sunday service, said the Rev. Maxwell Grant, the church's senior minister. He cited the 400 as a "slight" increase, with the other services held over Holy Week all up "10 to 15 percent" in attendance.
The churchless Trinity Church chose a larger venue—the 750-capacity Ballroom at the Hyatt Regency Greenwich for its Easter Sunday services, and nearly filled it twice over.  "Our conservative estimate is that we had 1,425 adults and children worshipping with us on Easter Sunday for our two services," said Trinity Church Director of Communications and Administration Katie Stallard.
"We were delighted to have even more people join us this year," said Stallard. The Hyatt Ballroom she said provided extra room "to welcome in newcomers, friends, co-workers, relatives, and all in the community who may not have a church home but make a point to attend church on Easter and Christmas Eve."
Julien Jarry, Trinity's staff photographer, has provided a visual memory of the occasion with an album of photos now posted on their Facebook page: Trinity Church—Greenwich, CT.
In backcountry Greenwich, Easter Sunday at the Round Hill Community Church brought the full regular attendance of 200, preceded by what was an overwhelming gathering at their Saturday Easter EGGStravaganza. "We had over 300 people!" said church administrator Lynda Kinny. "Many of the attendees saw the Sentinel's Saturday 5 Easter things to do and chose to play with us." Attendees enjoyed an Easter egg hunt, a petting zoo, craft making, and a celebratory spring planting of seeds in pots they decorated.
Stanwich Congregational Church, also in backcountry Greenwich, brought together a number similar to that of to Christ Church, with over 920 attending, "120 children and over 800 adults," said Danielle Kohlberger, director of communications. "Definitely more than last year," she said. "On a typical Sunday worship service, we have about 75 children and 400 adults."
"We are also excited," she said, "that we had a well-attended Holy Week which included a Maundy Thursday service and dinner, a Good Friday noon service and an interactive Stations of the Cross."
The First Congregational Church of Greenwich offered three different Easter Sunday services bringing a total of 1,022 worshipers, reported Ginny Breismeister, director of membership. "That's two more than we had last year," she said.
With only a third of the 18 Greenwich churches accounted for at this writing, the sum total of churchgoers reaches 5,822.
Tags:
Church Attendance
,
Easter
,
greenwich