March 18, 2016
Garden Catering is Back in Business in Chickahominy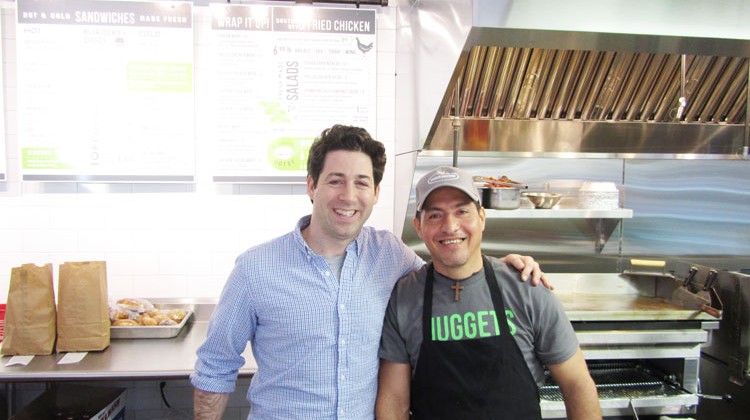 By Bill Slocum
Contributing Editor
Fourteen and a half months after being destroyed by fire, a popular Chickahominy catering and dining establishment opened its doors again Tuesday morning.
Business at Garden Catering on 177 Hamilton Avenue in Chickahominy was already brisk by late Tuesday morning, as a lunchtime crowd began gathering in force. Manager Monika Rodriguez said many longtime customers were popping in to say hello and welcome them back.
"We've been serving people since 6:30 this morning, so it's been busy," Rodriguez said. "People are happy to see us, and we're happy to see them."
Frank Carpenteri Jr. is Garden Catering's director of operations and development, and grew up a short distance from the Chickahominy store, which opened in 1999. He said there were times after the Dec. 31, 2014 fire when complications involving his landlord and two insurance companies had him wondering about whether to seek a new location.
"There were dark days," he said. "But we never wanted to leave the space. We are so glad to be back."
The cause of the fire was not determined, Carpenteri said, other than it was accidental. It occurred overnight, when no one was in the establishment. By morning, there was nothing left but charred ruins.
Carpenteri said there were already plans to remodel before the fire, and that they made the best use possible of their second chance with a complete interior overhaul. A decorative advertising mural now fills an entire wall beside the spiffy new kitchen and service area.
There is also new branding, Carpenteri noted, and a new logo. "It gave us the opportunity to start from scratch," he said.
The Chickahominy establishment is one of two Garden Catering locations in Greenwich, the other being their flagship store in Old Greenwich, which opened back in 1978.
Five other Garden Catering locations are in neighboring communities: Mamaroneck and Port Chester, New York; and Stamford, Norwalk and Fairfield.
Garden Catering offers a range of breakfast and lunch items, including burgers, hot dogs, salads, Southern fried chicken, and breakfast wraps.
Two specialty items familiar to Garden Catering regulars are back: chicken nuggets served with cones, onion rings, or various other accoutrements and available in a number of sizes; and Hotsy's homemade chili, a recipe of World War II veteran and local legend Frank "Hotsy" Bertino.
Carpenteri said customer traffic flows into the Chickahominy location from multiple directions; from landscapers driving by from Port Chester on their way to a back country home to hedge funds in and around central Greenwich which have meals catered to their offices.
Teachers often stop in from Hamilton Avenue Elementary School across the street, where Carpenteri himself graduated back in 1990.
"There are a lot of families, second- and third-generation people here," he said. "We have always done well in this location."
Carpenteri said he is pleased with the first morning's business at the Chickahominy location, and expects it will continue to grow in the weeks ahead.
"We're using this as a soft opening, but once people know about us being back, we'll get a lot of business," he said.
Tags:
Chickahominy
,
Garden Catering
,
greenwich
,
reopens