[jwplatform XG2RIlNx]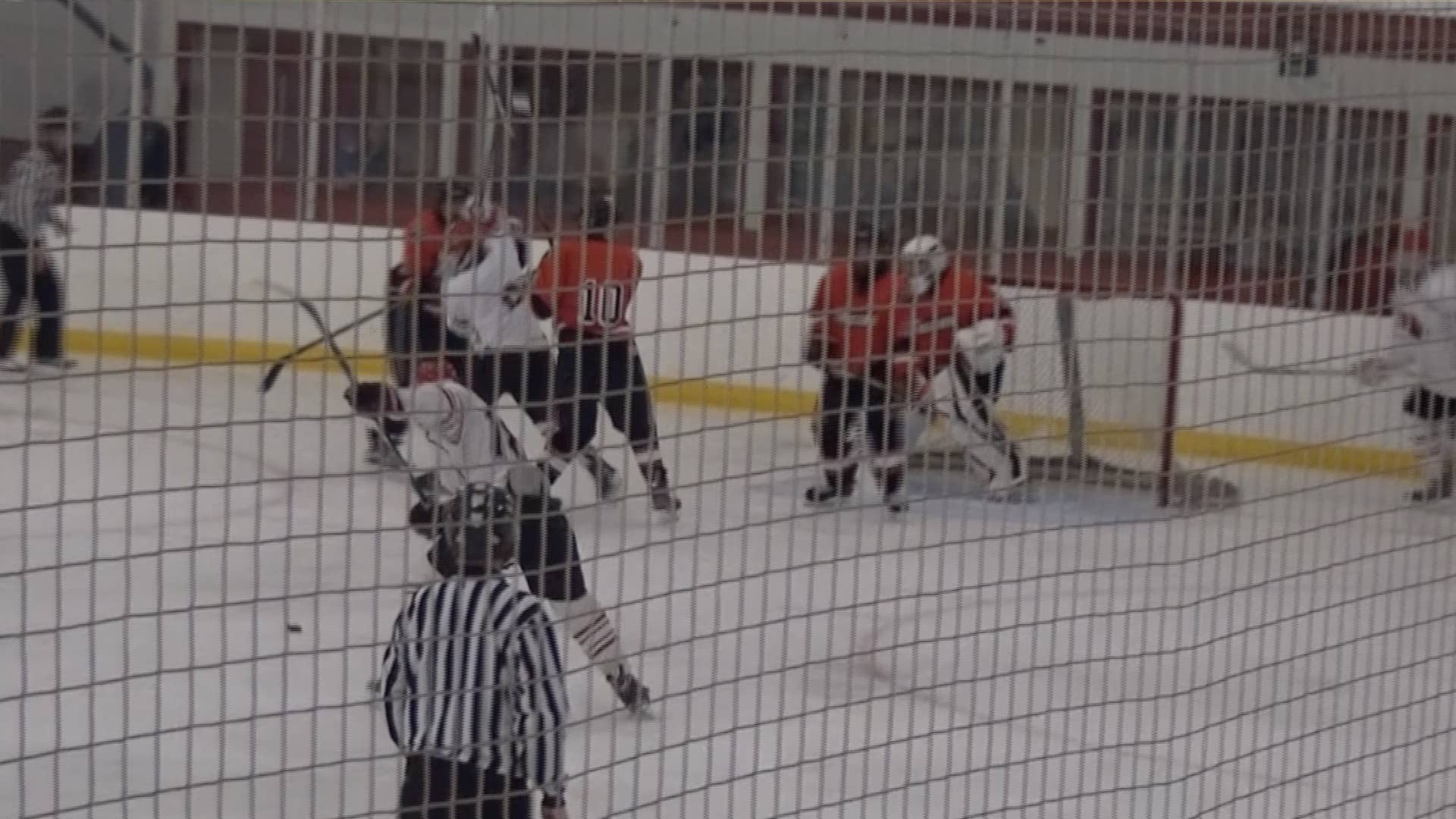 Hot off an FCIAC Championship win, the Greenwich boys hockey team faced Ridgefield in round one of the CIAC Division I tournament at Dorothy Hamill Rink.
Mike Mozian busts the game open for Greenwich. He gets the puck from KC Cunningham and quickly gets it past the Tigers' goalie. It's 1-0 after 2:30 of play.
Ridgefield answers with two goals- the first here scored by Pete Sarath and then Ty Fujitani puts the Tigers up 2-1.
Now to the second period, Mozian once again gets things started for the Cardinals. He ties the score at two a piece. Colin Kelly will add one to the Cardinals score with this slapshot. Greenwich leads 3-2 after 2 played.
In the third, the Tigers score first to tie it up at 3. Then, Alex Mozian gets a pass from big brother Mike to score for the Cardinals, but that's not all- Ridgefield ties it up again to take this playoff game into overtime.
Both teams keep their nets clear in the first 15 of OT and now the game goes into double OT. As fans for both teams at Hamill Rink are going wild, Kelly skates into Tiger territory and passes to Alex who gets it past the goalie. Greenwich beats Ridgefield 5-4 in the first round of the CIAC Division I tournament.
"I was relieved we finally scored in double OT, it felt great to finish. It was an amazing feeling with the whole team coming o celebrate with you," said A. Mozian.
"It was a really long game and the fatigue was really starting to set in. Getting the win there was really big," said Cunningham.
"We had the guys who persevered. It was a character win. Guys were exhausted by the end of the game, especially the guys we were using for the power play penalty kill time. Yet, they found a way to come up with the puck at the right time and make it happen," said Head Coach Bob Russel.
"The work ethic is up. We re on a little bit of a roll here and we hope to keep it up in the quarters," said Kelly.
The fifth seeded Cardinals will now play Hamden, the 13 seed, on Saturday at 2:00 p.m. at Webster Bank Arena.
Be sure to follow Sentinel Sports (@GSentSports) on Twitter for live updates and check back for game recap on Saturday.