February 26, 2016
Town Looks to Widen Use of Mobile App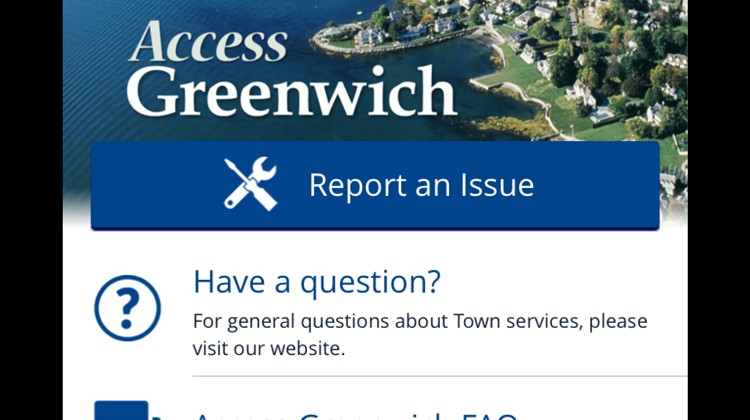 By Bill Slocum
Contributing Editor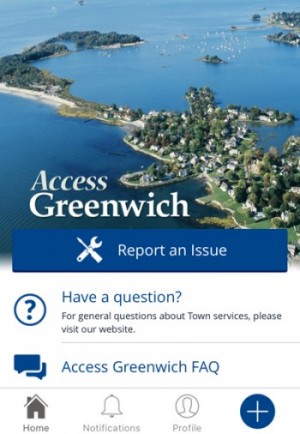 A mobile app that allows Greenwich residents to submit public-service requests via smartphone is moving slowly toward wider adoption.
Melissa Jones, a town management analyst who works in the first selectman's office and oversees the app's implementation, reported Access Greenwich has been downloaded almost 400 times since its introduction last August.
"It's a new way of interacting with your town government," Jones said. "Part of trying to gain traction is trying to appeal to a mobile-driven culture."
At the moment, only one town department, Parks and Recreation, is connected to Access Greenwich, and usage there declined since last summer to just three requests a week. Jones said this may be because fall and winter are in general quieter periods for the department.
"It's a large enough department, robust enough so that the system does get used," she said. "They cover trees, they cover beaches. There's a wide range of requests that they cover."
At the moment, Access Greenwich can be used to report such issues as a fallen tree, a broken playground swing, a damaged skateboard ramp, and other issues involving town property that impact public recreation. The app's special features include an interactive map that allows users to pinpoint the area where a problem exists, as well as the capability of uploading images.
"I think we have some people who have been using this on a regular basis to report issues," town Parks and Recreation Director Joseph Siciliano said. "The activity hasn't been overwhelming, but it has been useful."
Jones said the app has obvious wider potential.
"This would have the capability for someone to say: How do I pay taxes? How do I register to vote?" she said. "Those are certainly things we can add, and likely will going forward. This is right now very specific for reporting. But it will have the functionality for someone to ask: How do I do this?"
One possible avenue of expansion she noted is with finding places to park. Rita Azrelyant, town parking director, recently raised the possibility of employing mobile apps to inform users when parking becomes available on and around Greenwich Avenue.
Such an app would require a degree of sophistication and data entry Access Greenwich at present doesn't have. Still, Jones called the possibility an intriguing one.
"The other piece of this is a management tool," she said. "We can use this to track how quickly we are responding, and actually completing, work orders. We can see if there are particular locations or types of requests that are dominating. It would allow us to deal with allocation of resources."
Siciliano said this internal tracking aspect has proven useful to his department. "We're able to take issues, put them in a work-order format, and report back to the reporting citizen when the issue is resolved," he said.
At the moment, Jones said the most likely town department to incorporate Access Greenwich next will be Public Works.
"They have similar issues to report, like potholes and sewer problems, so it would be a natural fit," she said. "They have their own back-end work-order systems, so we would have to work out how to integrate the two."
Incorporating a new department to the app could happen soon, Jones said, with the caveat that she is hoping for wider Access Greenwich uptake within Parks and Recreation this spring.
Those wishing to get the Access Greenwich app can download it for free from the Apple App Store or Google Play by searching for "Access Greenwich." A web version of the app is also available at www.accessgreenwich.com.
Tags:
greenwich
,
mobile app
,
smartphone