February 19, 2016
Brunswick Wrestling Dominates WNEISWA, Set Record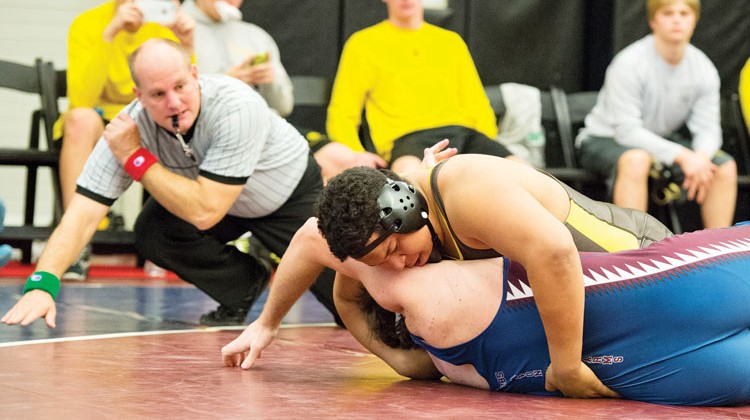 It's obvious that the Brunswick School wrestling team is having one of its best seasons to date.
On Saturday, during the 59th annual Western New England Independent School Wrestling Association Championships, the Bruins added to their resume a championship trophy and did so in grand fashion, scoring the most total points in the championship history.
"This feels really good," senior captain Lucas Bell said. "Every year this is our team goal and moving on to New Englands and Nationals, it becomes more of an individual thing, but the WNEISWA tournament is definitely a team goal to win. The fact that Joe, Alex, John and I have been a part of three state winning teams is amazing. To help out on teams like that is unparalleled."
Brunswick, which scored 286 points en route to Saturday's championship, broke the previous record of 278 points.
"We had no idea what the record was and had no idea that we were going to be near that," Brunswick School head coach Tom Ostrye said. "We hoped we would have a good day and try to win it for the third consecutive year and I must say that things went our way. We won it and did so in stellar fashion and it's a tribute to the work the kids put in all year long. That's what we emphasized from day one."
For Bell, it was a total surprise when he saw the point total at the end of the tourney.
"It's funny, because I was dumbfounded—but at the same time, it wasn't really a shock to me because we had all these kids who were unseeded that came in top six," Bell said. "The first two rounds we won every match by pins and only lost two matches, which is just insane."
For the first time in Brunswick wrestling history, all 14 wrestlers placed in the top six at the tourney and helped Ostrye pick up his 12th WNEISWA championship.
Grabbing top honors for Brunswick was the foursome of Andrew Hennessey, Jon Errico, Lucas Bell and Joe Fervil, as each won his respective weight class.
Errico, in the championship match, upended Avon Old Farm's Stephen Thibault, a two-time All-American.
"It was awesome," Errico said. "I was really happy to get both awards. I haven't really had too many tough dual meet matches and wresting Thibault was a great match. He's a tough kid, a tough opponent, and it was good to get into those matches."
For Fervil, it was back-to-back WNEISWA championships, something he never thought in his wildest dreams would happen during his tenure with the Bruins.
"This feels great," said Fervil, a senior captain. "I wrestled for Brunswick all four years, and I remember Coach Ostrye tell me my freshman and sophomore years that I am going to be a state champion. And to be a two-time state champion is an amazing feeling. I am so proud."
Brooks Hennessey, John DeLucia and Alex Burdick each grabbed the silver. A plethora of grapplers, Lachlan Rosato, Alex Russell, Aiden Reynolds and Alex Tucker, took home third.
"This is such a great feeling," said Russell, a senior captain on the Bruins. "This is what we always work towards. I think we really showed our potential as a really strong team. We broke the record for the most points scored and that was a great accomplishment to reach. A lot of kids showed up and wrestled well and it showed."
Emmett Bell and Sandro Mariani finished fourth, while Rishi Das ended the day sixth.
In addition to grabbing medals, Errico took home the Ray Sparks Trophy for the tournament's most outstanding wrestler as voted by the coaches, as well as the Peraino Trophy for the most pins in the least aggregate time in the final three rounds of the championship bracket.
"It's very special," Ostrye said. "It says what kind of kid he is, because he's humble, he's modest, goes upon his work and takes care of things in here. He's one of four captains and a leader. Just him being in the room elevates the whole team because they see how hard he works and see his technique."
To say that the Bruins have been dominating is an understatement. In order to find the last time Brunswick was defeated, you would have to go back to last year when they fell to Belmont Hill.
"We work really hard," Errico said. "Every single guy on the team pushes each other, whether it's in the locker room, or to lift, or to make good decisions outside the wrestling room. We all push each other to work as hard as we possibly can and that's what puts our team on top. We have that will to win."
In addition to the undefeated regular season, the Bruins controlled the Fairchester Athletic Association championship from its start to finish. The team finished a perfect 4-0 on the day, beating Hopkins School (61-15), Greens Farms Academy (69-12), Hamden Hall Country Day School (73-5) in the FAA semis, and Rye Country Day School in the championship match (48-28).
It was Brunswick's 19th consecutive FAA crown.
"It says a lot of our team," Russell said. "We haven't lost FAA in a long time and won WNEISWA three years in a row. It gives everybody on the team a sense of confidence, and it's a good motivation for us. And at New Englands, we want to make it to the top three. There's going to be better competition there, but we will just try and do our best."
And the competition doesn't get any easier for the Bruins. Starting later today, Brunswick hits the road and travels to Avon Old Farms for competition in the New England championship meet.
"We need to come out prepared and ready to wrestle," Errico said. "We aren't seeded No. 1 for this tournament, which is frustrating, but I think we have the potential to get our team to the top. We need to be firing right off the bat and getting some pins early. If not and someone loses, we have to wrestle back as hard as you can and hopefully take third."
Everybody wants to do well," Fervil said. "We are seeded pretty high in the New England tournament, so we all want to perform to our seed, or do a little higher and wrestle well."
Despite what happens at the New England meet, Ostrye knows that this year's Brunswick wrestling team has been a special one.
"It would be nice to have a great day and crack the top three," Ostrye said. "Whether that can happen, I don't know. If the kids show up and get seeded well and have a good day, we will see what happens. It's hard to get up from the States to New England, but we have kind of made New England our goal now, because this is a pretty special team. We are going to be losing five really good kids to graduation, so maybe this is the year to try and make some noise. We're going to give it a shot."
Tags:
Brunswick
,
Brunswick Wrestling
,
ctwr
,
greenwich
,
Jon Errico
,
NEPSAC
,
Tim Ostrye
,
WNEISWA