February 19, 2016
Greenwich Wrestling's Ceci, Menchaca Stand Out at FCIACs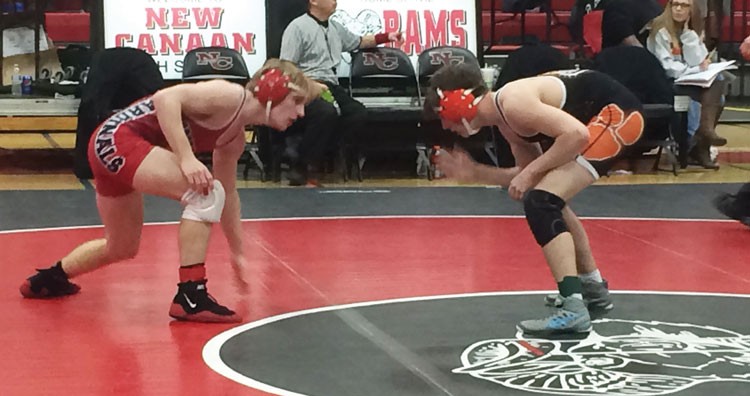 Greenwich High School claimed seventh place in the Joe Sikorski FCIAC wrestling championships on Saturday, highlighted by a pair of medalists, Mike Ceci and Erik Menchaca, in their respective weight classes.
Overall, Big Red's 79 points edged out Westhill, which finished eighth with 78 points. The favored Danbury cruised to another FCIAC championship, compiling an impressive 277 points.
In fact, the Hatters were the lone team to amass 200 points. Trumbull High grabbed silver with 195 points, while Fairfield Warde finished third with 183 points.
Ludlowe finished fourth overall with 151.5 points, and rounding out the top five was Ridgefield with 99 points.
For Big Red, Ceci captured second place in the 160-pound weight class and Menchaca took home third place in the 195-pound weight class.
First-year head coach Greg Domestico entered the season preaching the merits of a tougher regular season schedule in the form of preparation for postseason matches like Saturday's at New Canaan High School.
"I think the kids have responded to our schedule," Domestico said. "They understand that it's going to help them here. We have six kids that made All-FCIAC, and that was our goal—to get as many kids as we could in that situation. When we start to plan next year's schedule, it might even be a little tougher. If we want to make a run at the Danburys of the world, we'll have to continue to raise our level of competition so we can hopefully compete at a high level with them."
Leading the way for the Cardinals was Ceci, who came into the tournament as the second-seeded wrestler in the 160-pound division.
Ceci pinned Westhill's Jordan Goins in 3:23 to earn a semifinal match against Stamford's Jake Heerman. A 13-7 decision over Heerman set up the top two seeds in the weight class final, where Ceci would fall to Fairfield Ludlowe's Chase Lind by a 7-1 score.
"Mike was very good when the season started and we've continued to see him progress," Domestico said. "A lot of it is through his hard work and determination. He's put it into his mind that he wants to be a very good wrestler, and he doesn't stop until he accomplishes that."
After dropping to the 195-pound weight class from 220-pound division, Menchaca credits the tough regular season schedule with his transition to the lighter weight group and his impressive performance in Saturday's wrestle backs.
"I wouldn't say the transition was easy or difficult, it was just different," Menchaca said. "There were different tactics, and kids were a lot faster. I had to worry about kids actually shooting on me more often.
"The schedule benefitted us a lot. It showed our younger wrestlers how tough they need to be to be wrestling at a varsity spot and it prepares us for here and for LLs."
Menchaca started the day with a pin over Darien's Jack Thatcher before falling to the top seed, Ludlowe's Lee Steinildjoh. Not to be discouraged, Menchaca fought back in wrestle backs to win the consolation bracket and claim third place.
"When I had to go back and get our kids' records, I was reminded that Erik went 0-2 at our first tournament in Danbury," Domestico recalled. "To watch him come back and make adjustments and still be able to wrestle his style has been tremendous for us. He's been such a big asset in our lineup because we always start at the lighter weight and work our way up. There's been several times this year when we needed him to pin his opponent to ice the match for us, and he's come through and done it."
Greenwich was also aided by wrestlers Mitchell Grimes, Dylan Ehret, Brian Harvey, Wyndsor Doyle, Jonathon Loja, Jack Barter, Patrick Javier, Sebastian Rincon, Peyton Larkin, Emilio Garcia and Ethan Ross.
Ross, the Cards' 152-pound grappler, is still fighting an elbow injury and placed in sixth after a pin of Westhill's Brandon Chejin and a 1-0 decision loss to Danbury's Jarek LaPlant.
"The biggest thing for Ethan is whether or not his elbow holds up for him. He's been battling an injured elbow, and he didn't wrestle for a three-week period. He had a tough semifinal match and because he's been off for a few weeks, getting used to wrestling with the pain is what it's going to come down to. A one-point loss in the semis is a heartbreaker, but it's encouraging that the elbow is holding up through this."
The CIAC class LL state wrestling tournament will be held later today and conclude tomorrow at Trumbull High School.
Tags:
CIAC
,
ctwr
,
ctwrestling
,
FCIAC
,
greenwich
,
Greenwich Wrestling