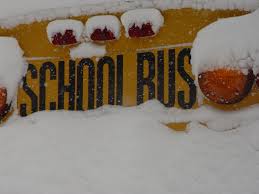 The snow has once again impacted the town of Greenwich. While the public schools are out on winter vacation, the private schools around town are still in session. However due to today's weather, several will be dismissing early today.
Due to hazardous weather conditions, Brunswick School will dismiss early today, Monday Feb. 8, as follows:
Pre School – 11:45 a.m.
Lower School – 1:30 p.m.
Middle School – 1:35 p.m.
Upper School – 1:30 p.m.
Shuttle from King St. to Maher – 1:50 p.m. (drop off is at Pre School parking lot)
Town busses – 2 p.m.
Brunswick officials say all after school activities are cancelled for Monday, Feb. 8.
Sacred Heart Academy will let out at 12:30 p.m. and all after school activities have been cancelled.
As for Greenwich Academy, dismissals will be as follows:
1 p.m.: Ridgeview Campus and Groups I and II
1:10 p.m.: Groups III and IV
1:20 p.m.: Middle School
1:30 p.m.: Upper School
Town of Greenwich buses and all other town buses will be at the top of the main circle at 1:30 p.m. Cowan Center will close at 2 p.m. and Yearlings is cancelled.
Greenwich Country Day School will also have an early dismissal on Monday. The school's website says, "Due to worsening weather conditions, GCDS will have an early dismissal today, Feb. 8, at 2 p.m. Town of Greenwich buses will depart GCDS at 1:45 p.m. Parents who are interested in picking up their children before that time should contact their division secretary. All athletic games for this afternoon have been cancelled."