February 5, 2016
Greenwich Girls Take Third, Boys Fourth at FCIAC Track Finals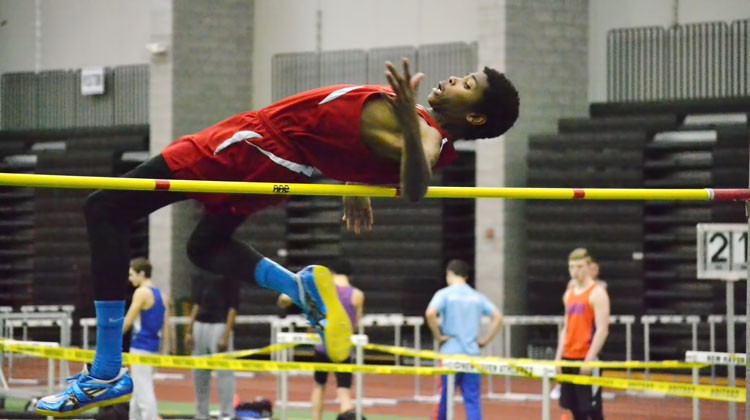 Solid performances were the name of the game for the Greenwich High School boys' and girls' indoor track teams during Thursday night's FCIAC championship meet.
"We had a great day today and I'm proud to be a coach for this team," Greenwich High School head coach Evan Dubin said. "I am happy to see all the results of all the hard work of months of training coming out at a meet like this."
The girls team finished third overall, grabbing 61.50 points. Overall it was Danbury that edged out the FCIAC title, amassing 97 points. In second was Ridgefield High, as they finished with 95.50 points. Staples High School took fourth overall with 45 points and Trumbull rounded out the top five with 30 points.
On the boys side, GHS ended the night fourth overall with 38 points. Overall it was Danbury with the conference crown, posting 107 points. In second place was Brien McMahon with 56 points. A close third was Staples High School, which finished with 46 points. Big Red beat out Norwalk, which took fifth with 33 points.
"Both the boys' and girls' teams did really well," pole vaulter Lia Zavattaro said. "I was really surprised by all our performances and I'm really proud of my team. I have so many teammates that excelled in their categories and this is just an amazing experience."
When it came to the high jump, no one had a better day than junior Safir Scott, who cleared 6-04, was two inches better than his opponent from Danbury and also claimed FCIAC gold.
"Safir progressed throughout the season and all of a sudden he jumped a 6-02 and that became a 6-04," Dubin said. "Now he's consistent with that. For him to go back-to-back meets with 6-04 is fantastic and I'm so happy for him."
In the long jump, Safir took a top 10 finish, grabbing ninth overall 19-06 3/4.
"I felt really good out there today," Scott said. "I was hoping for first place in the high jump and I got that, so I'm happy. I wanted to execute. I wanted to get over the bar before I try and kick my legs up. My goal was to get 6-05, but I didn't. I was able to win, so I'm happy. I was expecting it because it was pretty much the same people at last week. I wasn't surprised, but still excited. I like this medal."
In addition to Scott, Big Red had other top finishers. Joining Scott in the field events was Issac Floyd, and Floyd dominated the long jump, placing first overall and grabbing the FCIAC gold with a distance of 22-06.
"It feels great because each week we put in work inside and outside of the track room and it feels very accomplishing knowing all the work you put in was worth it," Floyd said. "I am at the point to where I can focus on Nationals, but next week I want to try and focus on getting to New Balance. I want to keep moving forward towards more greatness."
The next closest was Darien's Shelby Grant with a distance of 21-07.
"Going into the season we didn't know what Floyd could do," Dubin said. "All of a sudden in the very first meet, Issac went and  jumped fantastic and I said 'Well, it looks like we had a long jumper.' For Issac to pop out a 22-06 tonight was amazing. We knew he had it in him, but for him to show the world the distance is great. I'm very happy for him."
In the 600-meter run, Emily Philippides was the top runner on the day, posting a gold medal time of 1:38.02 and just beat out Danbury's Leah Sarkisian, who scored second with a time of 1:38.67.
"The star of the meet for us was Emily Philippides," Dubin said. "She was fantastic. For her to come out and beat the defending state champion for the second straight week was great. In the 4×4 relay, she ran a 57-second anchor leg. For that being her third race of the day, that just goes to show what a fighter she is."
Philippides kept the good times rolling in the 300-meter dash, as she took home third on the day with a time of 43.02 and just missed beating out Stamford, which was second with a time of 42.91.
"I felt really great today," Philippides said. "I can't believe that I placed so well in my events. When I got the gold medal I was so happy at that point that I was satisfied with my day. Then I got two other medals and it made me even happier. I was really nervous going into this because I knew the other girls and raced them last Saturday. I knew it would be a close race, but I'm happy now."
Big Red's Zavattaro kept the kept the gold medals rolling in. Competing in the pole vault, Zavattaro took the top honors overall with an impressive height of 9-06.
"This was an incredible feeling because I've been working so hard to get towards this goal," Zavattaro said. "There were many obstacles, but I am just really glad that all the hard work has paid off. This was an amazing experience."
"We were kind of hoping for her to come out and take first place," Dubin said. "That's what we were hoping for and expecting. I'm very happy for her."
In the girls long jump, Katherine Doyle grabbed fourth overall, posting a distance of 15-11 3/4 and was nearly two inches better than Ridgefield. Also taking home a fourth place finish was Tyler Farris in the boys 55-meter dash, as he crossed the finish line 6.68 seconds.
"I thought Tyler did well in the sprints," Dubin said. "Unfortunately when you come down to the 55 dash, it comes down to one-hundredths of a second and it wasn't in his favor this race. He was only a few one-hundredths of a second away from second place.
In the girls high jump, Olivia DiLascia was one of five finishers with a height of 4-08 during the championships and ended the meet fifth overall.
During the 1,000-meter run, Big Red had two finishers take top 15. Lauren O'Donnell place seventh overall with a time of 3:14.25. Not to he outdone was teammate Amy Wyle, as the senior grabbed 12th on the day with a time of 3:19.96.
Greenwich's Sebastian Oe took home ninth in the boys 600-meter run, posting a time of 1:28.65. Teammate Michael Giansello also competed in the boys 300-meter run and took home eighth place on the day with a time of 38.40.overall
Jenna Restieri advanced to the 55-meter hurdle finals and took home seventh overall with a time of 7.81 seconds and was mere inches away from sixth overall.
In the 4×200-meter relay, the GHS girls team of Restieri, Maggie O'Gorman, Treloara Harrisson and Anna Giannuzzi grabbed the silver, posting a time of 1:48.37 and just beat out Ridgefield, who took third with a time of 1:48.79.
Not to be outdone was the girls 4×800-meter run, as the group of Kristen Lodato, Hetty McMillan, Lauren O'Donnell and Sabrina Thurber took third overall with a time of 9:59.56.
In the 1,600-meter sprint relay, the GHS team of Restieri, Anna Giannuzzi, Caroline Frey and McMillan grabbed the silver, crossing the finish line with a time of 4:23.81.
The GHS girls team rounded out the evening with a second place finish in the 4×400-meter relay, as the foursome of Frey, Emma Slagle, Harrisson and Philippides took the silver and a time of 4:10.51, just beating out Ridgefield's time of 4:10.85.
On the boys side, the GHS 4×200-meter relay team finished third overall, as the foursome of Tyler Farris, Anthony Ferraro, Ryan King and Giansello picked up a time of 1:37.05. They were one second away from Danbury, which took second with a time of 1:36.21.
Another relay, the 4×800-meter run, was a good one for the boys team, as Oe, Georgios Karakadas, Andrew Kates and Bastian Dequeker placed fifth overall with a time of 8:26.06.
While FCIACs was a wild success for Big Red, there's no rest for these Cardinals. Next Thursday it's right back to New Haven, as Greenwich once again competes at the New Haven Athletic Center, but this time it's for competition in the class LL championship.
"We are right back here in a few short days, so it's back to training for us," Dubin said. "We have vacation week next week at Greenwich High, so that throws a little wrinkle in our mix, so we'll have to adjust our training a little bit. In some way it helps us and other ways it doesn't. We will make due and we completely expect to have success at the class LL meet."
Tags:
CIAC
,
cttrack
,
Evan Dubin
,
FCIAC
,
GHS Track
,
greenwich
,
Greenwich Track
,
Hillhouse
,
New Haven Athletic Center
,
Track