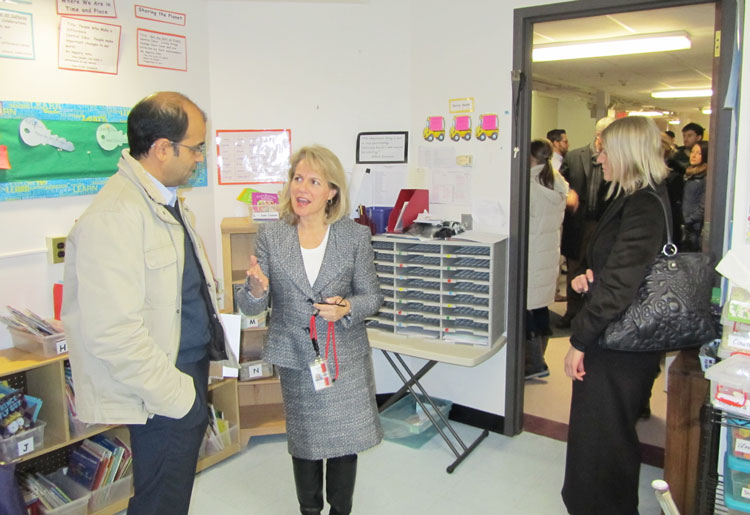 By Bill Slocum
Contributing Editor
Some 13 years ago, Teresa Ricci saw firsthand the skepticism people had about the concept of a magnet elementary school in Greenwich. The International School of Dundee, where Ricci was then assistant principal, was a hard sell to a community rooted in the concept of neighborhood schools, she recalled.
On Monday evening, doubters were nowhere in sight at the second of two Dundee "open-house" gatherings for prospective parents. Ricci, now the principal, stood before a cafeteria packed with close to 100 mothers and fathers, and some children, the large majority of whom reside outside Dundee's district lines.
Ricci explained the learning concepts embedded at Dundee, centering on an inquiry-based mode of teaching that encourages unconventional thinking from students and teachers alike.
"Questioning is a big part of what goes on every day, in every classroom," Ricci explained. "If you want a traditional classroom with a traditional learning environment, this may not be the school for you. Questions are always, always encouraged."
Questions were exactly what Ricci got on everything from recess policy to technology on offer to how Dundee handles the problem of bullying. But the question on most attendees' minds was simply what chance they had of getting a child into Dundee.
The short answer: not very likely. Demand for admission outstrips the supply of available classroom space. Last year, Ricci noted, there were 93 applications at the kindergarten level alone, and only 20 available spots. The year before, it was 95 applications for 24 spots. Most Dundee students are from within the district, and they get priority, as do siblings of magnet students already there.
"I don't want to discourage you," Ricci added. "There will be summers where, for whatever reason, a bunch of families will move."
In the last decade, Dundee has made the transition from albatross to Greenwich's showcase institution for the magnet-school concept, with its International Baccalaureate programming having won national citations. Since 2003, three other public elementary schools, Hamilton Avenue, Julian Curtiss, and New Lebanon, have taken up the strategy. So, recently, did Western Middle School.
Each magnet school is designed around a particular theme. Inquiry is the watchword at Dundee, for example, while Julian Curtiss focuses on languages, being the only public elementary school in town where students can learn French or Spanish.
While the initial intent of magnet schools, improving racial balance within Greenwich's public schools, remains under-fulfilled, with both New Lebanon and Hamilton Avenue falling under the state's designated majority-minority ratio, a recent report to the Board of Education by Superintendent of Schools William McKersie and educational consultant John Curtain suggests magnet schools may be accomplishing another aim, one that drew Monday's crowd at Dundee: Educational excellence.
According to the report, all of Greenwich's magnet schools are performing at or above the level of institutions with similar student populations based on economic need, a proven variable for learning. While Dundee's performance outstrips all others in terms of applications and earns the highest overall Smarter Balanced Assessment scores, the report identified New Lebanon as an even more notable academic achiever given its needier population, both in math and in reading performances according to SBA scores.
"I think all four are doing well," McKersie noted of the elementary magnet schools. "There is a lot of evidence to back that up."
McKersie added that Dundee is not the only magnet school turning away applicants. Julian Curtiss, where a racial disparity issue was resolved thanks to magnet programming, does as well, if at a lower rate. New Lebanon currently does not accept magnet applicants because of space limitations. Hamilton Avenue is in the second year of modifying its once-diffuse magnet programming around a science and math focus.
McKersie said he is particularly excited by Hamilton Avenue School, with new principal Cindy Rigling choen specifically because of her success running a magnet institution outside town.
"There are two key things you need for a magnet school," McKersie said. "One, you have to have a core focus that goes all the way through the building. Two, you need great leadership and teachers who deliver on that."
McKersie says time is required to get a better handle on the job magnet schools do academically, given SBA scores are a new metric. But he adds that first indications show the concept succeeding, and that it will work even better as other magnets catch up to Dundee's example.
"There was a lot of pushback when Dundee was brought up," he said. "We worked through that. Now we are at a place where it is a tremendously successful school."
At Dundee, after Ricci's presentation, most of the parents were in no hurry to leave. As she began a detailed classroom tour, some were on their smartphones, trying to negotiate extra time from babysitters. Others took momentary opportunities alone with Ricci to discuss their children.
An earlier, morning open-house presentation was just as packed, Ricci recalled. "It's really gratifying," she said. "I really appreciate that they take the time to come out at night to learn about the school."