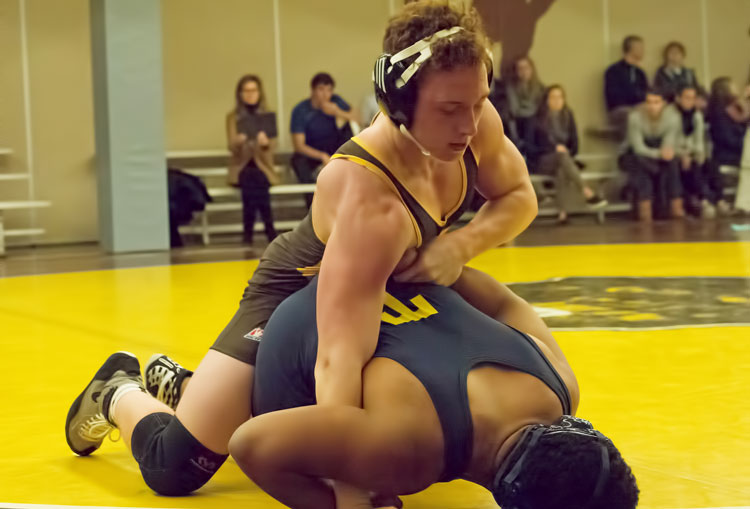 After impressing everybody around them with a perfect 13-0 record, the Brunswick School wrestling team will get a chance to enjoy a Saturday at home in the Burke Field House and showcase its talents to Greenwich and the surrounding area.
In a yearly tradition that everybody up and down the Brunswick roster looks forward to, the Brunswick Invitational Tournament will kick off into high gear tomorrow morning.
This year's 41st version of the BIT will have some familiar faces, but also a bunch of newcomers to the tourney.
Coming to the BIT for the first time will be Choate Rosemary Hall; Penn Charter, a perennial power from the Philadelphia area; Episcopal Academy, also from the Philadelphia area; Long Island Lutheran, from Glen Head, N.Y.; Hyde School from Maine and Ridgefield High School.
"It's a lot of fun and it's going to be a big one," Brunswick School head coach Tim Ostrye said. "It's a huge tradition and everybody looks forward to competing at the event. The kids have family and friends that get to see them wrestle. I don't know if we are going to be good enough to win the tournament, but are certainly going to try to win it. It's about tough competition and I foresee this year to be very good."
So far, so good for the Brunswick wrestling team. They started the season off in grand fashion by winning the Canterbury Tournament and then captured the Loomis Chaffee Duals for the first time in school history by beating Loomis (65-9), Lawrenceville (77-11), Greens Farms (78-6) and St. Benedict's Prep (35-33).
"We just need to keep up the intensity right now," said senior captain Lucas Bell, who wrestles at the 170-pound weight class but is currently sidelined due to injury. "We are on track to do well at states, knock on wood. I think we have a real shot at doing well at New Englands. Everybody needs to keep it up and keep up the intensity. Practices are a grind and coach definitely isn't letting up, but it's all good and it's only going to help us later this year."
The Bruins kicked off the 2016 portion of its schedule the same way it ended 2015, by dominating the completion. Brunswick smashed both Trinity Pawling (55-18) and Salisbury School (81-0) and most recently blitzed Hotchkiss (73-6), Taft (61-12) and Marvelwood (73-6) on Saturday.
"There are no complaints so far this season," Ostrye said. "We beat St. Benedict's for the first time and that was big, but so was beating Trinity Pawling because we believe that they are the team to beat in the state tournament. I think us and Trinity will bang heads to see who win it. I think our conditioning is what helps us. We still have to get better every day."
Against Trinity Pawling, Brunswick knew the importance of getting the pinfall victories.
During that match, Alexander Burdick at 106 netted a pinfall at the 5:38 mark, while brothers Brooks (126) and Andrew Hennessey (132) each scored pinfall victories over their opponent. Brooks Hennessey beat Conrad Adams with a pin at the 4:58 mark and Andrew Hennessey beat Ben Eller with a pin at the 3:37 mark.
Jon Errico was at the 152-pound weight class and came away with the quickest pin of the day for the Bruins, beating his opponent 1:53 into the match. At 182, Brunswick's Aidan Reynolds wasn't far behind Errico, grabbing a pinfall win 2:47 into the match.
In addition to the pins, Brunswick scored key points when Jack Ocken picked up a 9-0 major decision victory in the 170-pound weight class and John DeLucia took home a 10-4 decision at 138.
Throw into the mix three forfeit wins, as J.J. VonOiste (120), Sandro Mariani (145) and Joe Fervil (285) all netted crucial points.
"Our focus for several practices was that we had to go out there and not get pinned," Ostrye said. "If we had the opportunity to get a pin, we had to go for it. We worked our tails off for seven practices with that in mind. We knew TP would be good and it was a much closer match than the score indicated. We had kids wrestle above what they are capable of."
Brunswick's captains, Russel, Errico, Bell and Fervil, have been solid leaders for the team this season.
"It's a tremendous honor to be a leader on this team," Bell said. "It's an experience like no other. I've been on this team since I was in seventh grade. My older brother (Jimmy Bell) was a freshman when I was in seventh grade. I grew up on this team. Now that I can be a mentor and try to help some of these younger kids is great. I just love this sport."
"They are tremendous leaders and it shows with their work ethic and ability to get the job done," Ostrye said. "These kids know what it takes to be successful and it's working right now.
When it comes to coming up victorious in the regular season, the Bruins know what it takes. In fact, the last time Brunswick was defeated in the regular season was last year when they fell to St. Benedict's at the Canterbury Tournament by one-half of a point.
"We have had a pretty good run," Ostrye said. "We won the state tournament two years in a row and had some good seasons. We are happy to Canterbury Tournament and happy to win the Loomis Chaffee Tournament, but it was a total team effort. We always set the bar high and we will again next year after losing five or six more seniors."
Once the BIT is in the book, it's basically a sprint to the finish line for the Brunswick grapplers.
After a dual meet with Iona Prep, the Bruins are competing in the Fairchester Athletic Association championships at Rye Country Day School next weekend.
After a few dual meets and a rivalry matchup with Greenwich High School on Feb. 8, the Bruins will compete in the WNEISWA Tournament on Feb. 13 and the New England Tournament the following weekend.
"We still have a bunch of dual meets in between there and we are taking absolutely nothing for granted," Ostrye said. "We are taking it one match at a time. Right now our focus is on our tournament, which is always a lot of fun."