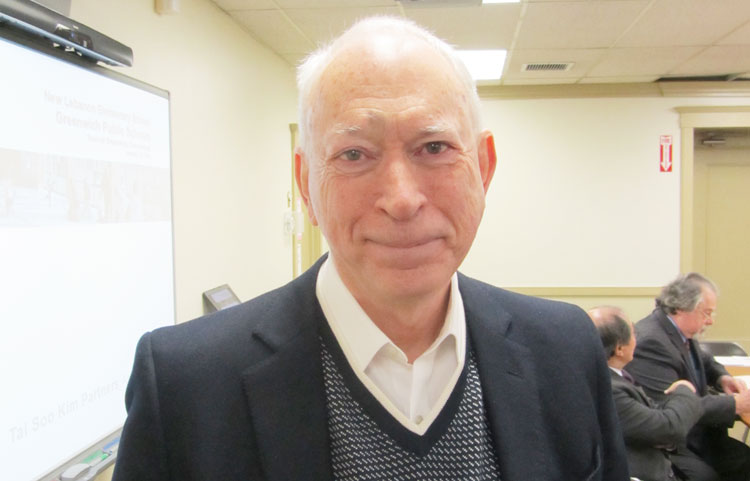 By Bill Slocum
Contributing Editor
If town leaders want action on their capital spending priorities this coming fiscal year, the Board of Estimate and Taxation's new budget committee chairman warned them three letters are a must-to-avoid: "TBD."
James Lash, a former first selectman elected to the BET last November, cautioned a committee of town officials reviewing capital-spending priorities against listing out the future costs of line items on budget spreadsheets as "To Be Determined" rather than offering precise figures at best or honest estimates at a minimum.
"If you put down 'TBD,' and the BET is trying to decide whether to move something forward, if we need to cut something, the 'TBD' is going to get cut," Lash said. "If it were really that pressing, you would have had the numbers."
Lash's comments came Monday afternoon, hours before he was appointed the BET Budget Committee's new chair. But his words already had an attentive audience.
First Selectman Peter Tesei chaired the meeting of his Capital Improvement Program Projects Committee to identify which capital projects desired by various town departments hold the broadest appeal. To that end, a list was made of capital projects in this year's budget across all departments. Nine committee members, ranging from schools Superintendent William McKersie to Public Works Commissioner Amy Siebert to Tesei himself, were asked to score each according to 13 criteria, ranging from health and safety to economic development to process efficiency.
The final scores ranged on average from a high of 26 points, for a $300,000 appropriation towards building a fire station on King Street, to a low of 13, $25,000 for a no-touch school restroom cleaning system. Other high-scoring items include $520,000 for a design plan for a new Eastern Greenwich Civic Center and $300,000 for implementing a Greenwich Avenue streetscape plan, both of which scored 25s.
"This is one major influence in the submission I will make to the BET, but it is not designed to be the sole criterion," Tesei said of the scoring system.
The total amount of this year's Capital Improvement Program, to go before the BET and ultimately the Representative Town Meeting, is $70.1 million. Of that, $32 million is earmarked for the rebuilding of New Lebanon Elementary School and expected to be reimbursed by the state at a rate of 80 percent. The focus of this meeting was on the rest of the CIP.
Tesei echoed Lash's concerns for specificity, in particular pointing out that a small piece of a larger $600,000 appropriation for a school facilities plan, representing just $40,000 in the next fiscal year, would fund a feasibility study for a new Cardinal Stadium at Greenwich High.
"This is designed to be the start of what could potentially be a $5-7 million project," Tesei said. "Maybe we should ask the BET what do you think in terms of separating it out?" BET member Mary Lee Kiernan responded that would be a good idea.
Tesei entertained the idea of providing specificity for other projects' future-year costs as well, with the understanding such costs can seldom be precisely determined beyond a year. The notion was seconded by Lash and another person with an important role to play in this year's budget process, Dan Ozizmir, chairman of the RTM Budget Overview Committee.
"If I'm on the RTM and I see something 'TBD,' that could mean $100,000 or $100 million," Ozizmir told the panel. "Qualify the guess as much as you can, but I would say something."
Much of Monday's panel discussion was spent going over specific capital projects. Siebert spoke at length about the need for the Greenwich Avenue streetscape study, to analyze issues related to traffic and power on the town's main commercial artery. "It's necessary to address that street in a more substantive way, what's underneath it and what it serves," she said.
Parks and Recreation Commissioner Joseph Siciliano noted that one lower-scoring item, $200,000 toward a skate park court upgrade, should be understood to be half that amount when it comes before the BET.
"It ranks low because it's only important to a select group of people," he said. "We have $100,000 already in a reserve account, so the $200,000 will only be $100,000 taxable."
A public hearing to present and discuss the final 2016-2017 capital budget recommendations from the First Selectman's panel is scheduled for Thursday, Jan. 21, at 6 p.m. in the Cone Room at Town Hall.