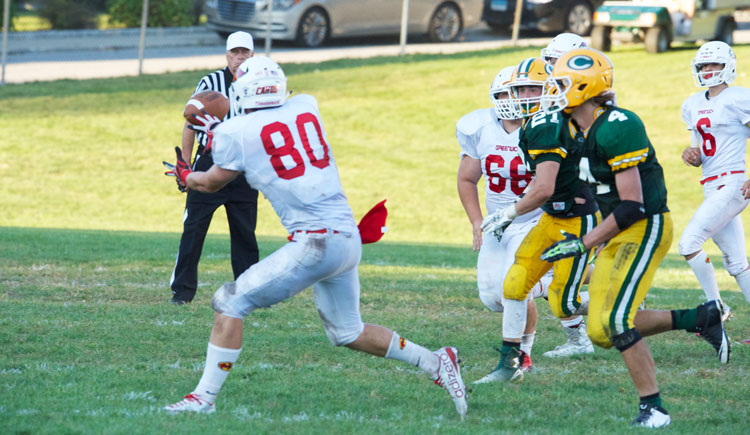 Playing in the Under Armour High School All-America Game was something that Greenwich High School senior tight end Scooter Harrington won't soon forget.
Knowing that he had supporters watching his performance, whether at the Orlando Citrus Bowl or in front of the television, made the experience all the more special.
"It was a great experience," Harrington said. "I am really thankful to grow up in a community like this that sent me to the game in the fan vote. It was awesome playing on national television for the first time. It was even better to go out there with my family and play with the best competition in the country."
As part of the Dream Fearlessly Fan Vote, Harrington cruised through the bracket and advanced to the Eastern division finals. In the final week of voting, Harrington was in the semis and was up against Julian Love, an athlete from La Grange, Ill. In the voting, Harrington got just under 82 percent of the vote to coast into the Under Armour All-America Game.
"It speaks to how close-knit this community really is," Harrington said. "To see everybody get together and help me out is great. I'm just happy that I went down there and played well. I'm happy with how everything went."
Playing in front of a large crowd at the Citrus Bowl and in a national televised game on ESPN was a huge thrill for Harrington. Although his squad of All-Star fell, 27-0, in the contest, the experience was almost enough to forget about the score.
"I don't think it really set in with how big of an event this really is and playing on national television until I got home and watched it on TV," Harrington said. "You don't really notice it at the time, but it was different for me. After the first couple of plays, it was just like a regular football game."
One person that isn't surprised about Harrington's success is former head coach at Greenwich High School, John Marinelli.
"I couldn't be more proud of Scooter," Marinelli said. "There isn't a player I've coached that has worked harder to put himself in a position that Scooter has. He is the best blocking receiver/tight end in this part of the country and I know that showed. He's the best tight end to come out of Connecticut in some time and Boston College is getting a steal. To be selected in the 32 player fan vote is an honor and then for the community of Greenwich to rally around him and select him into the game was outstanding to see."
Prior to the Under Armour All-America game, there were four practices, one a day leading up to the game that was played on Jan. 2 at noon. Three of the practices were typical practices that included full pads and drills, while the practice before the game was more of a walk-through to get the team prepped for kickoff.
While the practices were intense during the day, Harrington said that he was able to enjoy some time with his new teammates during the late afternoon and evening hours.
"We went to an Orlando Magic game and another day we went to Disney World in Orlando," said Harrington. "The YMCA sent kids over to our field and did drills with them and we went to the Boys and Girls Club in Orlando. It was a really great week all together."
"I think that this was great for me, especially since I'm going to college next year," Harrington said. "I got to play against the top competition and that's a great because once I get to college, it's going to be different. This made me more ready. This game was a huge step for me, just to get me used to the speed of the game, playing with competition that's much faster and bigger. It won't be as much of a culture shock for me when I get into college."
While Harrington made some friends during his brief stay in Orlando, it was the reaction after the game that the GHS senior said was his fondest memory.
"After the game I got see my parents," Harrington said. "It was awesome. I also saw all the messages from all the kids at the high school supporting me. They sent me pictures of myself on TV and that was a really cool moment for me."
Everybody at Greenwich High had a bunch of chances to see Harrington perform, as he was a key member of the GHS football team.
"I wish I could say I helped, but Scooter worked his way into this game," Marinelli said.  "His off-season was tremendous and he developed himself into a complete player. Fans will look at stats, and they weren't the best stats, but every coach that was played against him and studied film of him will tell you just how special he is. I wish we were able to get him the ball more, but we will surely miss his presence, both on and off the field as a role model, teammate, captain and more."
This year for Big Red, Harrington was a threat on both sides of the ball.
Offensively he finished with 236 all-purpose yards and finished with two touchdown receptions.
Defensively he grabbed 19 solo tackles and finished with 26 total. He also took home four sacks and one interception.
"This year was really amazing," Harrington said. "Coach Marinelli came in and I didn't know too much about him, but it was a great year and he's a great coach. It's the most fun I've ever had playing football and I'm just really happy with how everything went. I think the team will be very good next year and I'm looking forward to coming back and watching them play."
Now that the Under Armour game is in the books, Harrington is far from taking it easy. The future Boston College student is hard at work training for not only for the start of his tenure with the Eagles, but the spring boys' lacrosse season at Greenwich High School.
"I need to get as ready as I can for both lacrosse and football," Harrington said. "I'm leaving for football after the school year ends. I'm going to summer camps. Right now it's all about the training and making myself a better athlete and getting ready for a hopeful state championship in lacrosse."