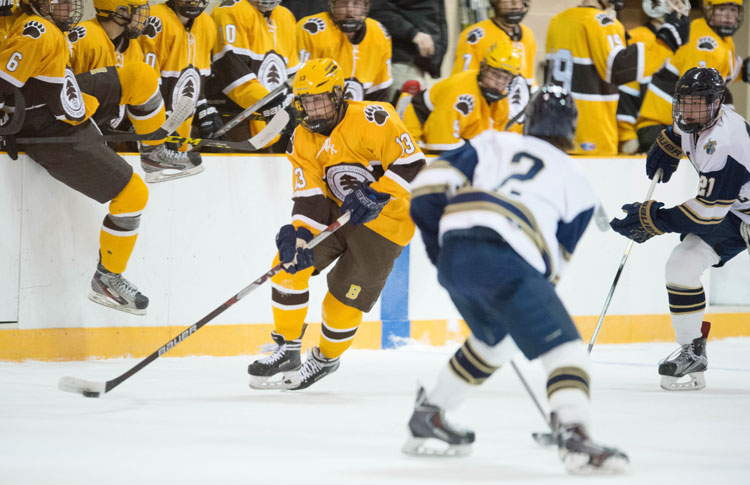 The Brunswick School ice hockey team topped Belmont Hill 2-0 in the opening contest of the 2015 Nichols-Belmont Hill Holiday Hockey Tournament earlier today.
Both teams return to the Belmont Hill rink later today for game two of the eight-team tournament. Hebron Academy will face-off against Belmont Hill (6-3) at 6 p.m., while the Bruins (5-2-1) will skate against St. Francis, from the Buffalo, N.Y. area.
Brunswick opened the scoring in the first period, as senior Colin Slyne netted a power-play goal at 13th minute. with a bottom-corner backhand. During the 5-on-4 advantage, Jack Mendillo and Charles Shaffer got the puck on net, setting-up the Slyne finisher.
The Bruins made it a 2-0 game at 0:46 of the third, engineering a classic tic-tac-toe tally on the opening shift. Senior Jack Stephenson and junior Nick VanBelle set-up Christian LeSueur's backdoor tally. The junior now has a team-best six goals on the season.
Nursing a two-goal lead on the host's home ice, the Bruins used the Olympic-sized ice sheet to its advantage, pushing the puck in deep, while back-checking on the bigger ice surface.
Senior goalie Brian Ketchabaw made 26 saves en route to his second shut-out victory of the season.