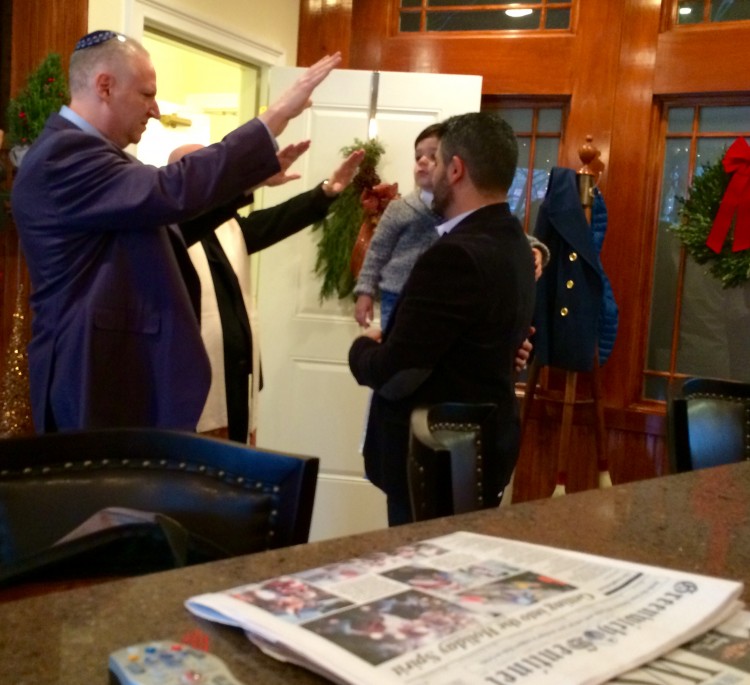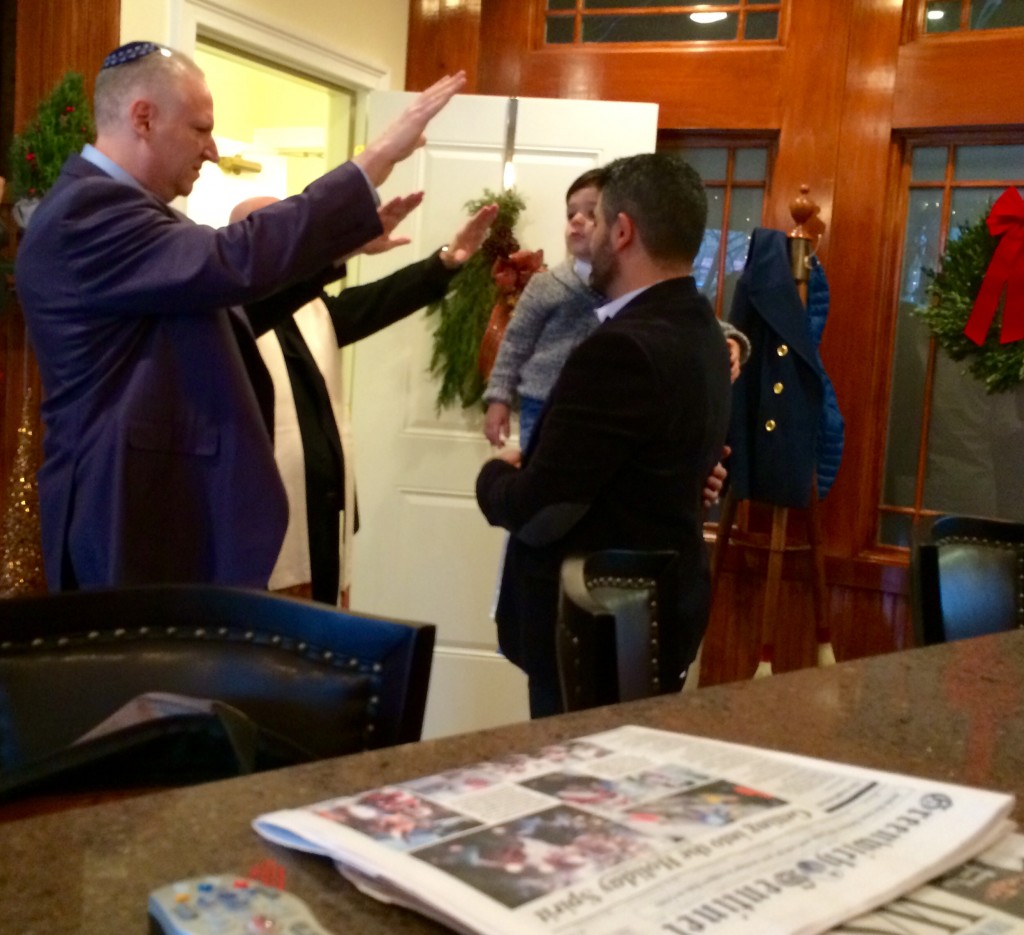 A priest and a rabbi walk into a barbershop.
They aren't there to act out the punchline of a joke, or even for razor-edge shaves, but rather to bless the downtown Greenwich business newly owned by Danny Davi.
Rabbi Mitch Hurvitz of Temple Sholom had been a regular client of Davi's for three years, before Davi went out on his own. Now that Davi is the new owner of the Kennedy's All-American Barber Club's Greenwich franchise, he's leaving nothing to chance: he summoned Rabbi Mitch and St. Catherine of Siena Monsignor Alan Detscher to have the business blessed.
"A few years ago I joined the club, and now I go every Friday afternoon," Hurvitz said. "It's my pre-Sabbath ritual. The thing I really enjoy about it is just talking to the barber. It's 30 minutes of bliss."
When Rabbi Mitch met Davi, the barber was not a part of a church in town and had just celebrated the birth of his first son, Luca. Rabbi Mitch arranged for Davi and his wife, Stacy, to organize a proper baptism for Luca at St. Catherine's.
"The rabbi set up the baptism at the church!" Hurvitz joked. "Monsignor Detscher did part of the ceremony in Italian, because Danny's parents are immigrants from Sicily."
Davi, who has been a barber for 14 years, worked at Kennedy's under its previous owner for a few years before taking ownership himself on Dec. 1. He describes the opportunity to own his own barbershop as a "leap of faith."
"The fact that I had the opportunity to come and take ownership of this place was just a blessing, and I'm so grateful," Davi said. "The blessing will hopefully bring forward some good energy to the shop. This was a big leap for me and my family."
Davi grew up in Queens, N.Y., and aspired to study law before he started cutting hair. After a visit to Arizona to see his brother, Davi quickly fell in love with the desert, and enrolled in Arizona State University to study design.
During his 12 years in the Valley of the Sun, Davi had his own hair-cutting studio, but always knew he wanted to be closer to home.
Not knowing anyone in Connecticut, Davi says the key to his early success was establishing himself as a hair stylist and interacting with his loyal clients.
"I was always in the artistic and creative field," Davi said. "I met my wife in Arizona, too, so it was a real blessing. Having my own studio in Old Town Scottsdale was great, but I always wanted to come back to my old stomping grounds."
Kennedy's Barber Club, at 116 East Putnam Ave., is open six days a week and provides membership services that come in tiers, based on one's service preferences. But memberships aren't required for a visit.
With membership packages starting at $75, clients can experience unlimited haircuts for a month with other extras like chair massages, razor-edge shaves, and manicures also available.
"It's been a whirlwind," Davi said. "It's almost overwhelming. Dec. 1 was the day I signed the documents to take ownership, and I've been running on adrenaline ever since.
"I knew I wanted it, but to have it happen and to open up our own business in Greenwich, Conn., is not something we're going to take lightly. It's a good place to start."