October 30, 2015
Police Push Safety First for Halloween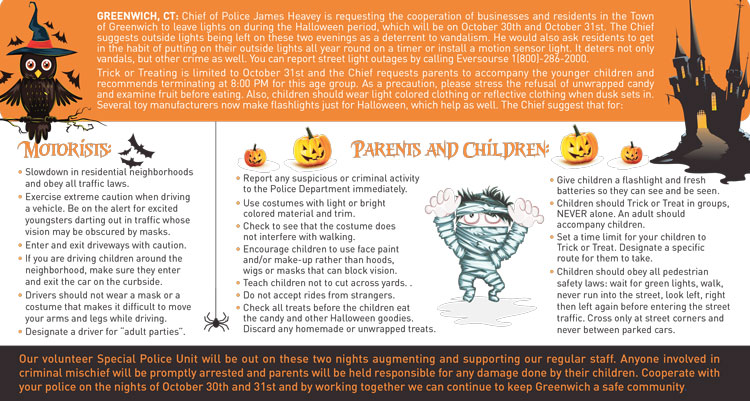 By Bill Slocum
Contributing Editor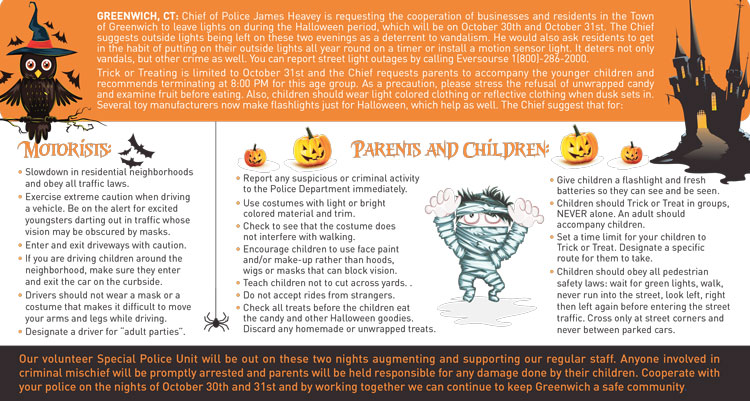 The rules for trick-or-treaters this Halloween are pretty simple: Wear bright-colored clothing, always cross at intersections, and travel in large groups.
Bringing a flashlight is also a plus, according to Lt. Kraig Gray, public information officer at the Greenwich Police Department.
"Don't let the festive nature of Halloween stop you from exercising good sense and security," Lt. Gray cautions parents. "Don't let kids run wild, and it's easy to do that on a night like this. They often don't have the ability to self-regulate. Make sure you closely supervise them."
This year Halloween falls on a Saturday, which may prompt some older children to stay out later than they would in years when Halloween falls on a school night. Lt. Gray suggests parents establish firm curfews.
He adds that parents should accompany younger trick-or-treaters, and confine their door-to-door activities to before 8 p.m. "Whatever the age, trick-or-treaters should not go out alone," Lt. Gray says. "They should go in a group."
Lt. Gray adds that another concern to bear in mind with a weekend Halloween is that adults may well be throwing parties of their own. The danger inherent in people driving to and from various destinations while crowds of young people wander through darkened neighborhoods is one he says everyone should bear in mind, particularly those attending parties where alcohol is served.
"If you participate in an adult party, we ask that you don't drink and drive," he says. "Just be smart."
The Greenwich Police Department will have extra police officers working both on Halloween evening as well as Friday night, which for years was known in town as Mischief Night, when youngsters egged neighbors' homes and strew toilet paper around trees. While not as commonly practiced as it was decades ago, Mischief Night still keeps local police vigilant.
"It pops up, but it's not a regular thing," says Det. John King of the Greenwich Police's Special Victims Section, which works on youth matters.
In connection with vandalism concerns, as well as general pedestrian safety, Police Chief James Heavey has requested homeowners leave on their outside lights both on Friday, Oct. 30, and Saturday, Oct. 31.
As far as which parts of town are most heavily trafficked by trick-or-treaters, Lt. Gray says much depends on the neighborhood's layout. "Cos Cob is busy, Byram is busy, Old Greenwich is busy," he says. "Those parts of town are set up for walking, with lots of sidewalks. Neighborhoods with sidewalks are inherently safer for trick-or-treaters." Backcountry Greenwich, by contrast, is too spread out and inaccessible for walking.
Other police recommendations include ensuring children do not wear cumbersome costumes, that they avoid cutting through the lawns of private homes, and be aware of buried tree roots or stumps which they might trip over if running too fast. Parents should inspect candy, and discard any homemade or unwrapped treats.
Lt. Gray also suggests parents think about foregoing masks for face paint when it comes to dressing up their younger offspring. "It allows them to see better," he says.
Tags:
greenwich
,
Halloween safety