October 21, 2015
Schools Prepare for Emergency Situations with First Responders
[jwplatform Hp9kvOp4]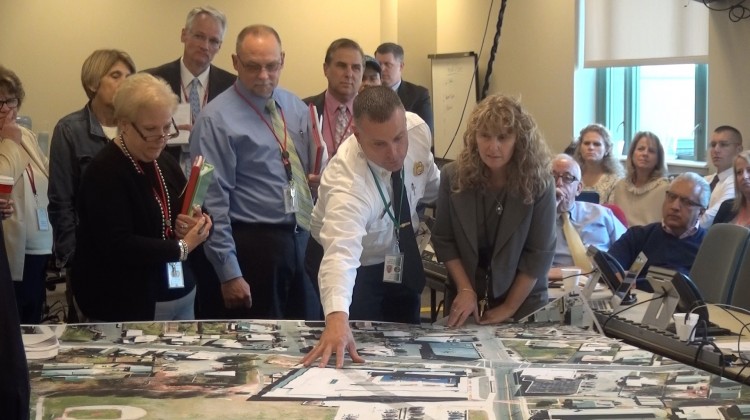 Greenwich Schools- both public and private- spent Wednesday morning training for an emergency situation with Town resources like police, fire, and EMS.
"For emergencies, you have to be prepared. We are preparing and practicing to be ready. It's an excellent, very well put together program," said Superintendent Dr. William McKersie.
This is part of an annual statewide exercise, and today's mock emergency was a partial roof collapse at Hamilton Avenue Elementary School.
"To actually see what their roles are in an emergency situation. It also give sis an idea of what they are looking for, what their needs are, and how we can help provide that," said Michael DeAngelo, the Director of Safety and Security at Brunswick.
"It's easier to discuss issues and work out issues rather than out in the field. A table top exercise like this today is excellent with the schools. We can identify areas where we can improve and they can improve on their end as well," said Assistant Chief Robert Kick.
Officials say this exercise also builds relationships between the schools and first responders.
"So, when I show up it's not the first time I've met the principal from the school," said Kick.
"When it comes down to a crisis, that's not the time to establish relationships. You have to do it ahead of time. It makes for a more seamless mitigation of the crisis, and it saves lives," said Captain Robert Berry of the Greenwich Police Department.
Superintendent Dr. William McKerise says every school has an emergency plan in place already, for example, redbooks and play books.
"It's essential that despite all the good plans, we can execute those because we are going through the practice," said McKersie.
"I think our educational community was very in tune to what they need to do. Greenwich has been recognized as a leader in emergency preparedness for a number roof years now, and this was an opportunity to expand upon that success by bringing in the educational community," said First Selectman peter Tesei.
Tags:
emergency
,
GEMS
,
greenwich ems
,
greenwich fire fighters
,
greenwich police
,
greenwich schools