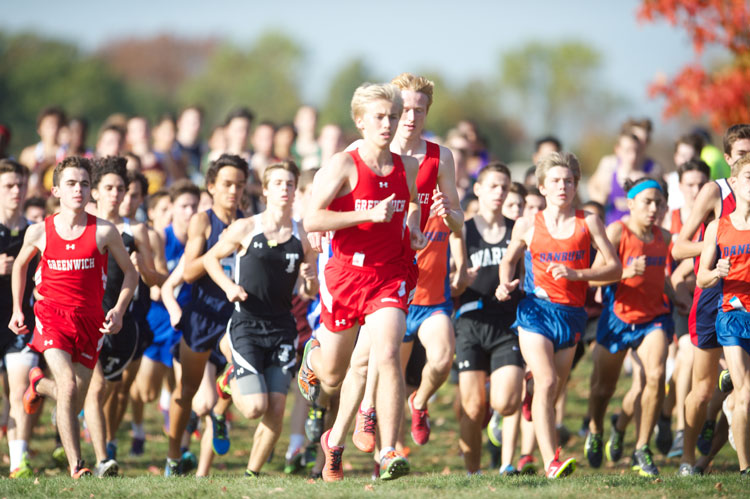 UPDATED: Wednesday, Oct. 21 at 10:45 p.m.: The Greenwich High School boys and girls cross-country teams took to the grass at Waveny Park in New Canaan for the Fairfield County Interscholastic Athletic Conference championship meet earlier today.
On the girls side, the Greenwich squad took home fourth overall, netting 99 points. Overall it was Ridgefield that won the championship with 33 points, while Staples grabbed the silver with 70 points. In third was Wilton High School with 90 points. The next closest team to Greenwich was Fairfield Warde High School netting 99 points.
"I am so happy for the girls team," Greenwich cross-country head coach Mike McCherry said. "I am proud and happy where the season has gone. We have a young team and they have so much energy. It's a pleasure to coach them. They've always been great, but they've taken it to the next level. When you have a regular season of 14-2, it's hard to complain."
The boys team also had a great FCIAC championship meet, finishing eighth overall with 246 points and beat out Fairfield Ludlowe High School by seven points. Overall it was Danbury High that took FCIAC gold, posting 71 points. Not far behind was Staples, as they grabbed 74 points. Fairfield Warde High School was third with 99 points.
Ridgefield High School placed fourth with 131 points and Trumbull High School rounded out the top five with 164 points.
The Greenwich girls team had a stellar outing, as five athletes finished in the top 30 overall. Leading the way was senior Sabrina Thurber, as she was 16th overall, posting a time of 15:51.
"It was nice and definitely rewarding," said Thurber, who ran this event for her fourth and final time. "Doing this was fun. I wasn't sure how I was going to do when I started the meet because there are always girls that show up that you're not sure of, but I had a great race."
It appears that 16 is the lucky number for the Cardinals. On the boys side, it was senior Andrew Kates that grabbed top honors for the team, as he also grabbed 16th place overall and a time of 16:27.59.
"This has been amazing," Kates said. "It's my fourth time running the course and the weather was great. Our team has really picked it up. I was trying to make either first or second team All-FCIAC today because that's around what I did last year. I was really happy that I was able to get that again this year. I can't thank my coaches, the parents and my teammates enough for making this a wonderful four years."
During the girls meet, Thurber had some company at the finish line this season.
Right on her heels was a familiar face, as teammate Genevieve DeWinter, a sophomore crossed the finish line 17th overall and tallied the same time of 15:51.
"I think we all went out really quickly, got comfortable and all just ran really well," DeWinter said. "I thought I ran quick. The downhills were definitely the easiest. There were a few hills, but it's pretty much a flat course and downhills are always nice. The last uphills were the most challenging because you know you're close to finishing the race and those hills are tough."
After Ridgefield's Emma Hergenrother took 18th on the day, it was back-to-back Greenwich High finishers. Junior Erika Bloes netted a time of 15:59 that was good enough for 19th overall and third on Big Red.
"It felt great and this was my best race, by far," Bloes said. "Usually I come in fifth or fourth for Greenwich, so today I came in third and I couldn't be happier with how I did. It used to be just Sabrina up in front by herself, but we've grown so much as a team that we all can stick together and ended up in the front of the race, which helps in the standings."
Grabbing a top 20 finish was teammate Meaghan Downey, as the sophomore posted a time of 16:00 that was good enough for 20th overall.
"It was great to see my teammates so close to me," Thurber said. "Our top seven are mostly underclassmen, but it's really nice having such a strong team. It was so nice seeing my teammates around me when I was finishing the race. It's a great feeling."
Also finishing in the top 30 was freshman Elysse McCambley, as she took 28th overall and fifth on GHS with a time of 16:09. Teammate Kristen Lodato, a junior, took home 56th on the day, posting a time of 17:17. Not to be outdone was Greenwich junior Elizabeth Grellier, as she ended the day 70th overall with a time of 17:46.
While Kates finished in the top 20 for the boys team, several other Greenwich runners fared well during the boys championship. Two other Cardinals finished in the top 50 overall. Senior Nicholas Gomez del Campo was the second quickest Greenwich athlete to cross the finish line, netting a time of 17:41.06 that was good enough for 47th place.
"I felt really good during the race today," Gomez del Campo said. "I improved my time by 40 seconds this year, so that was great to see. I really focused on mentally staying with it the whole race. I kind of wanted to keep pace and I knew that I could get back to the top if I had a rough first mile. We also had a lot of young runners today that really stepped up. I think we definitely have come a long way as a team. We had a lot of new guys that stepped up.
Two spots away was teammate sophomore Georgios Karakadas, as he finished the championship meet 49th overall with a time of 17:43.89. Not far from Karakadas was freshman Alexander Kosyakov, as he ended the day 60th overall and fourth on the team with a time of 18:03.43.
Also finishing in the top 85 was junior Bastian Dequeker, as he netted a time of 18:52.24 and that was good enough for 82nd on the day. Only six seconds away was sophomore Yuki Ota, as he grabbed 85st overall and a time of 18:58.20.