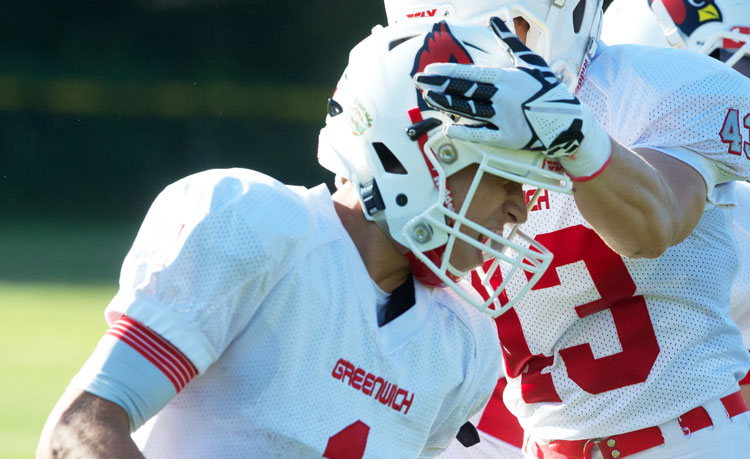 The Greenwich High School football team was itching to get back on the turf.
After their outcome against Darien last week, no cold, wind and rain was going to cool down the fire Big Red had for righting the ship. And that they did against Bridgeport Central Friday night, as they blanked the Hilltoppers 42-0 at Kennedy Stadium.
"This was good for us," Greenwich High School head coach John Marinelli said. "We still made some mistakes that we have to clean up. Too many penalties held us back and we should have had 42 points in the first half. Penalties come back and they stall drives. With the weather tonight, you can't do that. We have a lot to correct on the offensive side of the ball, but defensively I was happy. Special teams was phenomenal tonight too."
Leading the way offensively was junior Kevin Iobbi, who found the end zone four times, three of them on rushes, and carried the ball for 101 yards on 15 carries.
"This felt great," Iobbi said. "The line was opening up big holes and I couldn't have done it without them. It was definitely great to bounce back this week. It was a rough week last week, but we got back to work, put in a hard week of preparation and we got it done."
With Greenwich up 7-0 in the second quarter, Iobbi took the handoff and bolted 10 yards for the touchdown. Big Red's next drive ended the same way, with Iobbi scampering 10 yards on the handoff for a touchdown to make the score 20-0.
Scoring the lone points of the third quarter, Iobbi sprinted 18 yards for the touchdown.
While the Cardinals were having little issues running the ball against Central, they did score two of its touchdowns with its air game.
Starting things off was Scooter Harrington. GHS quarterback Frank Alfano stepped back and found Harrington deep down the field for the 34-yard completion for a touchdown in the second quarter.
"It was a great ball form Frankie Alfano," Harrington said. "Offensively we played really well today, but we shot ourselves in the foot too much with penalties. We will clean that up during this bye week and get ready for Trumbull."
Iobbi started the fourth in grand fashion, as he was on the receiving end of a one-yard pass from backup Nic Smoller for the touchdown and 35-0 advantage.
"I knew the middle linebacker was on me," Iobbi said. "Smoller read the defense well and dumped it off to me. Offensively we played well. We had a couple of miscues with the penalties. We will fix it up for our next game and play well."
Parker Grayson rounded out the scoring for Greenwich High with a five-yard touchdown run.
"We still tried to throw it a bunch and just try to get the guys comfortable because you never know what type of game you're going to play or what's the weather going to be like next week or the week after," Marinelli said. "To get our quarterback comfortable with the weather and our receivers is nice."
While Iobbi helped paced the offense, it was the defense that stood out. After giving up 89 points combined in Big Red's first two games, the Hilltoppers were unable to find anything offensively.
"They only had one first down all night," Marinelli said. "It was assignment football. They did their job and didn't try to make plays outside their position. They really bought in this week as to playing assignment football and it showed tonight."
"Playing an option team is definitely assignment football and I think we did really well with what our coaches asked, which was having one guy assigned to the pitch man, the quarterback and fullback," Harrington said. "We did a good job all day. I don't think there were any errors defensively today. I was really happy."
With the win, Greenwich improved to 2-1 on the season. However they have to wait an extra week to keep the good times rolling. Big Red has a bye next week and will be back in action on Oct. 16 when they travel to McDougall Stadium and battle a tough Trumbull High School team.
"It definitely felt good," Harrington said. "We have a bye week this upcoming week and then a big game against Trumbull. We are working really hard right now trying to improve every part of our game. Offensively it wasn't our best game, but defensively I thought we played really well. All the guys are really happy with the way we played defensively and we are looking forward to get better offensively."