October 1, 2015
American Red Cross Urges Residents to Prepare for Joaquin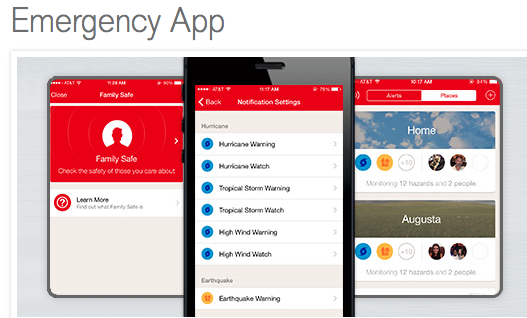 First Selectman Peter Tesei met with Town Department Managers, the American Red Cross, and Dan Warzoha, the Town's Emergency Management Director, to discuss preparations for Hurricane Joaquin.
"Town personnel are monitoring the storm, securing all Town facilities, reviewing their response plans and contingency plans, and organizing their human and physical resources to be ready for what may impact our Town," said in a statement from the Town. "The Town has consistently followed a priority list that addresses life safety issues as the most important area of concern. Other priorities include road closures, safe routing for traffic and pedestrians, and debris removal."
The American Red Cross has also sent out the following information:
The American Red Cross is busy preparing for the potential threat of Hurricane Joaquin this weekend and urging the public to be prepared as well. Hurricanes are strong storms that can be life threatening causing serious property-threatening hazards such as flooding, storm surge and high winds.
"While the Red Cross is prepositioning supplies, mobilizing volunteers, and working with community partners, we are asking all New Yorkers to do their part," said Mary Young , CEO, American Red Cross Metro New York North.
The American Red Cross in Greater New York recommends that residents update their family evacuation plan, emergency preparedness kit, and get better prepared. Preparation is the best protection against the dangers of a hurricane.
Be informed
· During any storm, listen to the local news or a NOAA Weather Radio
· Be sure to keep your phone nearby and pay close attention to warnings issued
· Download the free Red Cross Emergency App "an all-inclusive" app that combines more than 35 different severe weather and emergency alerts http://www.redcross.org/mobile-apps/emergency-app
· Know the difference between a Hurricane Watch and a Hurricane Warning
What should you do?
· Listen to a NOAA Weather Radio for critical information
· Close windows, doors and hurricane shutters.
· Talk with members of your household and create an evacuation plan.
· Learn about your community's hurricane response plan.
· Check your disaster supplies and replace or restock as needed.
· Fill your vehicle's gas tank.
· Check your disaster supplies kit to make sure items have not expired
· If you have propane, turn off the tank.
· If you are not advised to evacuate, stay inside, away from windows, skylights and glass doors.
· Use flashlights in the dark. Do NOT use open flames
· If power is lost, turn off appliances to reduce damage from a power surge when electricity is restored.
· If you are told to evacuate, do so immediately.
What do you need?
· Water – at least a 3-day supply (one gallon per person per day)
· Food – at least a 3-day supply of non-perishable, easy to prepare food
· Medications
· First aid kit
· Flashlight
· Battery-powered or hand-crank radio
· Copies of personal documents
· A family disaster plan (available in English and Spanish)
What should you do afterward?
· Continue listening to local news or a NOAA Weather Radio for updates
· Stay alert for extended rainfall and subsequent flooding even after the hurricane has ended
· If evacuated, return home only when officials say it is safe
Tags:
hurricane joaquin