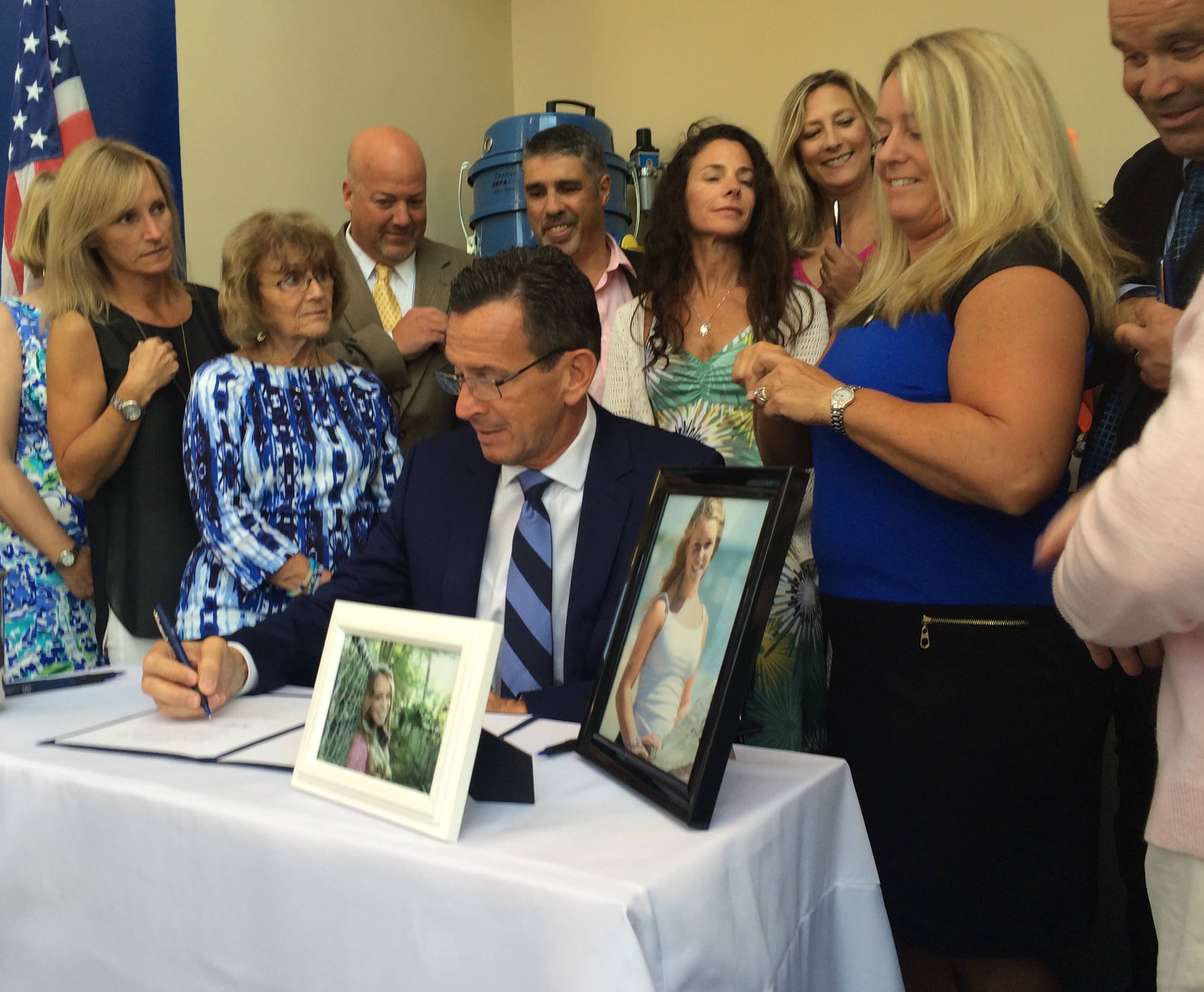 [jwplatform 4Tu3Y4gZ]
Reporter – Kwegyirba Croffie
Just over a year since a tragic boating accident took the life of 16-year-old Greenwich resident Emily Fedorko, Gov. Dannel Malloy signed "Emily's Law", creating safer standards for boats towing waterskiers or rafters.
"On a regular basis we're reminded the strength of those who have suffered a loss and their ability to find a way to turn that loss into a gain for some others," Gov. Malloy said in Stamford, expressing that this isn't the first time the state has taken steps to safeguard their waters. "I really appreciate the common sense approach."
"Emily's Law", which passed on June 4 of this year, will make it illegal for anyone under 16 to operate a boat while towing rafters or water skiers. Safety courses on boat towing will also become a requirement.
Joe and Pam Fedorko, Emily's parents, were at Goodway Technologies Friday when Gov. Malloy signed the law.
"Less than a year ago when my wife and I met Senator Frantz in the aftermath of losing our beautiful daughter Emily, we explained our vision for creating a new law to bolster the existing guidelines and to require further education for the recreational of boaters as well as boating sports," Joe Fedorko said.
"We did not want to, in anyway, to discourage or impede the ability of people to enjoy boating, but rather encourage having fun in the water with further safety requirements."
Teaming up with Goodway Technologies, the family created bright orange flags with an arrow on them.
"We've designed and manufactured a new product known as Emily's Flag," Fedorko said. "This was created to help alert other boaters to see clearly that a rider is being towed and that people are in the water. We feel that this can only help to avoid some accidents that take place in our waters."
CEO and lifelong-resident of Greenwich, Tim Kane of Goodway Technologies, said he's been a friend of the Fedorko family for years, even going on vacations and boating with the family.
"She was such a force of life," Kane said. "I think the most alarming thing about it is that this was preventable. It allowed us to form an organization of people that could potentially help."
"The concept of this came from a flag that as been on the water for years now, known as the 'diver down' flag — a rectangular red flag with a white slash going through it. Everybody, no matter where you are in the world knows when they see that flag that there's a person in the water underneath that boat."
The flags will be handed out for free at next week's boat show in Norwalk. To learn more about the Emily Fedorko Foundation, visit Emsway.org