[jwplatform W178iUzz]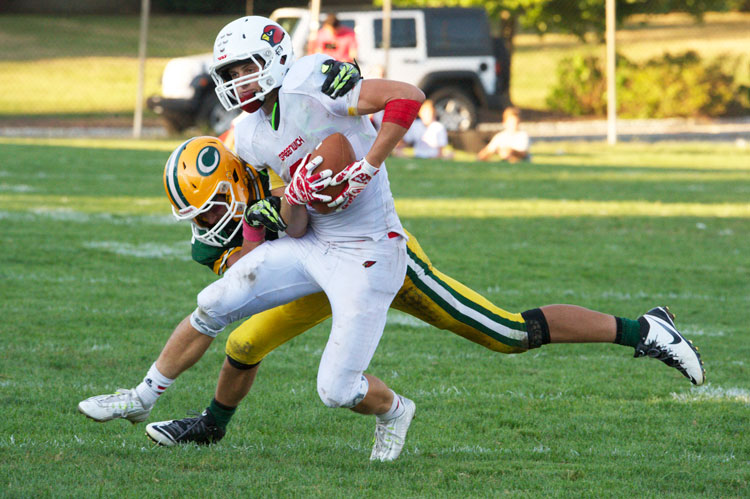 It wasn't easy, but the Greenwich High School football team picked up its season-opening victory, upending a very gritty Trinity Catholic High School squad 42-38 earlier today in Stamford.
"I'll take it," Greenwich High School head coach John Marinelli said. "That's my thought. We made a lot of stupid mistakes. A lot of stupid penalties in situations where we just can't take them. I thought Trinity did a great job. Donny [Panapada] does such a great job and now with Richie [Albonizio], it makes their staff very rare in the state of Connecticut. They have a lot of guys over there that can do some things and their receivers are incredible. They have weapons. They are a good football team, but we just made too many mistakes."
With Big Red up by four with 4:06 to play, Trinity was putting together a nice drive that had them at midfield with less than a minute to play. TCHS quarterback Anthony Lombardi stepped back and looked for one of his deep threats down the GHS sideline. However, it was Connor Langan, making his first varsity start for Greenwich that grabbed his second interception of the day to help his team clinch the victory.
"This feels really great," Langan said. "We are under new coaches and started the new era playing fast. All the hard work in the preseason has paid off and it showed today. I got to play in front of my family and coaches and it was great. It was a nice team victory."
Greenwich started the game with back-to-back field goals by Soh Nakayama, as he kicked 31 and 33-yarders, respectively to give GHS the 6-0 advantage midway through the first quarter.
Off another Langan interception, his first of two on the day, Big Red got the ball at its 33-yard line. On the next play, Tyler Farris took the handoff, ran up the middle, cut towards the Greenwich sideline and sprinted 67 yards for the touchdown and 13-0 lead with 10:52 left in the half.
"Everybody thinks that we just like to throw it deep, but there's an offensive scheme involved," Marinelli said. "We felt like we could come in here and run the football. Our offensive line did a great job and our running backs could chew up some grass and do some things. There was never a point in the game where we had to throw it deep. We were always in a comfortable spot."
However it didn't take Trinity long to answer. Two plays on its ensuing drive, Lombardi stepped back from his 22-yard line and found Johnny Somers in stride at midfield down the TCHS sideline. Somers then outran the Big Red defense to complete the 78-yard touchdown reception.
A two-point conversion made the score 13-8. But the Crusaders weren't done. On Big Red's second play from scrimmage on its next drive, Dillon Daine intercepted Greenwich quarterback Frank Alfano's pass and took it to the Greenwich 8. Two plays later, Matthew Circelli ran 4-yards for the touchdown.
The Trinity lead lasted 16 seconds. On the ensuing kickoff, Anthony Ferraro took the kickoff, moved past several defenders and sprinted 82 yards for the touchdown.
"This felt amazing," Alfano said "Coming out here and playing our old coaches was such a great experience. Words can't explain how I feel right now. It's amazing. I didn't expect this. Our defense really stepped up at the end and played very well. We were really fired up on offense in the first half. The second half they scored a few times, but we picked it back up again."
Keeping the touchdown party going strong, Trinity Catholic got the ball at its 18, but moved back five yards due to a penalty. That didn't matter, as Lombardi found a leaping Izaiah Sanders, who somehow kept from going out of bounds at midfield, weaved past two GHS defenders and sprinted the rest of the way for the 87-yard touchdown with 8:12 to play to cut the deficit to 21-20.
After that was the Luke Beinstock show. Getting the ball on its 42-yard line, Beinstock carried all five plays on the drive, running for 18 yards, a 20 yarder and another 20-yarder, this time for the touchdown with seven minutes to play in the half.
After the GHS defense held the Crusaders, Big Red got the ball back on the Trinity Catholic 44. Using an 11-play drive that had four passes in the flat, Beinstock struck again. With 24.6 to play in the half, he got the ball at the Trinity 3 and punched it in for the 35-20 halftime lead.
"We thought that our advantage in this game was up front and we wanted to take advantage of that," Marinelli said. "[Trinity] was dead. Those guys up front did such a good job opening up the lanes. We just have to be smarter. You can't give up 38 points an expect to win a lot of games."
After both teams exchanged possessions in the third quarter, Trinity broke through with 3:46 left in the quarter. Lombardi took advantage of a blown coverage and found a wide open Somers for the 45-yard touchdown pass to cut into the lead and make the score 35-26.
Again, the Crusaders were able to capitalize on a big play. With 52 seconds left in the third, the GHS lead was cut to three when Lombardi called his own number and bolted up the middle for the 32-yard touchdown.
"When they focused in and knew their assignments, we were good," Marinelli said. "We had a lot of blown coverages. Offensively we had stupid holding penalties that get us kicked back. We were our own worst enemy at times in this game. But I am really proud of them and they fought their butt's off until the end. They faced adversity and stared it back down in the fourth quarter and I give a lot of credit to our guys. We put up a really good fight."
But when Greenwich needed the big play down the stretch, they were able to come up clutch. On its next drive, they were facing a third down and five, but Alfano ran the quarterback keeper for eight yards to keep the drive alive. Four plays later, the Cards were facing a fourth and three, but Beinstock calmly cut to the GHS sideline and ran for 14 yards.
Two plays later, Alfano stepped back and found Joey Longo in the flat and he ran 17 yards for the touchdown with 9:28 to play.
"Coming into the season, we thought we would be undersized playing against a bigger team," Alfano said. "Trinity Catholic has some big boys on the line, but our boys played really well. I felt confident with my throws and everything. Our running backs were great and receivers were catching the ball. It was great."
With the victory, Greenwich improved to 1-0 on the season, but has a massive test next week, as they battle Darien High School.