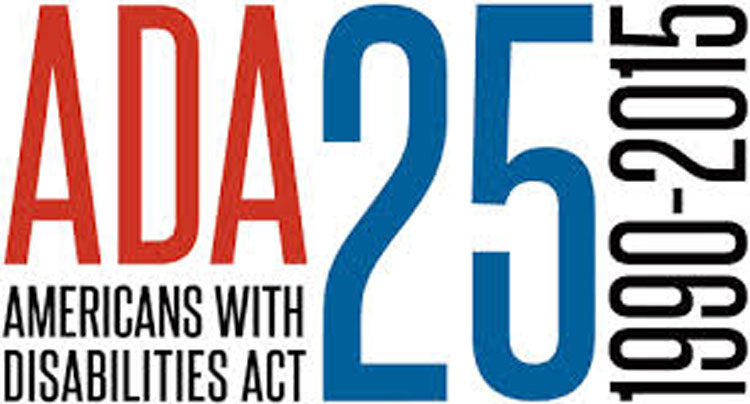 By Evan Triantafilidis
Sentinel Correspondent
Marking the 25th anniversary of the Americans with Disabilities Act on Monday at Town Hall, Lolli Ross and First Selectman Peter Tesei spoke about the law's importance and celebrated with a festive red, white and blue birthday cake.
"This really is a time to celebrate our accomplishments," said Ross, co-chair with Paul Morell of the First Selectman's Advisory Committee for People with Disabilities in Greenwich. "On July 26, 1990, George H.W. Bush signed the ADA, which is a landmark piece of legislation that was years in the making. It was a sweeping act that he said opened doors to a new era of equality, independence and freedom for every man, woman and child."
More work needs to be done for those whom the law serves, Ross says. But she added that, at another recent birthday party for the ADA, long-time patients with disabilities recalled being carried into buildings that did not have the access codes that exist today and people being denied jobs because of their disability, when employers had the right to do that.
George O'Loughlin, Greenwich's director of case management, has had a first-hand look over the past nine weeks at what citizens with disabilities go through on a daily basis.
A little more than two months ago, O'Loughlin ruptured his Achilles tendon and now uses a self-powered scooter for transportation.
"The fact that I have to use an adaptive device for a period of time, my awareness of the issues with noncompliance is certainly there," said O'Loughlin, who worked for the state of New York for 18 years, building handicapped housing.
"I've worked with people with disabilities for almost 40 years, so I'm used to working with people with adaptive devices. But the potholes in the sidewalks everywhere you go, the curb pegs that haven't been completed, the doors that slam on you too fast — my awareness of the need to continue to make improvements is certainly there."
O'Loughlin says that the recovery time for his injury can take up to a year and confirmed that the journey from the Town Hall parking lot to the building was a "long way" for him.
First Selectman Tesei also read a letter written by U.S. Sen. Richard Blumenthal, whose duties in Washington prevented him from attending.
"Today is an extraordinary milestone for the barrier-breaking law in our nation," Blumenthal's letter read. "I am proud to join you in recognizing what has been accomplished in the past 25 years. Since its passage, the ADA has been instrumental in impacting the rights of the individuals with disabilities to pursue lives of their choosing without fear of discrimination.
"We can never forget the importance of society-changing, perception-altering gains as a result of the ADA."