June 12, 2015
Marinelli Showcases Greenwich Football at Red & White Game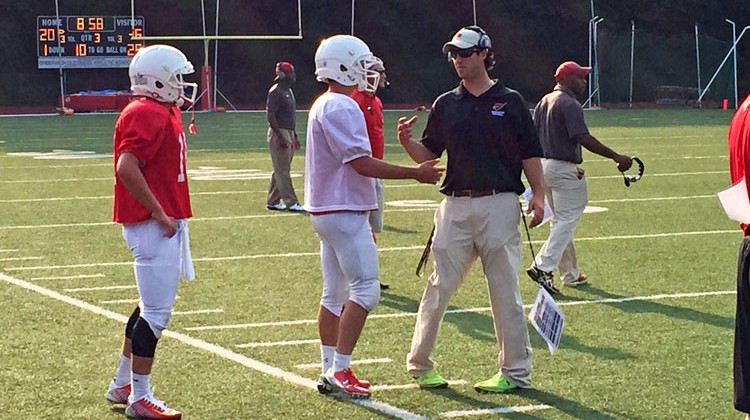 [jwplatform 7lfRtDml]
Greenwich High School head coach John Marinelli couldn't wait to show off his football team during Friday afternoon's annual Red & White game played at Cardinal Stadium.
For the first-year head coach, getting to coach a game, even if it's just a scrimmage against each other, was a thrill.
"We're definitely out of shape," Marinelli said. "They aren't used to the tempo and the speed of the offense. But that's easy and correctable. It's just hard work in the offseason. We'll get there. We have a lot of talent, a lot of skill and have smart players. Those three components really go a long way, especially in a championship run. Those are our expectations at the end of the season. We have our work cut out, but I'm looking forward to it."
Marinelli became the head coach of Greenwich High School back in early April.
The Cards were in need of a new coach, as Rich Albonizio resigned from Big Red in the beginning of 2015 after 18 stellar seasons with the program. Marinelli was no stranger to the Greenwich program and the Fairfield County Interscholastic Athletic Conference, as he was the longtime assistant at New Canaan High School to his father, the legendary Lou Marinelli.
"This is a great place to be," Marinelli said. "It really is. It's such a great town and community. Everybody here has been so supportive over the past couple of months. I don't know if you can count this as a first game, but I got my feet wet a little bit. It's a lot of fun. It's great to put your stamp on something and it's nice to bring these guys back a little bit. With the coaching change and not having a coach for a couple of months, and with the off-season and no real direction, to get them back on track is exciting. I think it's a start."
And in what better place to show off his team than at the annual Red & White football game.
In what is an annual tradition at the high school, Big Red took the past two weeks to work hard in practice and get themselves set for another season of high expectations in the fall.
"I felt pretty good," captain Ian Bannon said. "We came out a little slow, but by the second quarter I felt like we put in all the effort we had in it and tried to finish as hard as we could. And I believe by the fourth quarter we did. The two weeks of practices were good. Who doesn't like to practice in the 85-degree heat, but you have to get in shape."
During the game, the white team upended the Greenwich red team 32-12.
"I was thinking to play my behind off," said captain Kevin Woodring, who just got back from playing in the class LL baseball postseason with the Cardinals. "I didn't play a lot in the spring, but I wanted to show my team that I can put in a lot of effort. Hopefully they can see my leadership as a captain and follow me from that. I wanted to play as hard as I could. I just wanted to put the pads back on and hit a couple of people."
From the start, both teams were high-octane and were using the no-huddle, spread offense. Bailey Ballone had one of the highlights for Big Red, picking off the red team and running the ball back 75 yards for the interception and touchdown.
Joey Lanni also helped the white team with two touchdown catches, one of which was a one-handed stab that went for around 70 yards. Anthony Ferraro found the end zone on a 35-yard touchdown reception. Not to be outdone was Joseph Santillo, who scored for the red squad.
"It's been a fun spring," Woodring said. "We are learning a lot. With such a new offense, Coach Marinelli has done such a great job. We are trying to implement everything that we've been taught and all the new stuff we are going to be learning."
When the final buzzer sounded and both teams shook hands, Marinelli took his squad to the 50-yard line for one last huddle and pep talk before the team broke for the summer.
"I told them that we have a lot of work to do in the summer, but they came out for 10 days in the spring and showed a lot of effort. They really took ownership of something new, the coaching staff, the players, and really turned it into their own. They are the drivers of this whole thing. They are going to put in the time and effort and we could be as good as we want to be. So it's on them now. It's on the captains and senior leadership to carry this tradition."
And both Bannon and Woodring plan on working towards the fall starting immediately.
"I saw a lot of effort and that's good, but it's all the mental stuff," Bannon said. "The little things here or there start to add up. We have a lot of potential and I think we could go far. We have to believe in it. I am looking forward to getting into the weight room at 8 a.m. tomorrow."
"We are going to learn a lot of new stuff," Woodring said. "We're going to be in the weight room, running, doing all the exercises and doing all the 7-on-7's. It's all the little things that we need to do in order to be ready. When we come, we are going to come hard."
In addition to both Woodring and Bannon, GHS will be led next fall by captains Scooter Harrington and Luke Bienstock.
While teams have the option of having two weeks of spring football or start the fall season early, Marinelli said that there was no option in his head of when to start practice.
"I've always done it," Marinelli said. "I've always been a part of it. Spring football is one of the best things that Connecticut has. It's the only state in New England that has it. For a new coach to be with your kids 10 days before the summer hits and to get to know them, to work the fundamentals of football, to learn my teaching philosophy and to just be out here is great. It's what spring football is all about. It was fun. It's great. We will do it every single year the CIAC allows us to do it."
Now comes the hardest part of the year for Marinelli, the waiting. After the whirlwind past few months of learning a new town, meeting new faces, teaching his style of football and organizing his coaching staff, Marinelli has a few months away from the game.
"Those periods of the season when it's over to spring, you're kind of lost as a coach," Marinelli said. "This offseason was a little different because we started this, but the next month-and-a-half to two months is going to be a little difficult. It's the first season and everybody's ready to go, but I'll get some time to get away and get my mind off of it a little bit before we start."
Tags:
CIAC
,
ctfootball
,
cthsfb
,
FCIAC
,
GHS
,
greenwich
,
Greenwich Football
,
Ian Bannon
,
John Marinelli
,
Kevin Woodring