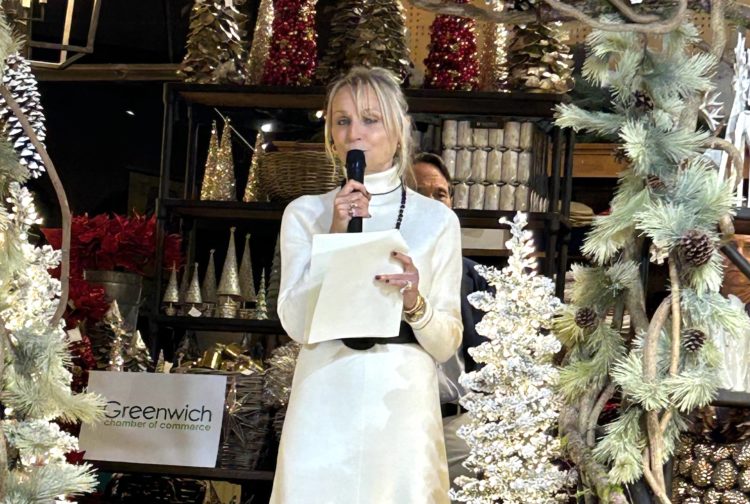 By Anne W. Semmes
Amidst bursting flower arrangements and colorful pumpkins, nearly a hundred gathered by the Greenwich Chamber of Commerce were celebrating the Chamber's 2023 Annual Awards ceremony at McArdle's Floral & Garden Design last Monday evening. Interrupting the wining and dining from sushi to Belgian chocolates Marcia O'Kane, resplendent in her white dress as president and CEO of the Chamber, began her introduction leading to the award presentations.
"Thank you so much Jim McArdle," she said to the host, "as the fourth generation McArdle in almost 100 years – and his parents Jim and Caroline are here too!" Commenting on the astounding floral display, she noted, "I've heard so many people say they want to come back and shop, so make that a promise." She noted also the newly reelected First Selectman Fred Camillo was temporarily missing, but thanked all the parties supporting the evening, including the sponsoring First County Bank, and that myriad list of vendors who had contributed to the evening's tasty largess.
First up of the five Town Hero Awards was the R. Michael Dunne Quality of Life Award to be given to the Greenwich Community Projects – Let There Be Light. "And for those of you who knew Michael Dunne," said O'Kane, "you knew that he was the model for giving back to the community. This award goes to the organization that lights our skies during the holiday season…Here to pick up the award is Alyssa Keleshian."
"Thank you, Marcia. And on behalf of the Greenwich Community Projects Fund, Rick Kral, the Water Club, Sebastian Dostmann and myself, we really thank you for this recognition. We love the lights, but really the appreciation goes to our community of national retailers, landlords, businesses. I see so many donors here because without your donations we would have no lights… And also, our wonderful local media partners, Greenwich Magazine, Greenwich Sentinel…It's not a town initiative. It's not town funded, and we all remember 2019 when the Avenue went dark. So, thank you so much for this honor. Please take a look at our sponsors and our donors and thank them. Go to their establishments, use their services, and really appreciate their community service and spirit during the holiday season."
Kelesian also stepped forward to introduce the next award "that was named after my dad," she told, "The Harry Kelesian Small Business Award goes to that small business in town that truly embodies the entrepreneurial spirit. The people that roll their hands up 24/7 and work really hard and are community minded and I'm so proud to say that this year's award goes to Garden Catering and Tina and Frank Carpenteri."
"Thank you so much for that, "said Frank Carpenteri. "It's really an honor to be here representing Garden Catering. We've got two core tenets at Garden Catering and the first one is we believe we make the best chicken nuggets you'll ever have. The second one is a bit more important. That's the belief that we can make the communities in which we operate a better place to live." He then pointed out his dad in the audience. "He reopened Garden Catering."
"You had a belief," he addressed his dad, "that you can make a difference in the community, and you taught Tina and I from a young age, the importance of a hard day's work and how we could give back to those a little less fortunate through the food that we serve.
So, we wouldn't be here without you. So, thank you Dad. Thank you again to the Chamber."
O'Kane moved on to the next award. "Jack Moffly was an icon in our town. Everybody knew him and could his son Jonathan please raise his hand because he is here. The Jack Moffly Nonprofit Leadership Award goes to an organization that has made a huge impact. Although Coffee for Good on Maple Street just started in 2021, in two years they have created awareness of those with disabilities and the model for inclusive employment providing meaningful jobs for those with disabilities. If you have been to Coffee for Good on Maple Street, you know what I mean. And if you haven't, you need to go. They create jobs for people who might not otherwise have them. Please step up to accept this award. Executive Director Deb Rogan."
"Thank you, Marcia," said Rogan. "Thank you to the Chamber. We're so honored to receive this award on behalf of everyone at Coffee for Good. I just want to thank the community as customers are integral to our training. They give our trainees the confidence and the skills every day that you can come in and buy a cup of coffee or sandwich. And so, I want to thank everyone in the community for getting us to this point at two and a half years to be as successful as we are, and also to be open to if you want to employ and diversify your workforce. You can come in and talk to any of us at any time. So, thank you as a community for all your support. We really appreciate it."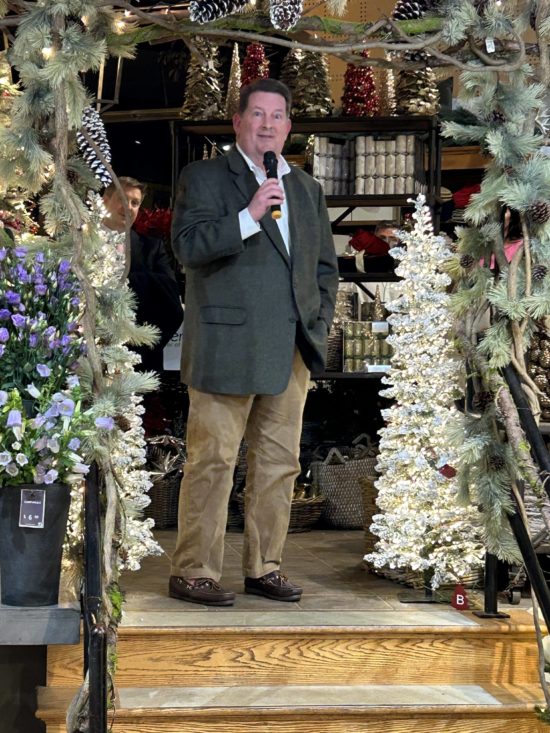 "And I'd like to add to that," said accompanying Jon LaBerge, board chair of Coffee for Good. "Five years ago, Deb came up with a concept for Coffee for Good and pitched it to Abilis and the Second Congregational Church. She's just been a tornado of energy to get Coffee for Good off the ground, get it outfitted, and bring the success that we've had. So, while the community is important, it wouldn't have happened without her."
Next up was the Malcolm Pray S. Pray Excellence in Business Award. "Malcolm Pray represented Excellence," introduced O'Kane. "To represent this award. we couldn't find a better example than the Greenwich Sentinel that provides us with the news we need to know. Thank you, Peter and Beth Barhydt. Peter, please come on up and accept this award."
"Thank you, Macia," said Barhydt. "This reward is very meaningful to us personally because Malcolm was such an amazing mentor and friend from five minutes before we moved into town almost 40 years ago. Any idea that we had, he was always an enthusiastic listener and promoter, and his granddaughter Courtney has taken on that entrepreneurship. So, it's very meaningful to get this award in honor of Malcolm.
"And the people that really deserve the award," he added, "are you all because the paper wouldn't exist and thrive in Greenwich if it weren't for the community support. So really this is going to award all of you in the entire community. I want to thank you all for that."
"Finally, said O'Kane, "We call on our Chief of Police, Jim Heavey, to give out the Public Safety Award that goes to an outstanding representative from our Greenwich Police Department. "Thanks Marcia. We begin just a few feet from here atop of Greenwich Avenue in the afternoon in August where Police Officer Siuyan Su Ah Sor was working an off-duty job assisting with traffic at the top of the Avenue.
"She went to grab her lunch – off duty for the moment – when she smelled and saw smoke coming from a building at the top of Greenwich Avenue. She immediately called it in on the radio, recognizing there was a fire at the back of the building. The Fire department and GEMS and the police officers were on the way.
Recognizing there might be people inside the building, without any concern for her own welfare, without air pack or backup, she entered the building, and helped evacuate all the people who were in the building and unaware of the fire that was going on at the back of the building.
Heavey continued, "She was in the building a little bit longer than she wanted to be and got a little smoke inhalation… She fully recovered from that. But it shows the willingness to do selfless service to the community. And that's why, when Marcia asked who our nominee was going to be this year, it was easy to pick Officer Siuyan Ah Sor, who also is a Greenwich resident. Her family has been here a long time. So, we're glad that she gets recognized by the Chamber of Commerce."