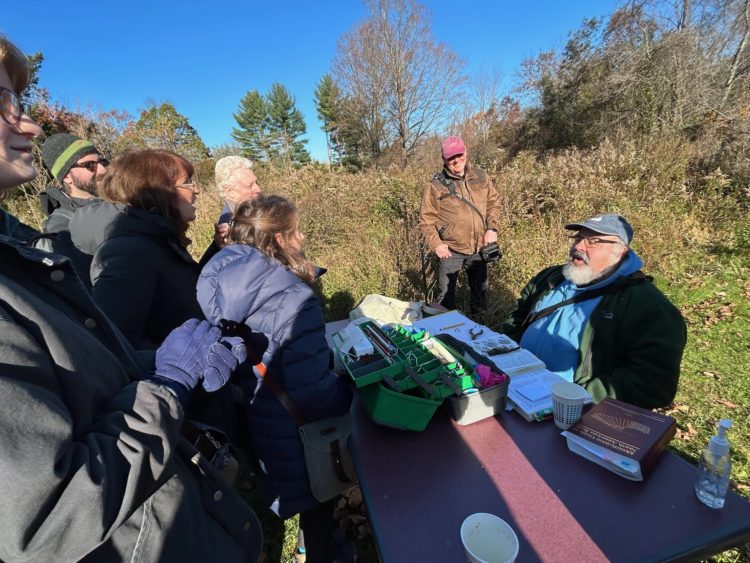 By Anne W. Semmes
The art and importance of bird banding was well laid out last Friday morning at Greenwich Audubon, but unfortunately perhaps too late for the capture of birds for banding – after a couple of event postponements, with many birds having migrated south. But master bird bander Frank Gallo, who was trained years back in the trade by Yale University ornithologist Fred Sibley, and who is now a senior naturalist at the New Canaan Nature Center, captivated a crowd of some two dozen birders with his know how and love of birds. He's authored the book, "Birds of Connecticut."
"I learned to band while banding hundreds and hundreds of Common Terns," he began. He first got his sub-permit, "And then once you get good enough, you get your own permit. It's a federal permit because you can't just go out and catch a bird- you have to have the license to own the bands and to own the nets." And those mist nets that catch the bird are either nylon or polyethylene, and cost "anywhere from $125 to $200 bucks a piece." So, we're cautioned to not "catch up your zippers or death nail buttons" when he takes us down the mist net path.
Gallo talks to us while sitting in front of his toolbox and he doesn't miss hearing or sighting any bird. "There's been a Pileated Woodpecker flying around here, hanging out with a couple of Bluebirds and [Cedar] Waxwings." He passes around the little silver bands that come "really tiny," or large for hawks with that added "little fringe" after seeing how the hawk once banded would fly off, "reach down, grab the aluminum alloy band, and rip it off… So the solution was to put this extra little flange there. And when you put the band on, you crimp this over so they can't rip it off."
"There's a Purple Finch and Flicker coming," he spots. "Hear that tick? That's the Purple Finch." "Now, take a look outside this band." We see inscribed "AVISE BIRD BAND WASH DC." "So," he tells, "If I catch a bird, I write it down and I send it to the bird banding lab in Patuxent, Maryland. And they put it on a big mainframe computer. And if you find a Flicker [banded] that hit a window," and write the date and location when found dead, "You mail that to them, they will write the bander and tell the bander where the bird went, which is why we're doing this in part. And then they'll write to you and tell you where the bird came from. And this has been going on for a few hundred years."
"So over time," he continues, "They've been able to map the routes that birds were taking." And birds take flyways, not highways, and flyways are "essentially coastlines, mountain ranges and rivers," he tells. "They can also use the star patterns and the sun and the magnetic field of the earth and a bunch of things we don't understand to find their way."
"And now things are accelerating because we can catch a bird, put a geolocating device on it and let a satellite track it." But there are birds like the Cuban Martins, "when they leave Cuba, and they go into the Amazon, who knows where."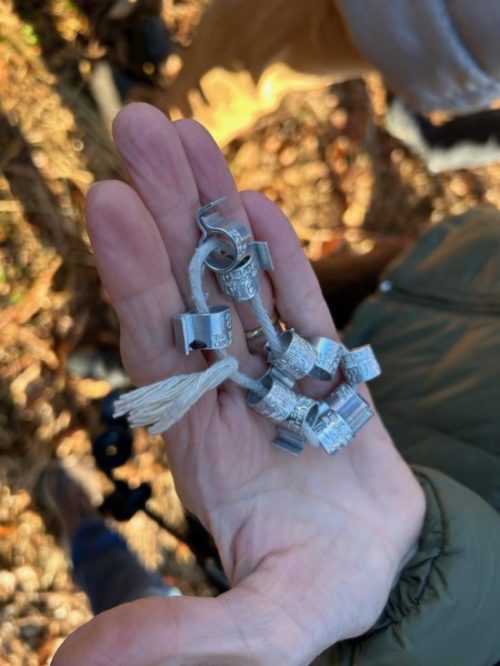 Bird banding can tell how fast a bird flies. "For instance," he says, "they banded a shorebird in Massachusetts and three days later it was in Texas. And they figured out that at a minimum it was flying 40 miles an hour – they did the math. And it was some pretty incredible amount of time for it to get there." And then there's that famous Laysan Albatross called Wisdom that's been tracked in the South Pacific, now 72 years old, "and she's still having babies. So, by being able to identify an individual, we can learn a whole lot, which is why we're doing this. And it's also a great education tool, especially when we're doing it with kids."
He tells of just being with inner city kids from Danbury. "I took out (of the mist net) a robin and they're like, wow. And the robin's trying to bite me and they're laughing, and catching the cardinal, the cardinal just looks at you, reaches down and rips your cuticle off."
He's asked a question about recreational banding, which got his ire up. Having renewed his permit, he says, "One of the things that it states is you can't just do this recreationally. You have to have a project. And if you get caught with a net or catching a bird, you go to jail. It's a federal offense. And I'm talking like $20,000 kind of federal offense. It's not a joke… There is some stress to the birds depending on what you're doing. I admit that freely… And there are days if a bird gets hurt that I just want to never do it again. But then I see a kid who's never seen a bird before and I think that makes a difference in somebody's life that could go down the road and really make a difference."
What birds are most rare to band he is asked – a Connecticut Warbler. "Which isn't particularly rare… So, you never see them because they're deep in the bush…We caught two Connecticut Warblers one day. Never saw them, never heard them. Same thing with Lincoln Sparrows. You don't see them all that often, but you catch them. The rarest bird I've ever caught, was an Orange-crowned Warbler."
So, in order to get a permit, he says, "You have to have two master banders vouch for you. You have to apprentice, two master banders must say you know enough to do this… And a lot of what's in here is trying to identify birds by subtle plumage differences. And there is no manual to learn that. You're trying to see subtle changes in the shape of feathers, little tiny details. It's very difficult to teach yourself. And I'm pretty good at this and I have a hard time with it."
He then walks us down to the mist nets. They're hard to see at first. "It's so soft. It's incredibly fine netting. And that's why they're so expensive… So it's a matter of being able to make sure you get the birds out quickly so they can continue their journeys."
He walks us back to his table and toolbox. He holds up a special scale for weighing birds. "Sometimes weight can tell you male from female…When I measure the bird's wings, we use special rulers." And how is he holding the bird? He pulls out a taxidermy Dark-eyed Junco.
"I'm holding it so it can't move, it doesn't struggle," he notes. "I would take these nifty little pliers and use this book, which is Aging and Sexing, Peter Pile's book. It tells me what size band [from 0 to 6] a Junco takes. I take the band, I open it, I put it in these pliers. I put the band around the leg, I close the band, turn the band 90 degrees and squeeze like crazy. So, this slides up and down on the leg."
So, will Gallo be returning to Audubon for more bird banding? "I'm done for the season," he says, "It's getting too cold, and I don't bird band in the winter. The cold is less a factor for the birds and more effective for me because I can't use my hands." Indeed, Gallo would be off to Brazil the very next day.