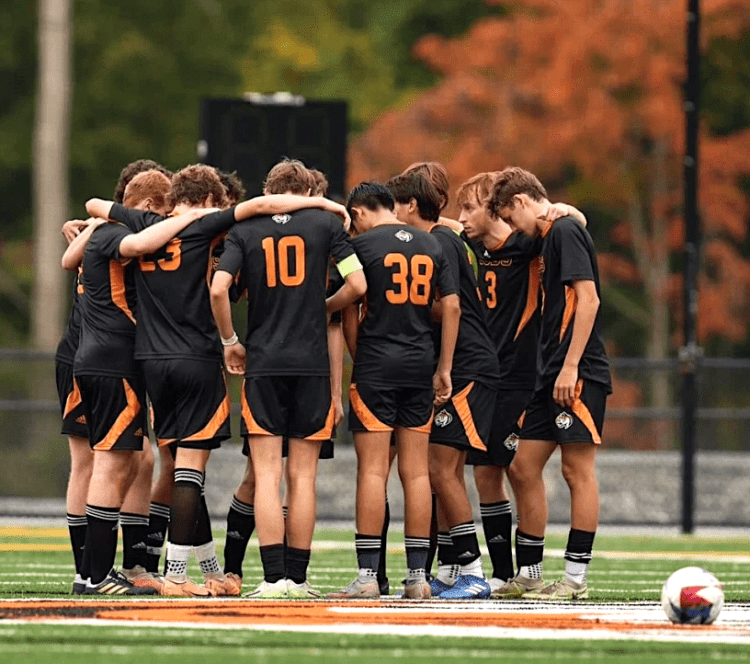 By David Fierro
Asher Goldstein's first varsity goal for the Greenwich Country Day School soccer team certainly came in dramatic fashion.
Goldstein's goal off a corner kick in the 89th minute gave host Greenwich Country Day School a hard-fought 1-0 win over Brunswick School on Oct. 25. The well-earned victory marked the Tigers' first varsity soccer win against the Bruins.
With the Bruins and Tigers scoreless, GCDS earned a corner kick in the last minute of the game. Devin Kellen took the corner kick for Greenwich Country Day School and directed it inside their 6-yard box. Christian Pizzimbono, who challenged Brunswick goalie Phil Stabinsky.
The ball floated past the edge of the 6-yard box and Goldstein, a captain, placed the ball in the left side of the goal for his first goal as a member of the Tigers' squad.
"It was amazing to score my first goal for the school," Goldstein said of his game-winning goal. "Devin played a great ball in and I waited for the scraps, just like coach told me."
In the first half, Dylan Ever and Mateo Sierra created several scoring chances for Greenwich Country Day, but Brunswick's athletic backline kept the game scoreless. Stabinsky made several key saves in goal for the Bruins, who were led defensively by Johnny Saunders and Ollie Leonard.
"Alan Marsh, our coach, had a strong team talk," Goldstein noted. "He had encouraging words for us to work as a team and not individuals."
Greenwich Country Day drew nine corner kicks for the game and capitalized on their final set piece for the win, courtesy of Goldstein. Stabinsky made eight saves for the Bruins, who were paced on offense by Kieran Raker, Will Higgs, Tyler Quake and Theo Perkins in the second half.
Jasper Brokaw, a captain, Goldstein and goalie Matias Hood were among those who helped lead the Tigers' defensive effort in the spirited win.