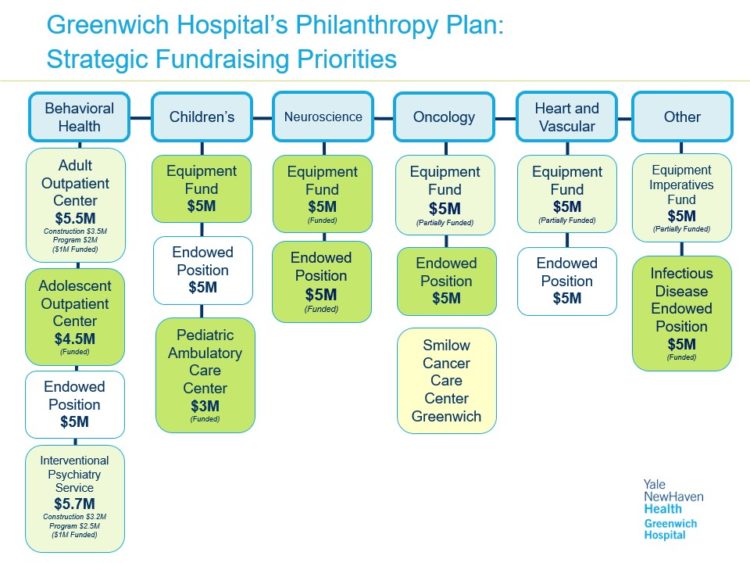 By John Reese
At the October 18 meeting of the Greenwich Retired Men's Association, Spike Lipschutz introduced this week's speakers, Diane Kelly and Noël Appel. Diane Kelly is the president of Greenwich Hospital and also serves as the chief nursing executive for the entire Yale New Haven Health System. She has been president of Greenwich Hospital for three years and was the chief operating officer prior to that. Before joining Greenwich Hospital, Diane had multiple clinical leadership roles at Berkshire Medical Center, including serving as chief operating officer for 10 years.
Diane has impressive credentials. She has a nursing degree from the University of Massachusetts Amherst, an MBA from Western New England College, and a doctorate in nursing practice focused on executive leadership and population health from the University of San Francisco.
Noël Appel is the senior vice president for development at Greenwich Hospital and is also serving as the interim executive vice president for development at other Yale hospitals. Noël has previous development experience at the New School in New York, Northeastern University, and Fairfield University before becoming head of development at Greenwich Hospital around six years ago, the same time Diane Kelly joined.
Diane and Noël work closely together on strategy and planning the future direction of Greenwich Hospital. Diane provided an overview of Greenwich Hospital and its growth plans, while Noël discussed the hospital's major new fundraising campaign. Greenwich Hospital is part of the Yale New Haven Health System, which is Connecticut's leading healthcare system. Greenwich Hospital itself provides over 100 different medical specialties, which is only possible by being part of an academic health system like Yale. It is a 206-bed community hospital with 32 bassinets for newborns.
Greenwich Hospital serves three key areas: about 50% of discharges come from New York, the local area of Greenwich itself, and a significant share from Stamford. Diane explained the hospital strategically draws patients from this geographic "catchment area," with about 620,000 people relying on Greenwich, White Plains, and Stamford hospitals. This large population sustains the high level of services at Greenwich Hospital. A wide geographic reach is important, as a population of around 200,000 is needed to sustain a viable community hospital. With only 60,000 people in Greenwich itself, the hospital would not be able to offer its breadth of services or attract top clinical talent if limited to just local residents.
Being part of the Yale New Haven Health academic health system allows Greenwich Hospital to expand its clinical capabilities. For example, cancer patients have access to over 600 Yale trials and studies. Recent high-profile recruits include Dr. Montanari, an oncologist who left New York City to lead cancer care at Greenwich, Dr. Gunel, an internationally renowned neurovascular surgeon who built Yale's neurovascular program, and Dr. Majoka, a behavioral health specialist who is bringing interventional treatments to Greenwich Hospital to support our mental health and psychiatric needs.
While Greenwich Hospital is known for high quality inpatient care like maternity and surgery services, most healthcare is delivered on an outpatient basis. Greenwich Hospital aims to keep people healthy through preventative care and services so they avoid needing hospitalization. To promote access, Greenwich Hospital has invested significantly in outpatient facilities across its service area, including a large multi-specialty pediatric clinic in Greenwich, an ambulatory surgery center, and multiple specialty practices in Stamford. Easy patient access and coordination across inpatient and outpatient settings is a strategic priority. Key clinical growth priorities include cardiology, cancer care, neuroscience, orthopedics, and behavioral health. In behavioral health, they are expanding services dramatically for children, adolescents, adults and older people across inpatient, outpatient and community settings, given strong needs in this area.
Other distinguishing facts include Greenwich Hospital's five-star rating from CMS for quality of care for three years straight, ranking it the top hospital in the Yale New Haven Health System. Financially, Yale New Haven Health committed $160 million to help Greenwich Hospital execute its five-year growth plan. This growth is being augmented by Greenwich Hospital's first comprehensive fundraising campaign in decades, with a goal of raising $125 million.
The campaign has already raised $65.9 million, including creating endowed faculty positions to attract talent in cardiology, cancer, orthopedics and psychiatry. Other campaign priorities are equipment/technology funds and expanded behavioral health programming and facilities. Upcoming plans include conversion to all private rooms and expanded facilities in New York to better serve patients from that area. An example of expanding clinical capabilities is the recruitment of Dr. Zibly, a specialist from Israel who has developed an advanced MRI-guided, non-invasive procedure to treat severe tremors. He will establish this service at Greenwich Hospital.
In summary, Greenwich Hospital's impressive care quality, geographic reach, membership in the Yale New Haven Health academic system, talented clinicians in key specialties, and combined commitment from Yale and philanthropy, are enabling exceptional service expansions to meet increasing community needs. The presentation highlighted Greenwich Hospital's bright future as a first-class community hospital through strategic growth and development.
To see the full presentation, go to https://greenwichrma.org, cursor to "Speakers"
and click on "Speaker Videos."
The RMA's upcoming presentation, "Fraud of the Century? The Presidential Election of 1876," by Sunil Saksena, is scheduled for 11 AM on Wednesday, November 1st. This talk is about the now forgotten election of 1876. That election was marred by claims of fraud, voter intimidation, arbitrarily changed vote counts and multiple sets of "certified" electoral college votes. The November election was followed by four months of chaotic negotiations and backroom compromises involving Congressional committees, Supreme Court justices, and campaign representatives. Finally, just two days before Inauguration Day, Republican Rutherford B. Hayes was declared the winner by one electoral vote over Democrat Samuel J. Tilden, who had won the popular vote by a huge margin.
Sunil Saksena is a member of the Darien Men's Association and its past president. Sunil was born in India in 1944 and received a bachelor's degree in mechanical engineering from the Indian Institute of Technology, Roorkee.
He worked at Union Carbide India before proceeding to the University of California, Berkeley in 1966 for graduate work. He received a master's degree in engineering as well as an MBA from Berkeley. He worked as a mechanical engineer with American Can Company in San Francisco where his claim to fame is that he designed the machine that puts the can cover on the beer can making it safe for beer drinkers to imbibe. For the majority of his career, he was in finance, first as an international banker with Bankers Trust Company serving in Singapore, Mumbai, and New York and later with Fidelity Investments from which he retired in 2004. He and his wife have lived in Darien for the past 38 years. They have two sons, one a doctor and the other a lawyer.
To stream the presentation by Mr. Saksena at 11 AM on Wednesday, November 1st, click on https://bit.ly/30IBj21. This presentation will also be available on local public access TV channels, Verizon FIOS channel 24 and Optimum (Cablevision) channel 79.
Note: The views expressed in these presentations are those of the speakers. They are not intended to represent the views of the RMA or its members.
RMA speaker presentations are presented as a community service at no cost to in-person or Zoom attendees, regardless of gender. Any member of the public who would like to receive a weekly email announcement of future speakers should send a request to members@greenwichrma.org. The RMA urges all eligible individuals to consider becoming a member of our great organization, and thereby enjoy all the available fellowship, volunteer, and community service opportunities which the RMA offers to its members. For further information, go to https://greenwichrma.org/, or contact members@greenwichrma.org.