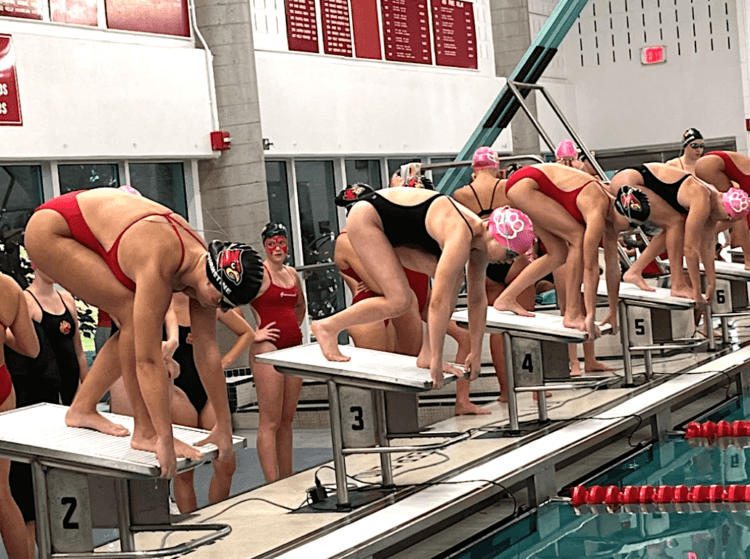 In 2021, the Greenwich High School girls swimming team captured the triple crown, impressively winning the State Open, Class LL and FCIAC championship meet. Last season was Ridgefield's year, as it swam away with all three titles.
This fall, the Cardinals are aiming to be back on top on the state's high school swimming/diving scene.
Heading into Friday's home meet against Westhill/Stamford, Greenwich had a 4-0 record, while already earning significant statement victories. Wednesday, defeated defending FCIAC, Class LL and State Open champion Ridgefield, 97-87, winning eight of the 12 events, while producing numerous other stellar performances.
"The team is off to a good start, they are training hard, they are enthusiastic and they are passionate about doing well for the team," Greenwich coach Brendan Heller said. "Today was a good progress report against Ridgefield. We swam very well in a number of events – we have some pretty good depth, so I was pretty happy with that. Last year, Ridgefield beat us 121-65, so it was nice to be back on the other side."
Pacing the Cardinals to their early-season win against one of their rivals were seniors Sydney Jee and Payton Foster, both of whom won two individual events. Jee, who will continue her swimming career at Bucknell University next year, is one of the Cards' four senior captains.
"We're doing really, really well," said Jee, an experienced competitor, who has helped the Cardinals excel in the postseason meets in previous seasons. "We're training really hard in the pool. At the start, our pool was under construction, so we had to practice outside and I think our team adapted really well to that."
Against Ridgefield, Jee won the 200-yard individual medley with a time of 2:10.87. Riley McGerald of Ridgefield finished second in 2:11.96, while Julia Kozma placed third for Greenwich (2:18.98).
In the 100-yard breaststroke, Jee touched the wall first, clocking in at 1:06.71. McGerald was a close second (1:06.84), followed by Tigers teammate Teresa Silveri (1:03.72).
"It was an exciting meet," Jee said. "This is definitely one of our hardest meets. I think everyone swam their fastest and put out their best. I was impressed with the freshmen. Being that this was their first big meet, this was a good start for them."
Foster finished first for GHS in the 200-yard freestyle, posting a time of 1:55.40. Ridgefield's Ava Ward took second in 1:56.39 and Ellison Charette registered a third-place finish for the Cards (1:59.39).
Foster also earned top honors in the meet in the 500 freestyle race. She won the event in 5:10.63. Ward was the runner-up in 5:16.31, while Charette took third (5:19.46).
Wednesday's meet began with host Greenwich winning the 200-yard medley relay. Julia Kozma, Jee, Sena Bozkurt and Sofia Wang combined for a winning time of 1:49.92 for GHS. Ridgefield was second in 1:54.09. Captaining the Cardinals as well are seniors Tess Furno, Annabelle Guarnera and Ava Vranos. Furno helps lead Greenwich in the sprint freestyle races, while Guarnera is a distance swimmer. Vranos is one of the Cardinals' excellent divers. Guarnera competed in the 200 and 500 freestyle races versus the Tigers.
"I'm super happy to be able to lead the team again," Guarnera said. "This team in general is a great team. I'm really excited for this season. We did a really good job, we're a very deep team and we have amazing swimmers all across the board. So, that really helped us with Ridgefield."
"It's great to get back into it and I feel really confident," Guarnera added. "I'll be swimming the 200 free and 500 free. I'm also excited to share those events with my peers."
Furno was pleased to see the teamwork and spirit the Cardinals displayed against Ridgefield.
"Something that impressed me the most was the energy that we had," Furno said. "We were super cheerful and that's something that really contributes to our victories. It's something that makes everyone swim faster and just dive better."
The 50 freestyle saw Ridgefield's Lily Archibald post a winning time of 24.15 seconds. Wang gave Greenwich a second-place showing (24.80), followed by Ridgefield's Maddie Muncy (25.37). Kensington Worden of Greenwich was fourth in 26.26.
On the 1-meter diving board, Elizabeth Scharff was the winner for Greenwich. Scharff recorded a score of 200.60 points through six rounds of diving. Kaelyn Talisse from Ridgefield was second (199.65) and Mackenzie Newi finished third for GHS (193.90).
"Our divers are fantastic," Heller said. "We're deep, on any given day, anyone can do a great job for us. They are doing a fantastic job so far."
Wang won the 100 freestyle for the Cards, touching the wall in 53.22 seconds. Ridgefield's Keira Giles was the runner-up (54.74) and Muncy took third (56.68). Bozkurt was fourth for GHS (57.01.)
Archibald (56.07) and Elissa Egerton (1:01.42) were first and second, respectively, for the Tigers in the 100-yard butterfly, while Greenwich's Melissa Geiger had a third-place finish in 1:01.59. Bozkurt was the 100 backstroke winner in 1:00.71, while Geiger was second (1:03.41). Ridgefield won the 200 freestyle relay (1:40.69) and Greenwich placed second in 1:42.24.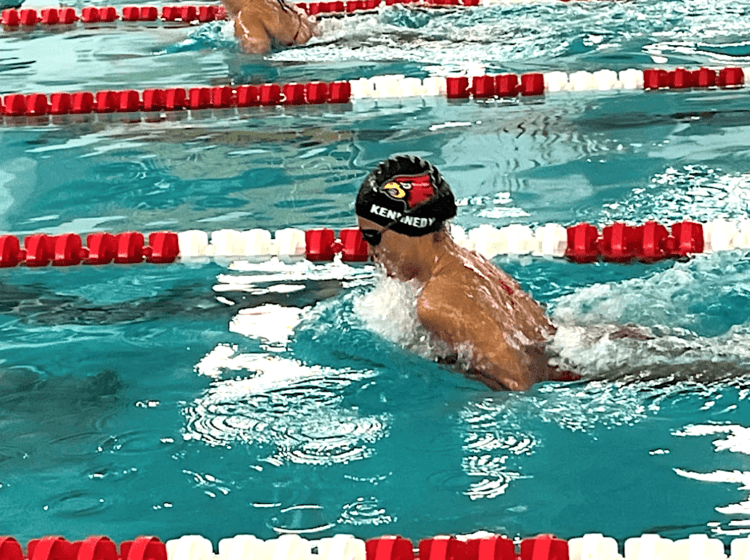 "I am really excited for the relays, because it's what brings a team aspect into this sport and it makes everyone swim so much faster," Furno said. "It makes us perform so much better, because we are all in this together."
The Cardinals will be on the road for a while. They have a road meet against Danbury on Tuesday, then will travel to Trumbull on Thursday. Greenwich visits rival Darien on Oct. 11 and will visit Staples on Oct. 18. The Cards will host New Canaan on Oct. 25. Ridgefield and Darien are also among the teams that will contend for the FCIAC and state titles.
"We have high expectations, but the goal is to improve throughout the year," Furno said. "This was a great meet, but it's just one step towards FCIACs, states and Opens."
Said Jee: "The Darien meet will be a big challenge and FCIACs will be a fun meet. Winning FCIACs is definitely one of our big goals."
Heller appreciates the extra effort the squad's four captains have displayed.
"They've done a great job, they all bring something different to the table and they are doing a great job communicating to the team," Heller noted. "We have 13 kids new to the team this year, so getting them into the swing of things and helping them out with how we do things – they've been doing a great job of that."
Greenwich's swimming/diving team has an illustrious history. The Cardinals have claimed the team title at the FCIAC Championships 29 times and they should be primed to contend for the conference title once again.
"Our meet schedule had a little later start this year," Heller noted. "We've been training hard and I told them as we're going through our training, that when meet season comes, we'll be ready. I'm excited to see where our training will lead us in November. Championships are won in November, so we have to keep working hard. Last year was a building and growth year for our underclassmen. We hope to be right in the thick of it in November."