By Yonni Wattenmaker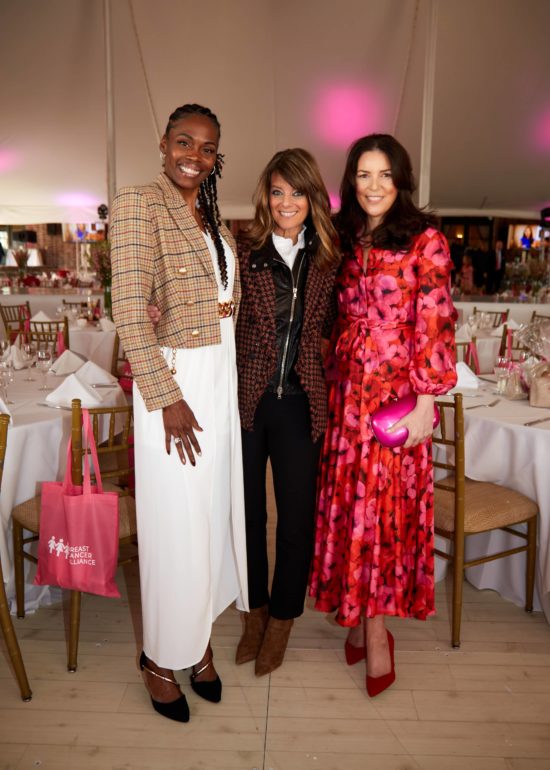 Each October, there is an explosion of pink as retailers, airlines, restaurants and others all around the country prepare to bring awareness to breast cancer.
At Breast Cancer Alliance, our pursuit of better treatments and, ultimately cures, is steadfast all year long, but October affords us a window of added attention to bring awareness, quality education and certainly funding to the forefront.
Did you know that one in eight women, and one in 833 men, will be diagnosed with breast cancer in their lifetime?
Did you know that Black and Ashkenazi (Eastern European) Jewish women are at higher risk for BRCA 1/2 mutations, but mortality is highest among Hispanic women?
Did you know that when detected early, breast cancer has a 90% survival rate? Unfortunately, 30% of patients diagnosed with breast cancer face metastatic disease for which there are enhanced treatments but currently no cures.
On Friday, October 6, the BCA flag will once again be raised at Greenwich Town Hall where it will remain for the entirety of October as a symbol of hope and possibility. Directly afterward, a free seminar is open to the community, featuring doctors from the Yale-New Haven Health System. Breast cancer physicians will present important information about breast cancer and breast health for both English- and Spanish-speaking attendees. For those unable to attend, the seminar will be recorded and saved to the BCA website for anyone, anywhere, to access.
This seminar is one of many ways to learn and engage with Breast Cancer Alliance in October. Our GoForPink initiatives with partners near and far, such as Ba&sh, Jenni Kayne, Kay Jewelers, La Ligne, Le Penguin, Miku, Richards, Riko's Pizza, Stonewall Kitchens, Veronica Beard, and Z Restaurant Group, among many others, will be hosting shopping events, special menu items and fitness classes with a percentage of proceeds going to BCA.
Why come out to dine or shop? All of the proceeds from your engagement in our activities go directly to grants for 2024. BCA will fund innovative new research from which new treatments and cures will ultimately occur. Breast surgical fellowships, propelling more highly skilled, specially-trained doctors onto the frontlines of breast cancer surgeries, is a critical part of our mission. BCA continues to provide grants to institutions in order to remove financial obstacles to care for patients near or below the poverty line, for whom medical costs are a crippling burden.
In addition to getting a mammogram, there are other steps you can take to promote breast health. Maintaining a healthy lifestyle includes a "plant-slant" diet high on fruits and vegetables and lower on fried and processed foods; exercise regularly, at least a few times a week for a minimum of 30 minutes each time; be aware of any changes in your breast tissue. If you notice any lumps or abnormalities on your breast or under your arms, regardless of age or gender, be sure to consult with your doctor right away. If you have an immediate family member with a history of breast cancer, begin your screening ten years prior to their age at diagnosis, if that puts you under age 40.
In an effort to expand our commitment to education, BCA will bring informational programming to Manhattan, Palm Beach and Miami for the first time where attendees can learn about important breast cancer statistics, risk factors and lifestyle suggestions. If you will be in one of those cities, or have friends or family who will, please visit breastcanceralliance.org/events to learn more.
BCA's Annual Luncheon and Fashion Show will be held at Westchester Country Club on October 25th from 11am until 2pm. In addition to the stunning clothes from Kiton, and the inspiring story of Good Morning America Executive Producer, Simone Swink, who will be introduced by her colleague, friend and local resident, Lara Spencer, the signature Models of Inspiration fashion show will, yet again, be a highlight of the afternoon and remind us all why we should seize the day. A dozen brave and strong women will walk the runway, sharing their stories from diagnosis to the present. Seize the Day, as this year's theme urges, and purchase your ticket to join us: bidpal.net/bca23