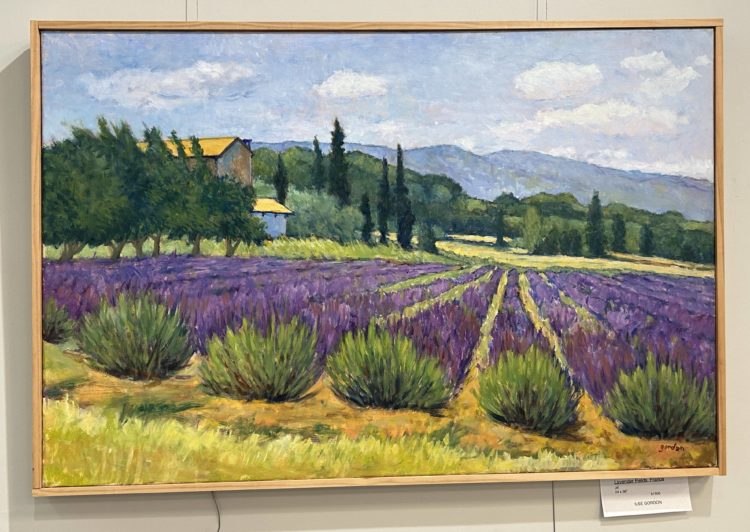 By Anne W. Semmes
Over on Bible Street there is an exhibit of paintings truly celebrating the natural world at the Greenwich Botanical Center. The exhibit entitled "Considering Nature" features Deborah Pierce Bonnell, Hazel Jarvis, Ilse Gordon, and Kathie Milligan, originally all from Greenwich who have regularly painted together for a decade or more. "Yes, we've been meeting almost monthly," says Bonnell, "and there are two more members of our critique group, who weren't able to join in the exhibit, Holly Rom, and Jo Ubogy."
"We each have our strengths in different media," notes Bonnell, but "We have a lot in common in our interest in interpreting nature," and they also share a common thread, "We are all avid gardeners."
In their different medias these artists astound with their use of color, and shape, and composition. Making a few choices of their art for this feature was a challenge. But then the pleasure was in asking each artist a few questions on the choices made.
First off was Bonnell's captivating oil painting of a summer scene in Maine. "I painted 'Anne's View – West Bath Maine' in 2022, after visiting our friend Anne at her beautiful 'saltwater farm.'" She'd worked from a captured photo, but "It's a place that stays in your mind."
To show the stretch of Bonnell's art there's her vibrantly colored abstract, "Down by the Riverside." "I love abstractions of nature, and that's how this watercolor evolved. The colors and shapes of leaves, trees, grasses, and flowers are my passion."
Painters who've inspired Bonnell are the French painters, Monet, Bonnard, and Matisse, as well as the contemporary landscape artists, "like Lois Dodd (seen recently at the Bruce Museum), and a printmaking teacher of mine, Catherine Kernan."
Bonnell has been painting "for many years, in many media. I love to see how my ideas translate, when they are expressed in oil paint, watercolor, encaustic, digital media, and various printmaking techniques." And "being outdoors with the light, color, and atmosphere in nature" is her "best inspiration."
Kathie Milligan's glowing portrayal of a blooming cherry orchard is entitled "Irwin Springtime II." "It's in New Canaan," tells Milligan, "Near my home [now in Stamford]. I enjoy painting the patterns the tree trunks and branches make. And, of course, in springtime the pink color is amazing."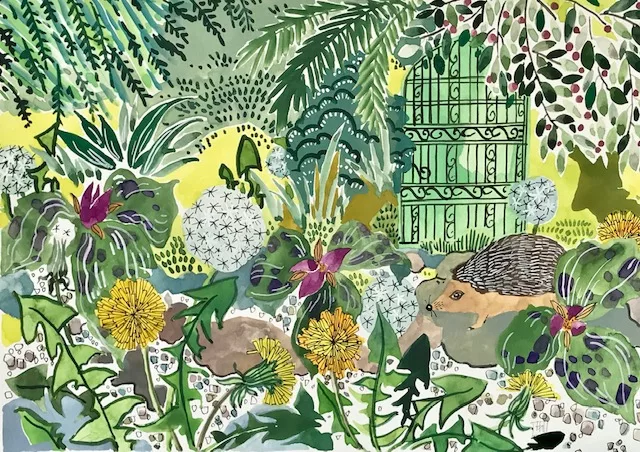 Milligan describes herself as "both a landscape and figurative painter. I search for patterns of line, shape, and color within the landscape, and I enjoy relating figures to the landscape." She's been painting most of her life and is inspired by the European Impressionists as well as American artists "such as Fairfield Porter, Lois Dodd and Neil Welliver." She also enjoys teaching. "I teach art to adults in Greenwich, Stamford and Darien. Teaching art is a wonderful way of improving your own skills and ideas along with helping students discover theirs."
It was the "Zinnias" painting that popped in the artwork of Hazel Jarvis whose studio is in Riverside. The painting was inspired tells Jarvis "By a gift of zinnias from Ingrid and Steve McMenamin. The McMenamins own the fabulous, organic Versailles Farm in backcountry Greenwich. It was painted in the studio this summer."
Contrasted amongst her other works was an intensely green intricate design with a hedgehog poised in the midst of foliage, appropriately titled, "Hedgehog's Garden" "It's a portrait of my mother's garden in Bristol, England," tells Jarvis, and was inspired by a childhood memory of her mother having seen a hedgehog in her garden.
Perhaps in this painting can be seen Jarvis' deep love of traditional Japanese art. "I am very inspired by the flat, decorative nature of Japanese art," she says, adding that her favorite artists are Henry Matisse and Scottish artist Elizabeth Blackadder. In her four decades of painting, she continues to be "drawn to gardens, woodlands and coastal areas."
Fortunate is that Cos Cob artist Ilse Gordon took a trip to the Haute Provence of France and was much inspired by the lovely "Lavendar Fields" of France as her painting is so named. She was "intrigued by the organization of the landscape, the designs and shapes of growing crops and how this welcomes the viewer into the painting." She regularly keeps a sketchbook when she travels.
Gordon has many favorite artists she shares, "especially as my interests include painting the figure, still life, and landscapes. I love Van Gogh for his lively textures, Caravaggio and Artemisia Gentileschi for drama, Manet, Degas, Tiffany, oh so many." She also makes mosaic furniture! "I've loved making art since childhood," she notes. "And I committed myself to learning the craft since college." And painting local scenery continues to capture her attention.
The "Considering Nature" exhibit is on view until November 3, with works of art on sale. An Artists' Reception will be held on Friday, September 29, from 5 to 7 p.m. For more information, call 203-869-9242, or visit greenwichbotanicalcenter.org