By Liz Leamy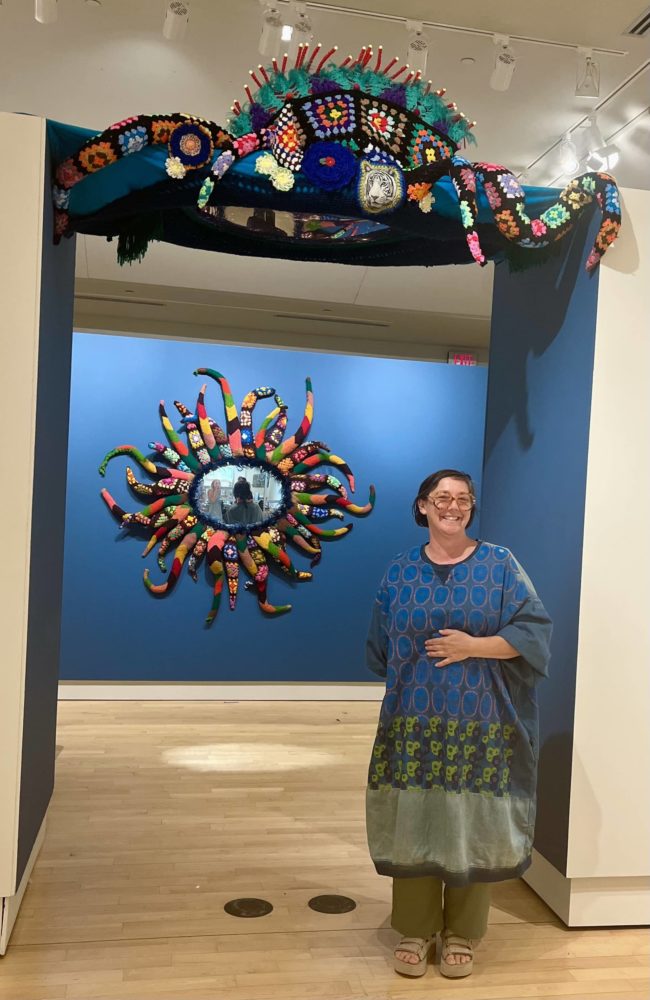 The Flinn Gallery has, once again, knocked the proverbial ball out of the park with its latest exhibition, 'Forms of Connection' that will be featured at its expansive space located on the second floor of the Greenwich Library from Thursday, September 14th through Wednesday, November 1st.
This remarkable exhibition kicks off the Flinn Gallery's 95th season in fine style with the exuberant work of Jeila Gueramian and Tom Nussbaum, the illustrious and renowned multimedia artists whose pieces are largely defined by bright colors, storybook imagery and simplicity of form, taking center stage.
"Their work is incredible," said Dianne Niklaus, a Co-Curator of this exhibition along with Leslee Asch and Maggie Dimock. "The arts are so important and we want do everything we can to bring the arts to the community through the exhibitions."
The dynamic array of mood-elevating pieces created by Gueramian and Nussbaum featured in this exhibition explore the interplay between the strange and familiar through color, texture, structure and immersive environments and are certainly a sight to see in person.
These pieces of work, which include a whimsical immersive creation crafted by Gueramian and 'Road Map America' a mesmerizing piece done by Nussbaum in 2018 made of acrylic and gold leaf on welded steel and fiberboard, prompt thought, curiosity and speculation, something artists are known to strive for in composing their works.
"As an artist, you want to have an effect," said Nussbaum, who lives and works in East Orange, New Jersey and is known for his sculptures, drawings, prints, children's books, animations and public art, among other notable things. "My work is inspired by textiles and fabrics and these pieces, in particular, are structural forms based on the idea of architecture, of how baskets are made and of the shape of the human figure."
Nussbaum, who has been on this journey since he was a child and who had spent many years living in the Tribeca area of Manhattan where he did extensive work, was also excited to be involved with this exhibition.
"The gallery here is fantastic and everyone who helps run it is great," said Nussbaum. "This library is incredible and I love the town. It's just very beautiful."
Nussbaum added he was excited about the prospect of bringing his work to Greenwich and its community of people.
"My mission here is to help support the Flinn Gallery and the library. I make art to bring it into the world," said Nussbaum. "I love the whole process, especially when I'm working. I've been making art my entire life and whenever I'm working, I'm in a place where I'm very happy."
Gueramian, whose work in this exhibition interacts in remarkably graceful concert with that of Nussbaum's, also talked about the many joys of creating art.
"It's all about honoring the love, work and stories that go into making each piece and I hope people feel art in a new way with what I do," said Gueramian, who lives and works in Brooklyn and Wassaic, New York and who had, back in 2022, a memorable exhibition titled 'Jeila Gueramian: Let's Step Inside' at the Katonah Museum of Art in Katonah, New York. "This space is so beautiful and everyone here at the Flinn Gallery has been amazing. It's been really exciting and wonderful to be here."
For Gueramian, who seems to be as much inspired by color as she is by materials in regard to creating her work, it's all about expressing life's myriad of experiences through this journey.
"I always try to embrace life and everything inspires me," said Gueramian, who is also involved with the Wassaic Project, a nonprofit artist-run contemporary art gallery, artist residency and art education center based in Wassaic, New York. "Everybody has a story and it's an amazing world out there. I want to express this and so many other things through what I do."
Forms of Connection Exhibition featuring:
Jeila Gueramian and Tom Nussbaum
Held at:
The Flinn Gallery at the Greenwich Library
September 14th-November 1st, 2023
The Flinn Gallery is open 7 days a week: Mon.-Sat. 10am-5pm, Thurs. 10am-8pm and Sun. 1-5pm.
Artists Talks for the Forms of Connection Exhibition:
Tom Nussbaum: Sunday, October 15th at 2pm
Jeila Gueramian: Sunday, October 22nd at 2pm