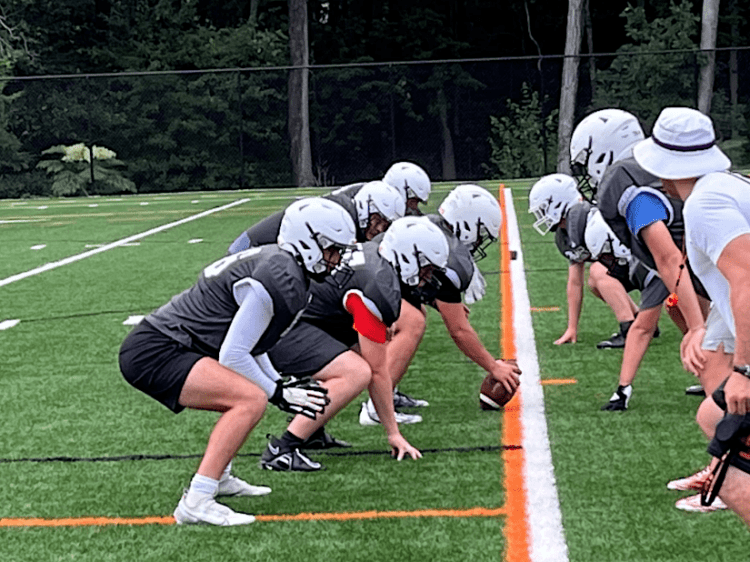 In season two as a varsity program, the Greenwich Country Day School football team earned three victories, while establishing itself as one of the best offensive squads in the highly competitive NESPAC Evergreen League.
Now the Tigers are determined to take their success to a significantly higher level this fall in their third varsity season.
Greenwich Country Day School's 2023 season begins on Sept. 15 against Capital Prep Harbor from Bridgeport. Besides being the Tigers' season-opener, the Sept. 15 matchup against Capital Prep Harbor marks Greenwich Country Day's first game at its new facility – brand new Offit Field on Cardinal Road.
"The energy, the juice, the enthusiasm since the start of camp has been palpable, we can't wait for the season to start," Greenwich Country Day head coach Kevin Avery said. "Everyone is enthusiastic. We're seeing some great leadership out of our captains, our leaders."
GCDS, which registered a record of 3-6 one season ago, with its wins coming against New York Military Academy, Portsmouth Abbey and Austin Prep, is captained by seniors Jesse Ripka, Cooper Edwards and Bailey Gendason. The trio have been a part of the Tigers' football program since its inception and are primed to help make the squad a force in the Evergreen League.
"Guys are flying around during the preseason, we're all having a lot of fun out here," said Ripka, the Tigers' starting quarterback. "We are trying to take steps forward as a program and get better each day. The young guys are stepping up and we are all hoping to have a lot of fun this year and win a lot of games."
"Last year, we ended up one game short of a bowl game, so this year, we want add a couple of more wins and play football late in November – those our are goals," Edwards said.
Here's a look at the 2023 Greenwich Country Day football team.
QUARTERBACKS: Ripka is beginning his third season as the Tigers' starting quarterback and his second as one of the squad's captains. The 2022 season was one to remember for Ripka.
He threw 23 touchdown passes and passed for 2,164 yards to power GCDS' aerial attack.
"With Jesse, very rarely do you have someone who is in that position of leadership for three years," Avery noted. "Jesse has been at GCDS since eighth grade. He has been a quarterback since eighth grade, since they were transitioning into high school. He is so immersed into our culture and he's such a great leader, he's an incredible student of the game."
During his football career at GCDS, Ripka has displayed the type of work ethic that inspires his teammates.
"He's always working on something in practice," Avery said of Ripka. "He has a great command of the offense and an unbelievable rapport with our players, both on the perimeter and offensive line. Jesse truly is a field general for our program."
Indeed, each season have served as important learning lessons for Ripka.
"I was lucky enough to start as a sophomore and play varsity ball," Ripka said. "Sophomore year and junior year was a huge leap and then going into senior year, the game has slowed down a little bit for me. That split second makes all the difference on Saturday."
Jake Murphy, a senior and Ryan Sneddon, a junior, among some of the Tigers' quarterbacks. Murphy also plays linebacker and defensive end, while Sneddon could also see action at wide receiver and free safety.
RUNNING BACKS: In the backfield, senior Chris Takita is coming off a junior season in which he rushed for a team-high 223 yards. The Tigers have plenty of depth at running back, with senior Jake LeDonne, junior Joe Citrin, junior Zack Montone, junior Dylan Kellan and junior Luke Miles returning to the position.
OFFENSIVE LINE: The position is one of experience for Greenwich Country Day, with senior Brady Calhoun, Murphy Watner (senior) and junior Luca Corsano-Leopozzi returning.
"They have done a great job over the course of the winter, spring, and summer of staying the course together, jelling together and holding each other accountable in the weight room," Avery said of the offensive line. "For them, it's about finishing technique and finishing every play."
Also back on the offensive line is sophomore Nash Edwards.
"We have three seniors on the line and we are looking forward coaches saying this is the best unit that we have had," Calhoun said. "We have been working in the offseason. We are getting bigger and getting stronger and our goal is to be the perfect wall for our quarterback this season."
Greenwich Country Day has displayed a standout passing game the past two season and hopes to have success on the ground this season as well.
"A lot of guys talk about how we have an awesome passing attack," Calhoun noted. "This year, we want to bring the running game into play. Our goal this year is to average four yards all of our runs. As a line, we want to make sure our quarterback and running back get hit the least amount of times as possible."
WIDE RECEIVERS/TIGHT ENDS: Cooper Edwards enjoyed a stellar season in 2022, catching 35 passes for 519 yards and eight touchdowns.
"I am playing all around the ball," Cooper Edwards said. "A little bit of outside receiver, a little bit of tight end. Our offense speaks for itself, we have a lot of skill players. All of our guys can make plays and Jesse is the best of the best. He can make every decision and read every defense."
The Ripka-Cooper Edwards connection on offense should be challenging for the defense to stop.
"Cooper Edwards is starting his third year on the varsity," Avery noted. "He is a tremendous athlete – a great worker and leader. He's a super dynamic player in the fact that he can play outside and can also play in the slot and can play at tight end. Cooper is super physical, he has a great catch radius and he plays incredibly hard for his team."
Junior Austin Rinello, Miles, Gendason, senior Tucker Winham and junior Connor Crain are also among some of the Tigers' wide receivers. Sophomore Colin Mackey, Cooper Edwards, Citrin and LeDonne could also line up at tight end.
"The offense is going to huge," Gendason said. "Everybody is locked in and everybody has to be locked in. Being good on offense requires every single person to know their stuff to the 'T'."
Scoring wasn't a problem last fall for the Tigers, who didn't have trouble moving the ball.
"We have a solid 10, 15 guys who can go out and catch the ball," Winham said. "We have a quarterback Jesse, who can sling the ball, I think he led the league in passing yards last year. Passing will definitely be our strength. We are going to throw the ball and if we effectively throw the ball we are going to win."
DEFENSIVE LINE: LeDonne, Citrin, Kellan, junior Stephan Carre and Cooper Edwards will be looked upon to help another the defensive unit at linebacker.
"On defense, our line is very young, but very strong," LeDonne said. "Our linebackers know what they are doing. We want to go out there and be ourselves and have fun playing football.
LeDonne likes the senior dynamic the team possesses.
"Our senior group is really put together," LeDonne said. "We all have the same goal of making a bowl game and we really want to come together as a team and be leaders for the younger kids. We want to lead our team to a bowl game."
Sophomore Seneca Greenwood, junior Nico Carrasquero, junior Henry Robinson and Wallace deVeer (junior) solidify the defensive line.
"When you get into year three of the system, guys understand what they are supposed to do," Avery noted. "You are seeing guys identifying formations, schemes and flying to the football."
DEFENSIVE BACKS: Gendason will help lead a deep defensive backfield that should be one of the squad's assets.
"We have a lot of guys that want to fly around, a lot of guys that want to hit," Gendason said of the defense. "Last year, I played mostly corner, so mostly play safety this year and I will get down in the box and lower my pads."
"As a DB, you have to be quick on your feet and responsive to other players and we have a lot of athletic kids on the team to do the job," Gendason added.
Indeed, the captains are primed to lead the squad to a successful season.
"Me, Jesse and Bailey have been talking about this moment for years," Cooper Edwards said. "We have a lot of plans and we are excited to lead this squad."
"I was a captain last year, now I'm a senior captain, so there is extra responsibilities, which I like," Ripka said."This group of seniors is great and I'm proud to take on a leadership role."
The Tigers have home games against Capital Prep Harbor (Sept. 15), New Hampton School (Sept. 23), Proctor Academy (Oct. 8), Austin Prep (Oct. 21) and St. Luke's School. They will travel to Canterbury School (Sept. 30), Portsmouth Abbey (Oct. 14), Dexter Southfield (Oct. 28) and Hamden Hall Country Day School (Nov. 3).
"We are excited to be able to open at our new field," Avery said. "Anytime that you play someone that you haven't played (Capital Prep Harbor) it's an unknown. It should be a great matchup for us. We want to be able to get challenged every week."
"The NEPSAC Evergreen is an unbelievable conference to play in and it's a great opportunity for our guys from an exposure standpoint," Avery added. They are going to be playing against a bunch of kids who are getting recruited for college, so it's a good opportunity for our team."
The Tigers' final regular season game is on Nov. 11, but they are aiming to have one more matchup in late November.
"We want to play bonus ball, get a NEPSAC Bowl game and win that bowl game," Ripka noted. "We are excited for what's to come. There is a goal in sight and we're trying to reach that goal."