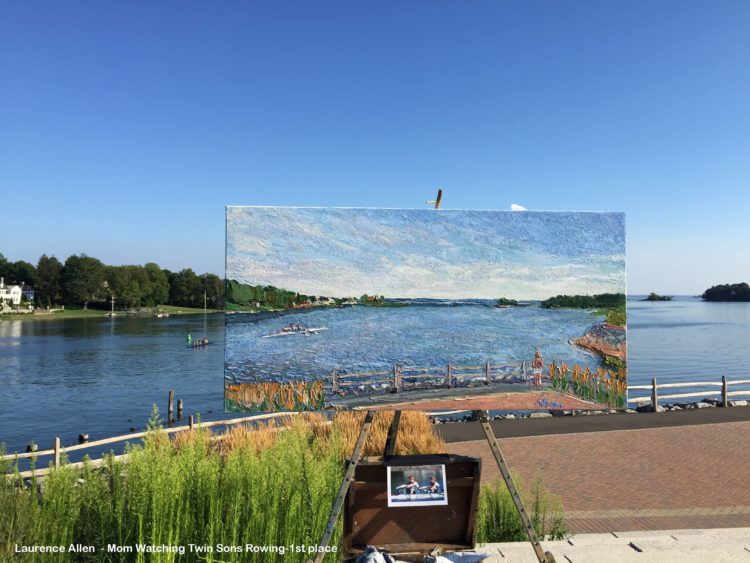 By Anne White
The Greenwich Department of Parks and Recreation unveiled the much-anticipated winners of the Annual "For the Love of Parks and Recreation" photo contest, underscoring the Town's affection and commitment to its public parks and recreational activities.
With a resounding participation from the community, which sent in over 100 submissions, the contest has become a testament to the intrinsic bond the residents of Greenwich share with their parks and recreational spaces. Photographers, both amateur and professional, took to these spaces throughout July, capturing the town's scenic vistas and recreative spirit.
Joseph Siciliano, the Director of Park sand Recreation, beamed with pride at the overwhelming response, stating, "The contest offered us a unique window into the hearts of our residents, showcasing what they cherish most about our public parks and recreational facilities."
Laurence Allen's submission, "Mom Watching Twin Sons Rowing," was awarded the top spot. Beyond its artistic merit, the photograph held profound sentimental value, portraying a mother observing her twin sons rowing in Cos Cob Harbor, capturing both familial love and the spirit of sportsmanship. Allen revealed that the artwork was a tribute to his late son Bradley, who tragically lost his life to an opioid overdose following a car accident, and also a homage to his wife Michelle for her unwavering commitment as a mother.
In a recent interview, Allen delved deep into the story behind the photograph. "The photo is of an artwork that our family commissioned in memory of our 19-year-old son Bradley," began Allen, his voice tinged with emotion. "Bradley was an outstanding young man. An investment banking intern, an exemplary rower, and much more.
Bradley tragically lost his life to an opioid overdose after a car accident. Yet, his memory lives on, not just in the photograph but in myriad other ways. Allen proudly shared, "Oxford Academy in Connecticut now presents a J. Bradley Allen Leadership Award to an outstanding student leader in their senior class."
But Allen's photograph pays homage to more than just Bradley. It's also a tribute to his wife, Michelle, and the silent strength of countless mothers. "The artwork intentionally shows Michelle by herself, watching our sons," Allen explained. "We had twin sons who were on the Greenwich crew team. The photo honors all moms who spend countless unseen hours raising their children."
The artwork, masterfully painted by award-winning Connecticut artist Jim Chillington, boasts a unique texture and depth. "Jim's style is to use a pallet knife to thickly apply paint to the canvas. It captures landscapes beautifully. Van Gogh too used pallet knives along with brushes to add texture," Allen elucidated, shedding light on the craftsmanship behind the painting.
Yet, amidst this celebration of art and life, Allen's focus remains steadfast on combating the opioid epidemic. Through the Allen Research Endowment, his family is striving to develop non-opioid, non-addictive pain management drugs. Allen stated with determination, "Our experience with our son, Bradley, has shown that many treatments really don't work. Opioid-related drug overdose deaths increased by 14% last year, which is alarming. This is a crisis we need to tackle head-on."
One significant stride Allen's endowment has taken is advocating for the over-the-counter sales of naloxone, a lifesaving drug that can counteract opioid overdoses. Allen recalled with a hint of triumph in his tone, "Shockingly, the FDA-approved naloxone for over-the-counter sales. This is going to be a game-changer."
Despite the personal tragedies, Allen looks at the future with hope and determination. He concluded, "Our family would like to thank the Greenwich Parks and Recreation Department for celebrating the beautiful parks of Greenwich. We're honored to have our photo selected, and it's heartening to see the community come together in such beautiful ways."
This year's photo contest, in its essence, was not just a celebration of Greenwich's picturesque landscapes but also of its resilient community members who find ways to transform personal tragedies into societal triumphs.