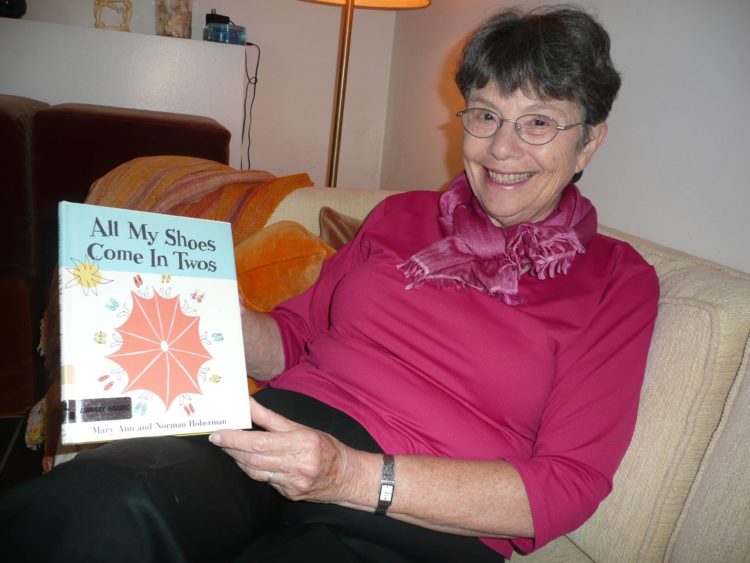 By Anne W. Semmes
As of July 7, the Town of Greenwich lost a literary treasure, poet Mary Ann Hoberman, age 92. Her fame as a children's poet earned her the title in 2008 as the nation's second Children's Poet Laureate, so chosen by the Poetry Foundation. "Generations of readers who first discovered poetry in the books of Mary Ann Hoberman remember it not as a dry textbook encounter but as a moment of joyous play," introduced John Barr, president of the Poetry Foundation. "Her poems tease young minds even as they please young ears with rhythm and rhyme."
"My mission," shared Hoberman, "is to raise the profile of children's poetry, to be a pied piper for the joys of poetry and specifically children's poetry."
Hoberman lived her long creative life in backcountry Greenwich in a house designed by her architect/artist husband Norman Hoberman who died in 2015, and she was hosting poetry workshops there for friends and poetry fans up until she fell ill.
Of the more than 50 books she has authored – with another reportedly due next year – she began her writing after having four children. Husband Norman had illustrated her first published children's poetry book, "All My Shoes Come in Twos." (The Greenwich Library has 36 titles of her books).
This reporter was gifted over the years by her friendship and the opportunity to write about her. So, following on are some of her extraordinary sharing of her art over the years.
"I'll get a cadence in my head," she said, "Some little phrase will come to me when I'm taking a walk." And that's how her book, "To Think That We Thought That We'd Never Be Friends" came to be, performed by children as a musical in a school in Westport.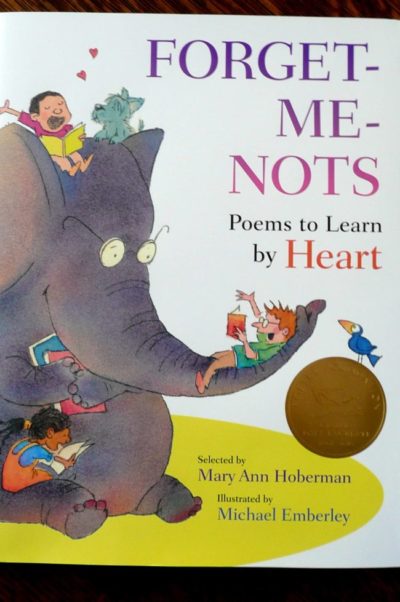 She loved Kipling's "Just So Stories." "The rhythm is so infectious – that's how I got my inspiration." As in, "The raucous auk must squawk to talk. /The squawk to talk goes auk." She read poems to children at the Bronx Zoo. "I would go to the zoo and sit before the bears and lion and penguins and poems came out of it."
A "depression child" her mother often sang the songs of the 20's and 30's. By kindergarten she was making up songs and verse. "We have different brains and genes," she said, and her imagination was "predisposed to poetry, its rhythm and rhyme." A graduate of Smith College, she earned an MA in English Literature at Yale.
"I believe so strongly in memorization," she said. "You say it and children say it back to you," just as her five grandchildren have done. She'd read to children in school but found "there are so many things competing for their attention. The teaching establishment over analyzes things…Children are bored a lot of the time."
Some years back this reporter interviewed Hoberman about her new 45th book "Forget-Me-Nots: Poems to Learn by Heart," intended to test the memory of children for poetry. Colorfully illustrated, it contains over 120 poems with a number by Hoberman and many others – "mostly short poems but a few long ones." So, what was her criteria in choosing these poems?
"That they be memorable in both senses of the word, i.e., both for ease of memorization (because of rhyme, rhythm, etc.) and because they were worthy of memorization (they were good poems) …poets both living and dead, familiar and less well-known. I aimed for a balance between humor and seriousness…between simple and more complex subject matter. I wanted to create a collection that would grow with the reader."
"It begins with very short verses, limericks, etc., which very young children can memorize in a few minutes. It ends with a section called 'The Long of It,' in which the poems go on for several pages and can be mastered a few years later…I had to include 'Disobedience' by A.A. Milne and 'The Jumblies' by Edward Lear because I couldn't conceive of omitting them, long as they are."
"All of the poems in "Forget-Me-Nots" are favorites of mine…poems I loved as a child, poems I learned to love as an adult when I read them to my own children, and poems I discovered in the course of compiling the book."
And what I asked Hoberman do children get out of reading, and particularly memorizing poetry? "So many things!" she replied. "Above all the joy of words, of language, their playfulness. The satisfaction of making something your own. The inspiration to make up poems and songs and stories themselves. The knowledge that certain things can be expressed only in poetry, that certain feelings are only accessible through a particular configuration of language. Poetry is magic pure and simple."
"You take these words," she said, "they're free and you bring / something into the world that wasn't there before. Our English language is a really marvelous thing. We have a larger vocabulary than the Romance languages. We have many synonyms for things. But there is only one word that really means exactly what you want."
Mary Ann Hoberman's poetry books for children can be found at Dogwood Books & Gifts. And an oral history of Hoberman's "A Poet's Life" is avaiable to read at Greenwich Library's Oral History Project.