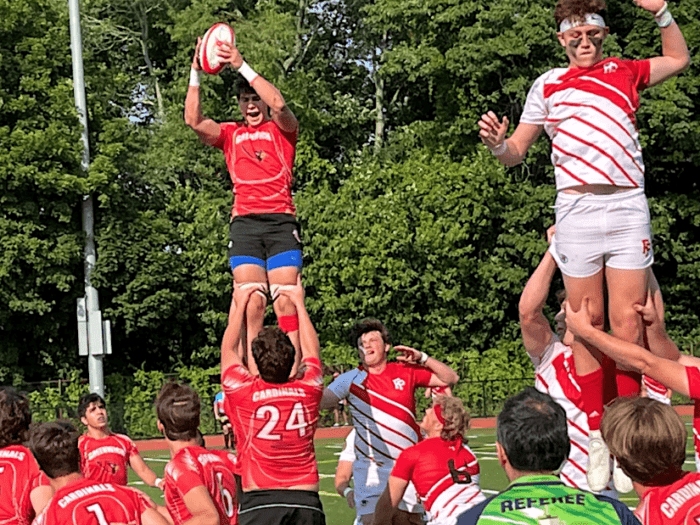 By David Fierro
Holding a nine-point advantage after scoring an early second-half try in Saturday's state semifinals, Greenwich High School's boys Varsity A rugby team was in prime position to add another state rugby championship to its impressive collection.
Yet a frantic final nine minutes of action slightly went Fairfield Prep's way and the Jesuits achieved a first when the buzzer sounded, ending the back-and-forth battle.
A try with 12 seconds remaining in the second half propelled Fairfield Prep past Greenwich, 33-28, in the title game of the Connecticut State Boys High School Rugby Championship, before a big crowd at Staples High School in Westport. The come-from-behind win gave Fairfield Prep its first state rugby championship, after appearing in the title matchup a number of occasions over the years.
For Greenwich, the close loss denied it of winning the state championship for the first time since the 2018 season. Greenwich lost to Staples in the 2022 state championship game and was defeated by Aspetuck Valley Rugby Club in 2019 – the tournament was not held in 2020 or 2021 due to COVID-19 pandemic. The Cardinals, who have a state-best 11 state championships to their resume, finished their 2023 campaign with a record of 12-4.
In Saturday's intense, physical match against the Jesuits, the Cardinals entered halftime with a 14-12 lead, which they increased to 21-12 early in the second half.
"I'm super proud of Fairfield Prep," Greenwich coach Mike Fina said. "Before Greenwich showed up to Connecticut rugby, they were the measuring stick. Taking over for (coach) Frank Decker, who is a legend, is no easy thing to do and coach (Kevin) Kery has done an a phenomenal job with the program. I just can't be prouder of my coaching staff, of my players. They had a gauntlet of a season."
The game-winning try in this nail-biter of a championship match came with only 12 seconds left to play in the second half. Trailing 28-26, Prep took possession shortly following a Cardinals try with just over three minutes remaining. A long powerful kick by Prep put the ball close to Greenwich's try zone. A penalty by GHS moved the ball even further toward the try zone.
With the team's involved in a scrum, Fairfield Prep used the strength of its well-sized players to push the pile toward the try zone, as Greenwich tried its best to hold on to its lead.
Conor Fitzsimons, a junior, found his way into the try zone for Fairfield Prep among numerous bodies, giving the Jesuits a 31-28 lead. The ensuing kick was good and Prep held a 33-28 lead with no time remaining in the game.
Greenwich's tries were scored by flanker Gaston Gomez, Oliver Willott, and senior captain Jake Pobjoy. Willott had two tries for the Cardinals, who defeated Fairfield Prep during the regular season, 28-15, at Cardinal Stadium on April 14.
Fairfield Prep's tries were scored by Malachi Mercer-Robinson, Fitzsimons, Wally Wuchiski, Nic Vittoria and Brice Muller, who reached the try zone twice.
The lead changed hands several times in this action-packed matchup between rival squads.
"It wasn't our best game, we had a few ups-and-downs and I feel like in the state final, any mistake you make any team can punish you and that was the case with Fairfield," said Greenwich senior Lucas Luzuriaga, who helped pace the Cardinals' stellar play. "After we started fixing our mistakes we were able to play our game, but sometimes it's too late when that happens."
Prep took a 5-0 lead with a try at the 31:18 mark of the first half. Gomez tied the score for Greenwich by reaching the try zone, then senior Nico Figueroa booted the conversion kick, putting the Cards on top, 7-5, with 19:22 to go in the opening half.
Taking a pitch with the teams in a scrum, Mercer-Robinson sprinted into the try off a scrum from 10 yards out and following the successful conversion, the Jesuits were on top, 12-7, with 10:50 left in the opening half.
Greenwich responded with a Willott try and Figueroa's conversion made it 14-12 in favor of the Cardinals heading into halftime.
"The first half we were able to use the emotion to fuel us and then we never settled down," Fina said. "We came out in the second half and it look like we had calmed down and then the ball started bouncing Fairfield Prep's way and we didn't settle back down."
The Cardinals extended their edge to 21-12 on Pobjoy's try and Figueroa's conversion just less than 10 minutes into the second half. With a nine-point lead, the Cards were on the cusp of capturing their 12th state championship, but the Jesuits rallied for a pair of tries to seize a 26-21 advantage.
A try with 13:03 left, followed by the conversion brought the Jesuits to within 21-19. Fairfield Prep then went ahead, 26-21 with 9:32 remaining with another try and successful kick.
The Cardinals came back though, recapturing the lead soon after.
Willott's second try of the matchup off scrum and Figueroa's kick put GHS on top, 28-26, with 3:03 left in the championship match.
"We showed great character," Luzuriaga said. "We finished fifth in Nationals and we came in second in the state and we always gave our everything. I'm really proud of this team and I'm going to miss it."
Greenwich's second-place showing in the state tournament came after it placed fifth at the Boys Rugby Varsity National Championships in Elkhart, Indiana, recently, going 2-1 in the tourney.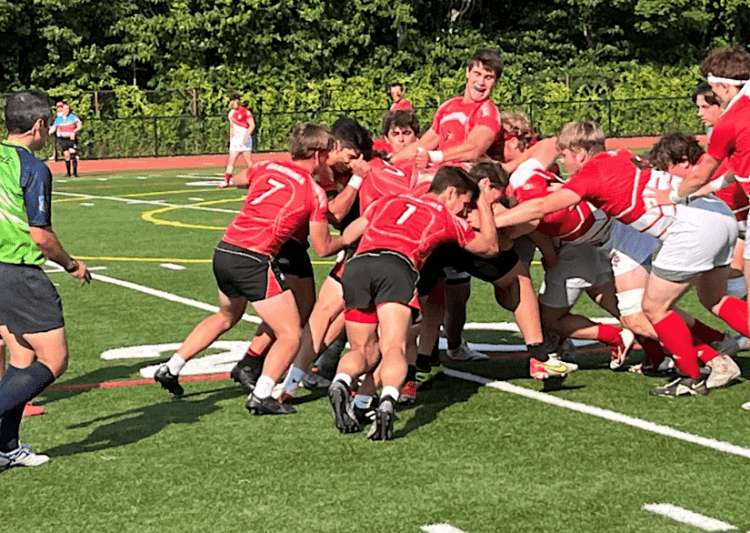 "With the schedule we have, it's never easy to plow through," Mas noted. "We started the season with a game in a blizzard and we lost that one, but from then on, the team came together. The players came together and we really played well together."
"The first game we lost at Nationals taught us a lesson," Mas continued. "It taught us how to fight as a team with a really physical team. From there, the last two games we played the game we wanted to play. The same thing happened the state semifinal and right here. I thought we played a good game, but sometimes in sports you don't win when you play well."
Indeed, Fina is going to miss coaching the 2023 Cardinals, which included a great group of seniors, who gave plenty to the program.
"I don't know if I ever coached a team where the players care so much about each other and the coaches care so much about each other," Fina said. "We use the term Greenwich rugby is a family. This was the epitome of that."
Fina knows the team will use the state final loss a motivation going forward.
"If there is a team that can deal with a very rough loss, I think this team can do it," he said. "I know they can all do it and become better for it. We just got a little anxious and got a little ahead of ourselves. We tried to do a little too much. We played a little too emotional, when we should have played a little smarter at times."
Mas, Benja Thompson and Pobjoy served as the Cardinals' senior captains, roles they impressively filled.
"I'm really happy with the team," Mas said. "I couldn't imagine captain prouder of a team and captain a team like this one. It was a real pleasure to be a captain of this team."
Following the championship matchup, Fina reflected on his successful team and the season in general.
"The personality of this team is like no team personality I've ever been around," he said. "They always have a blast. They never give up and I'm so proud of these boys and the whole coaching staff. We're going to have to play a different style next season, that's for sure. The beauty of Greenwich rugby, we get nervous about who we are losing and new guys show up next year ready to go. That's one of the benefits of having a rich, traditional program like we do and like Prep does, so even if it looks like next year could be an off year, I never would expect an off year for either of these teams."